Board Awards – 2011
Rainbow District School Board paid tribute to dedicated employees and community partners at the Board meeting held on Wednesday, May 29, 2013 with the presentation of Awards for Outstanding Contribution to the Co-Curricular Program, Community Partnership Awards, Awards for Excellence, the Go Green Globe Award, the Barbara Konarek Memorial Award and the William N. Roman Teacher of the Year Award. Employees with 25 years of service were also recognized..
"With the presentation of these awards, we continue a rich tradition of honouring excellence in Rainbow Schools," said Board Chair Doreen Dewar. "We are proud of our employees and community partners for their commitment. On behalf of the Board, I would like to congratulate all award recipients for their outstanding achievement."
"The contributions of our individual award recipients vary, but they all have one thing in common," said Director of Education Norm Blaseg. "They are dedicated employees and dynamic educational partners who go above and beyond the call of duty to reach minds and touch hearts in our schools and the communities that we serve."
Awards for outstanding Contribution to the Co-Curricular Program – 2011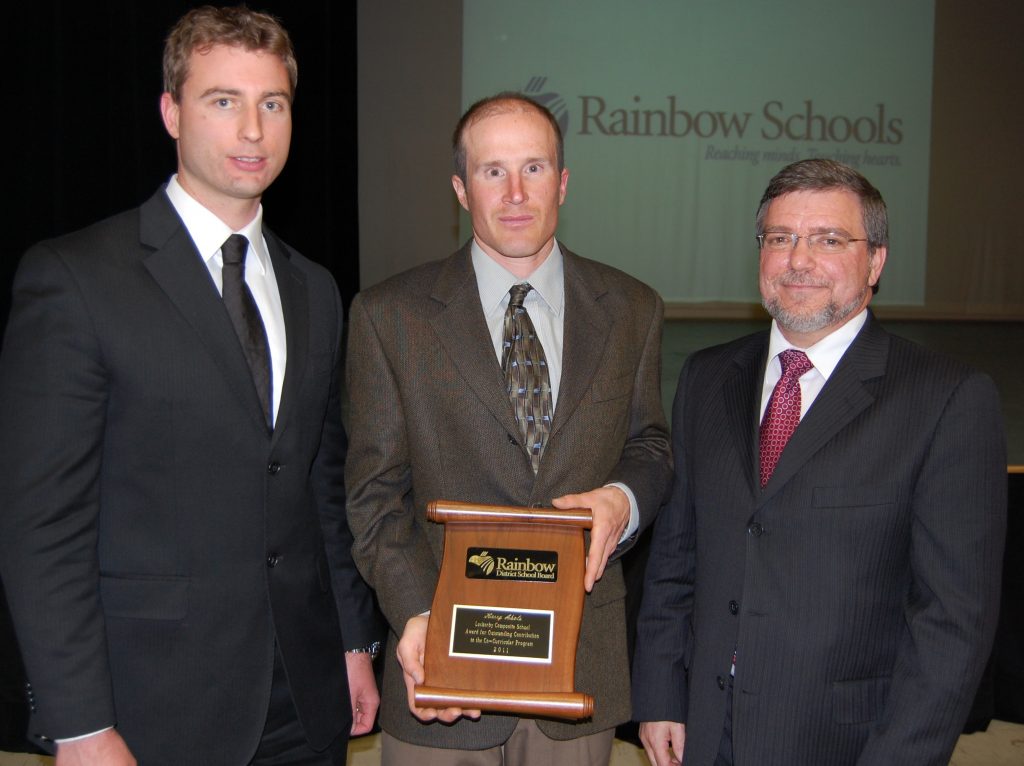 Kerry Abols – Lockerby Composite School
Kerry Abols is a highly respected teacher at Lockerby Composite School. Over the last 13 years, many students have benefited from his expertise in coaching cross-country skiing, cross-country running, swimming, track and field and hockey. His students have competed and won championships at the local, regional, provincial, national and international levels. Kerry Abols has also convened numerous sporting events.
Kerry Abols is the epitome of physical fitness. Whether it is speed paddling a canoe, skiing across a lake, running up Silver Peak, or completing the Iron Man Competition, he enjoys fitness challenges in every season. His passion for fitness has provided a foundation for excellence in coaching and teaching. In 2009, Kerry Abols received the OFSAA Colin Hood Award for outstanding contribution to athletics. Rainbow District School Board is pleased to honour him with an Award for Outstanding Contribution to the Co-Curricular Program.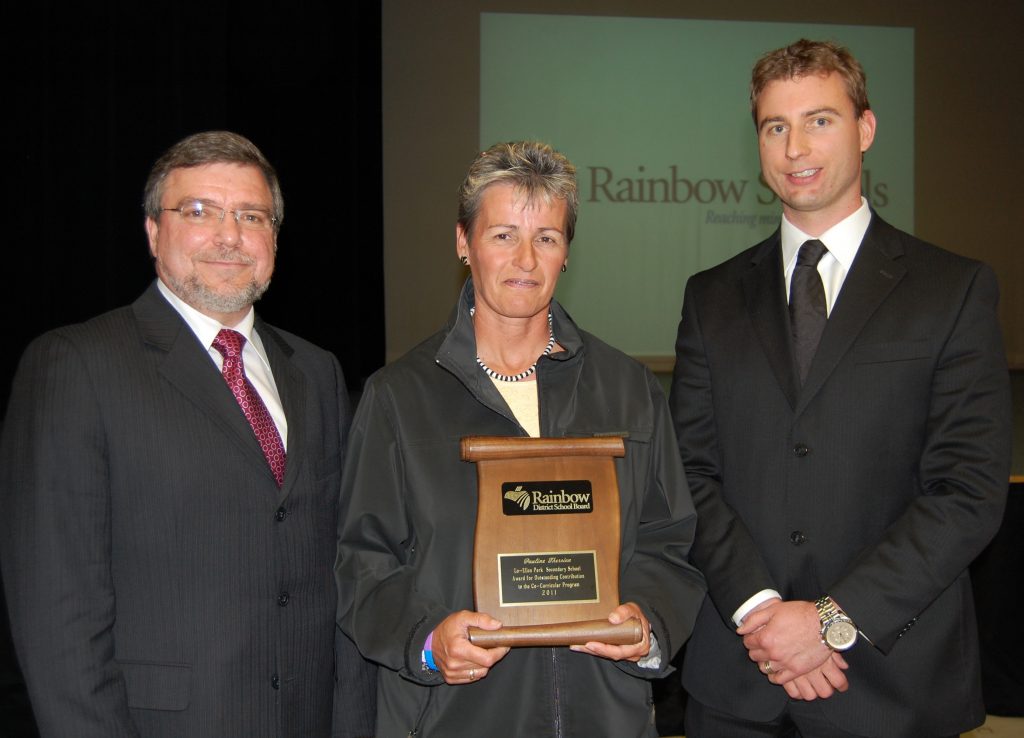 Pauline Therrien – Lo-Ellen Park Secondary School
Pauline Therrien is retiring from Rainbow District School Board following 30 years of dedicated service. She has been a vital member of the physical education department at Lo-Ellen Park Secondary School for the past 25 years and has coached a variety of school teams. Pauline Therrien was instrumental in starting the girls' hockey program at Lo-Ellen Park, helped to launch a girls' hockey league in local high schools, and ran the Girls' Hockey Tournament for the Sudbury District Secondary Schools' Athletics Association for many years.
Whether working on uniforms, organizing transportation for teams, or volunteering for the 24-hour volleyball fundraiser or athletic banquet, Pauline Therrien has assumed many roles in the physical education department and she greets each task with unlimited enthusiasm. Students look up to Pauline Therrien as a mentor, role model and friend. Pauline Therrien is a most deserving recipient of an Award for Outstanding Contribution to the Co-Curricular Program.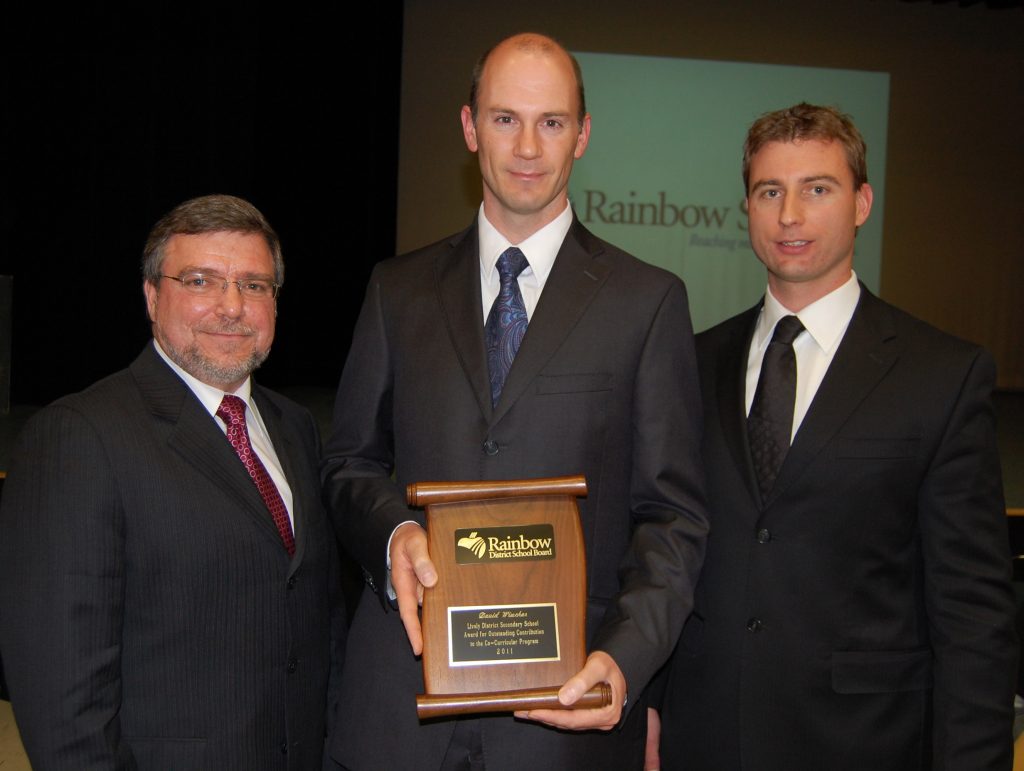 David Wiwchar – Lively District Secondary School
For a typical Canadian student, studying after sunset is commonplace. The student turns on a light or two, and maybe a computer, and is ready to learn. In southern Costa Rica's remote mountainous region, the situation is very different. A student living deep in the rainforest must rush home to study in the few hours of daylight remaining or spend the evening hours crouched over a candle or kerosene lamp. The light is poor, the smoke is toxic and the fuel is costly.
David Wiwchar, Vice-Principal of Lively District Secondary School, has been working with students from across the Rainbow District School Board and Light Up the World to bring light where there was once darkness. For the past eight years, David Wiwchar and students have travelled to Costa Rica to install solar/LED lighting systems. To date, more than 3,400 people in 687 homes have benefited from their efforts with the support of generous donations and partnerships. David Wiwchar is an ideal candidate for the Award for Outstanding Contribution to the Co-Curricular Program.
Community Partnerships Awards – 2011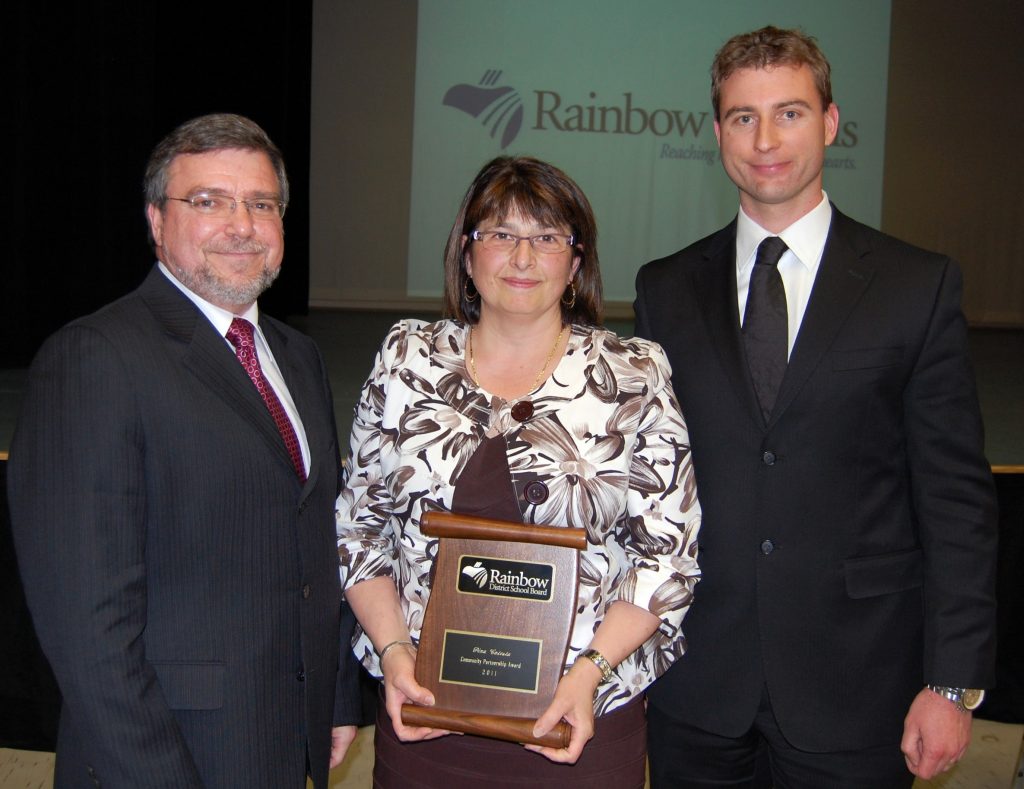 Pina Cotesta
Pina Cotesta is the heart and soul of Lockerby Composite School's "Kids Caring for Kids' cancer drive in memory of daughter Laura Cotesta. Laura launched the campaign 15 years ago while she was a student at Lockerby fighting her own battle with cancer. She wanted to raise awareness and funds for a pediatric cancer care facility in Sudbury. After realizing her dream of graduating from high school, Laura passed away. Her quiet courage and perseverance lives on.
Every year, Pina Costesta works with students and staff to organize the drive with impressive results. To date, Lockerby has raised $500,000 for the Northern Cancer Research Foundation. To ensure that students understand the significance of their efforts, Pina Cotesta encourages them to visit the Centre to see first-hand how they are making a difference. The students and staff of Lockerby Composite School are grateful to Pina Cotesta for her enduring friendship and support. She is a most deserving recipient of a Community Partnership Award.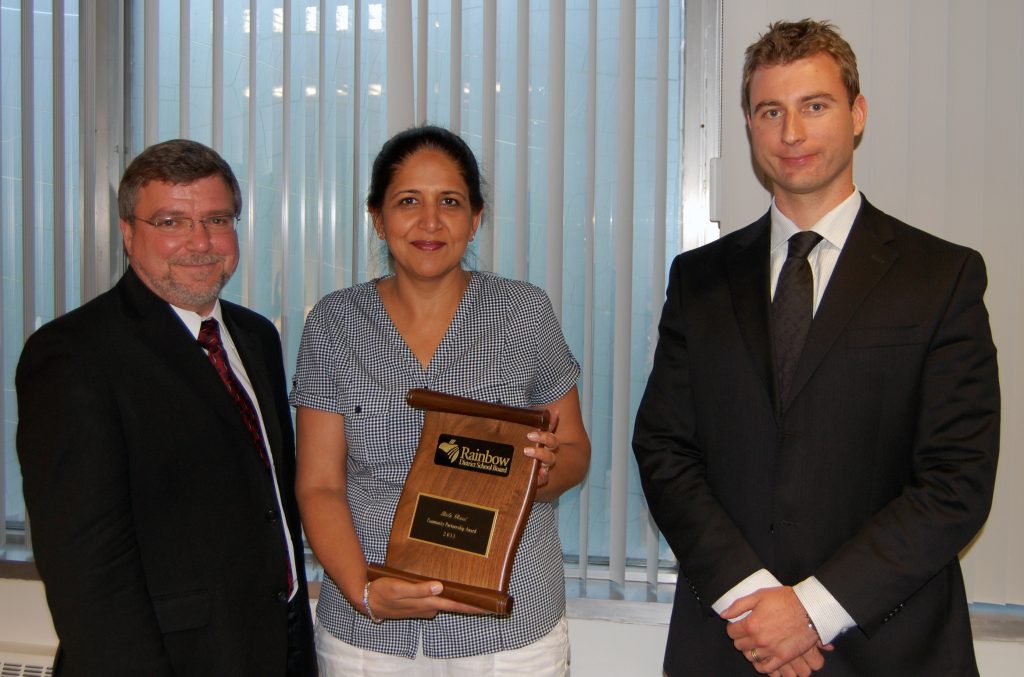 Bela Ravi
Bela Ravi is a parent at Lo-Ellen Park Secondary School where she has been actively involved in the School Council for many years. Her support, however, extends well beyond her community school. In 2008, Bela Ravi was a driving force behind the creation of the Joan Mantle Music Trust, which was established to help refresh, modernize and revitalize school music programs in the Rainbow District School Board. This past February, she spearheaded the very first International Dinner in support of the Trust. The event raised $17,000, bringing total contributions to date to $83,000.
Bela Ravi remains a community representative on the Trust and continues to actively raise funds. In addition, Bela Ravi is a much-valued member of the Board's Equity and Inclusive Education Committee, overseeing the implementation of the Ministry of Education's Equity and Inclusive Education Policy. A wonderful ambassador for Rainbow Schools who builds bridges for the benefit of all students, she is an ideal candidate for a Community Partnership Award.
Awards for Excellence – 2011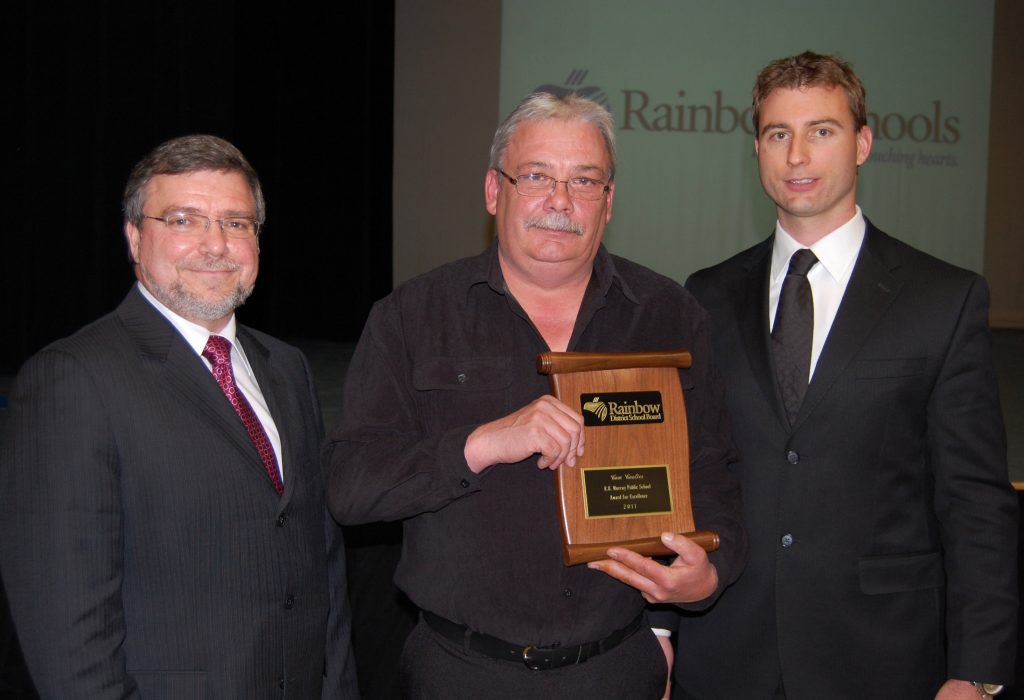 Cam Coulter – R.H. Murray Public School
At the crack of dawn, long before students and staff arrive at R.H. Murray Public School, Cam Coulter is cleaning the halls, flushing the water system, shoveling the snow and doing all of the little things that make R.H. Murray a clean, comfortable, warm and inviting place to be. At recess, he has legions of fans who help him empty garbage, wipe desks, dust or do any other job he would normally do on his own.
To the staff and students of R. H. Murray, Cam Coulter is more than a helpful and hard working custodian. He sets a positive tone in the hallways, helps students build character, welcomes community use of the school, and actively engages in all aspects of school life. As one parent said: "He laughs and jokes with the kids, which is something my kids will always remember." With 22 years of dedicated service as a custodian, Cam Coulter is a most deserving recipient of an Award for Excellence.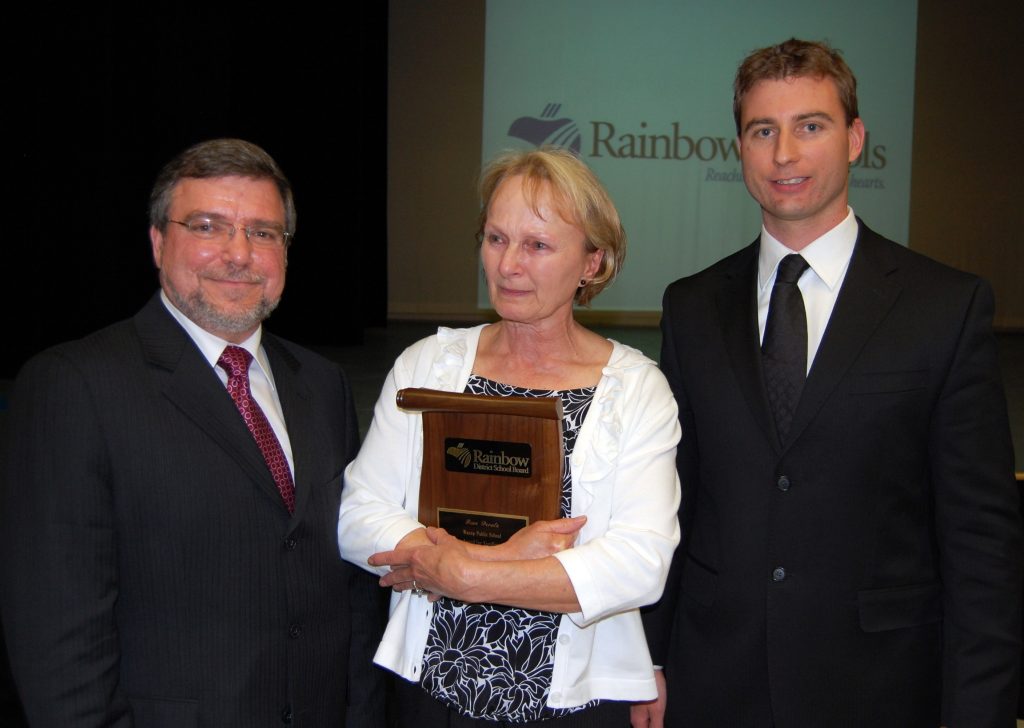 Fran Proulx – Wanup Public School
Fran Proulx has been a custodian for 26 years, most recently at Wanup Public School. Fran's diligence at keeping the school spotless and in good order is apparent the minute you enter the building. The floors sparkle, regardless of the weather, and any equipment requiring maintenance is immediately repaired. Fran will tell you that the most important part of her job is keeping students safe – a responsibility she assumes with pride. Her dedication, however, extends well beyond her daily duties as custodian.
Fran consistently demonstrates her love for students and staff. Every morning, she waits in the hallway and greets students with a smile. She also takes special care of staff. On a personal level, Fran Proulx has experienced her share of hardship. She lost her home to fire a few years ago. Tragedy turned into triumph as the school and community happily came together to assist in rebuilding, a testament to the respect Fran Proulx has earned. She is a most deserving candidate of an Award for Excellence.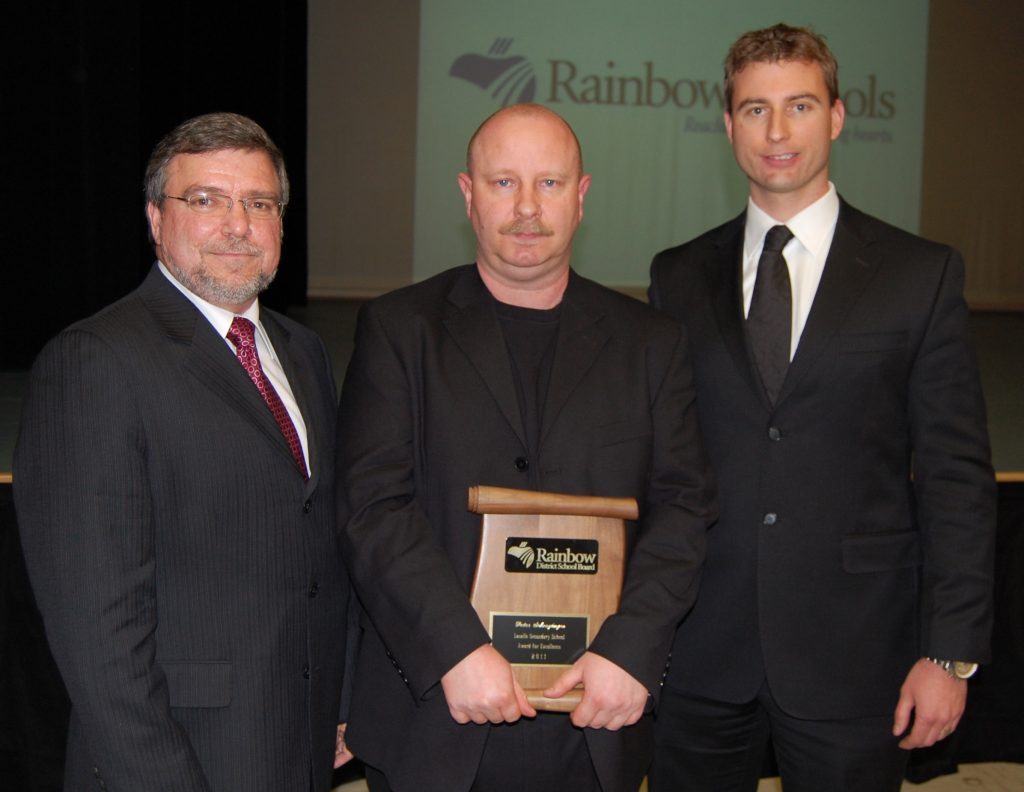 Peter Scherzinger – Lasalle Secondary School
Peter Scherzinger has been a music teacher with the Board for the past 13 years, primarily at Lasalle Secondary School where he directs the Senior Concert Band, the Junior and Senior Jazz Ensembles, and assists with the Choir. Lasalle's many music awards in local, regional and national competitions are a tribute to Peter Scherzinger's excellence as a teacher. Beyond the school, he regularly volunteers to lead workshops for his secondary music colleagues. He also mentors trumpet players in the Northern Ontario Music Festival "All Star Bands".
An accomplished musician, Peter Scherzinger composes and arranges music, some of which is performed by students. His jazz ensemble"Broche à Foin", which features a number of Rainbow teachers, recently won Best Album of the Year by Music and Film in Motion. He also performs with other local groups, including the Northern Brass Quartet, and shares his talents during annual Remembrance Day services. Peter Scherzinger is a caring, patient teacher who gives freely of his time to ensure that all his students succeed. He is most deserving of an Award for Excellence.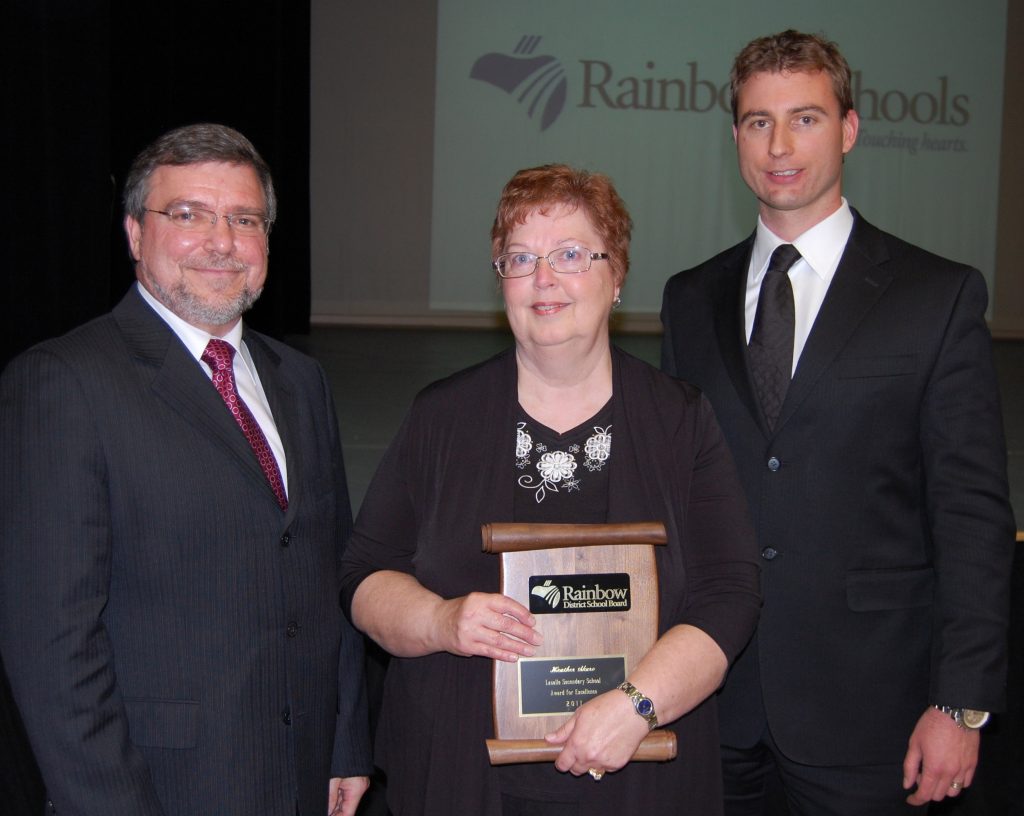 Heather Skuro – Lasalle Secondary School
Heather Skuro has been the Guidance Secretary at Lasalle Secondary School for 42 years. She is always willing to go the extra mile to meet the needs of staff, students and parents. One of many examples of her caring nature was evident during a new registration. A family with a young child had been waiting for a very long time for a fax to arrive. Heather Skuro noticed the youngster was becoming fidgety and she quickly found some paper and pencil crayons for the child. Before the child left that day, he gave her a picture with a thank you note.
Heather Skuro's work is exemplary and she maintains a high level of proficiency and efficiency in everything that she does. Her knowledge of diploma requirements and Ministry policy on academic programs is unparalleled. She has provided a critical level of support for more than four decades. Her work is always thorough, accurate and timely. Rainbow District School Board is pleased to honour Heather Skuro with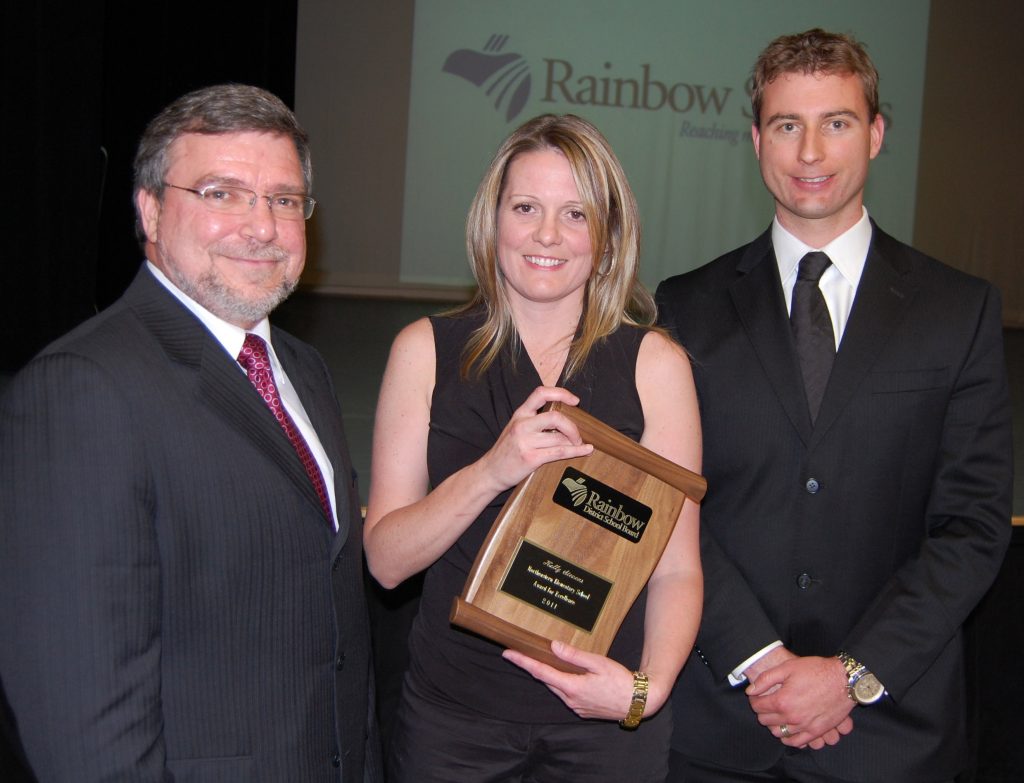 Kelly Stevens – Northeastern Elementary School
Kelly Stevens has been an Educational Assistant for 11 years. In 2006, she launched an Exceptional Students' Awareness Day at Markstay Public School. This annual event is now being introduced at Northeastern Elementary School where Kelly Stevens is currently supporting students with autism. During the Awareness Day, the school opens its doors to community organizations. Guest speakers present workshops to teach students the importance of an inclusive school environment where every person counts.
In addition to co-ordinating this event, Kelly Stevens spearheads fundraisers, spirit days, pep rallies, school dances and bake sales. She also stays late after school to work on committees, often taking the lead. Her work on school events never detracts from the individual attention she gives her students, day in and day out. She truly believes all students can achieve given time and support and is willing to go the extra mile to nurture those in her care. Kelly Stevens is a most deserving candidate of an Award for Excellence.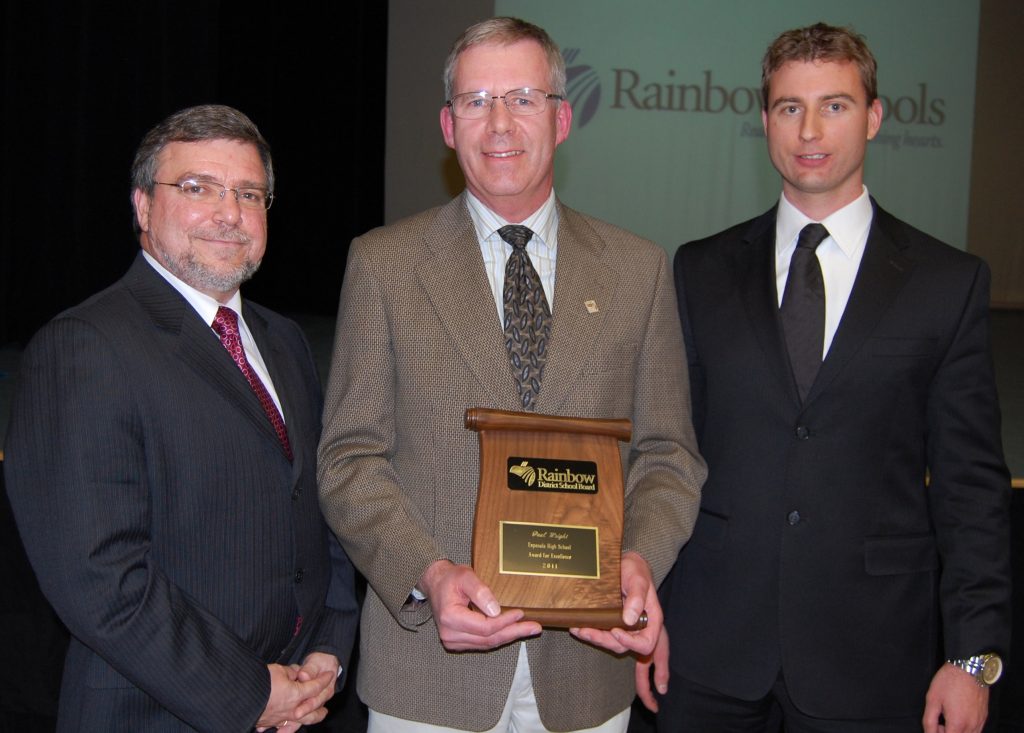 Paul Wright – Espanola High School
Paul Wright has been a dedicated math, science, computer science and business teacher for 29 years. He is currently Program Leader for Student Success, Business and Science at Espanola High School. Espanola High School has recorded a significant improvement in credit accumulation during Paul Wright's tenure as Student Success Leader. Many students have returned to school to complete their diploma.
Five years ago, Paul Wright and fellow teacher Dean Riggs recognized the need to promote the trades with young people and launched Trades and Careers Day, which continues to be a tremendous success. Area Grade 8 students take part in this annual event along with the secondary students. Paul Wright is not only a leader in the school but also in the community. He is a respected coach and member of many organizations. Paul Wright is a humble and approachable person who loves to share his knowledge with others, for the benefit of students. This Award for Excellence is a tribute to his work ethic and leadership abilities. Congratulations.
Go Green Globe – 2011
The award is presented annually to an elementary school and a secondary school that have made a significant contribution to sustainability by thinking globally and acting locally.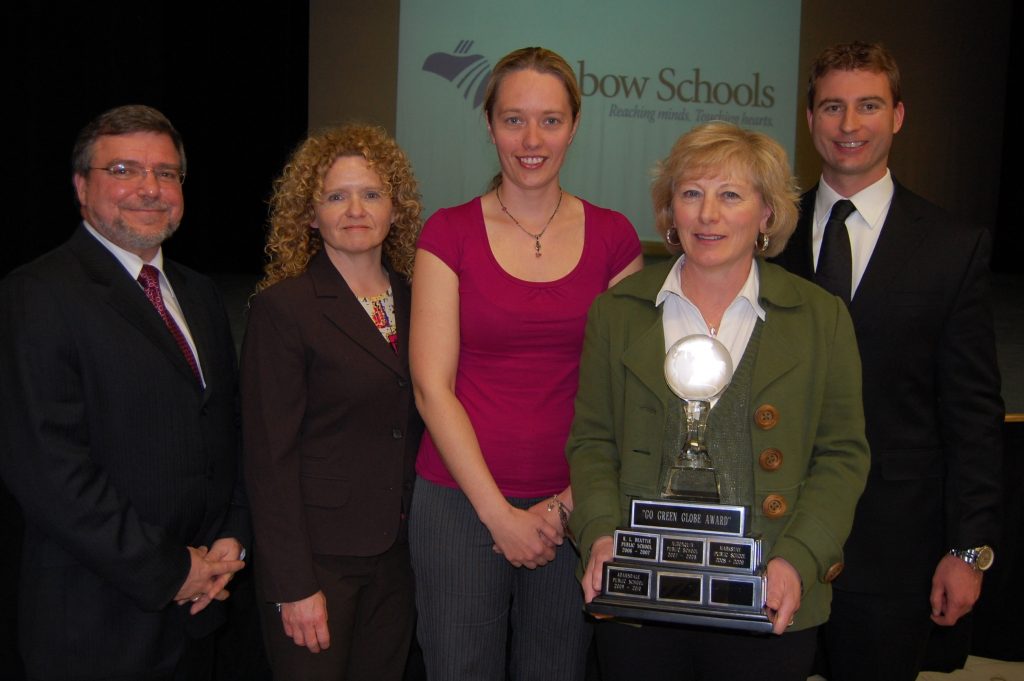 Adamsdale Public School
Adamsdale Public School has a very active Me to We Club that includes 30 students from various classes. Under the guidance of teachers Stephanie Brunette and Brenda Parks, they lead a variety of initiatives with tremendous success. Students recycle drink pouches and used batteries, collect milk bags for rugs for Haiti, promote litter-less lunches, participate in an annual community cleanup and volunteer at the Sudbury Food Bank. In June, they will participate in the YMCA's drive to collect running shoes.
Each year, the students choose a charity for annual giving. They are close to reaching their goal of raising $2,000 for the SPCA. Last year, they donated $2,000 in items to the Neonatal Intensive Care Unit at the Sudbury Regional Hospital. The year before, they collected $2,000 to build a well in Africa. Garyson Benoit, who is now in Grade 5, donated $500 of his own money to support the initiative. Rainbow District School Board is pleased to recognize Adamsdale Public School for their efforts to foster sustainability.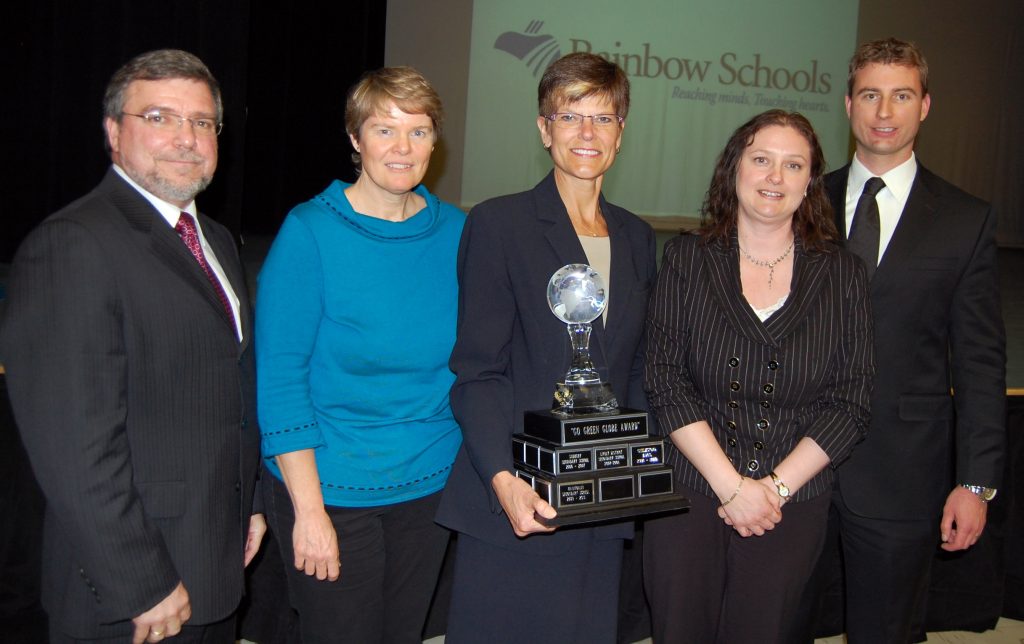 Manitoulin Secondary School
They have built a primary school and freshwater well in Africa, purchased five sewing machines, 11 cows, 20 goats and 11 pigs, provided help for villagers in Sierra Leone to become economically self-sufficient, and helped to install solar/LED lights in Costa Rica. In the last three years, members of Manitoulin Secondary School's S.H.A.R.E. Committee (Students Helping All 'Round Everywhere) have raised an impressive $21,000 for various local and global projects. They are currently raising funds to build a school in Haiti.
In addition to thinking globally and acting locally, sustainability has become a way of life at Manitoulin Secondary School. The school grounds have been transformed and students release butterflies each fall. Vegetables and flowers are grown in the school greenhouse, including lettuce, tomatoes, cucumbers, basil, parsley and thyme for use by classes, cafeteria and staff. MSS students and staff compost organic waste, a new initiative this year. The school is participating in a Tomatosphere project with the Canadian Space Agency and is currently raising funds to provide green energy for its hydroponics greenhouse. Several additional recycling bins have been placed around the school in order to encourage sorting and recycling, and a community e-waste event hosted by the school recently diverted some 7,700 pounds from landfill sites. Manitoulin Secondary School is most deserving of a Go Green Globe Award.
Barbara Konarek Memorial Award – 2011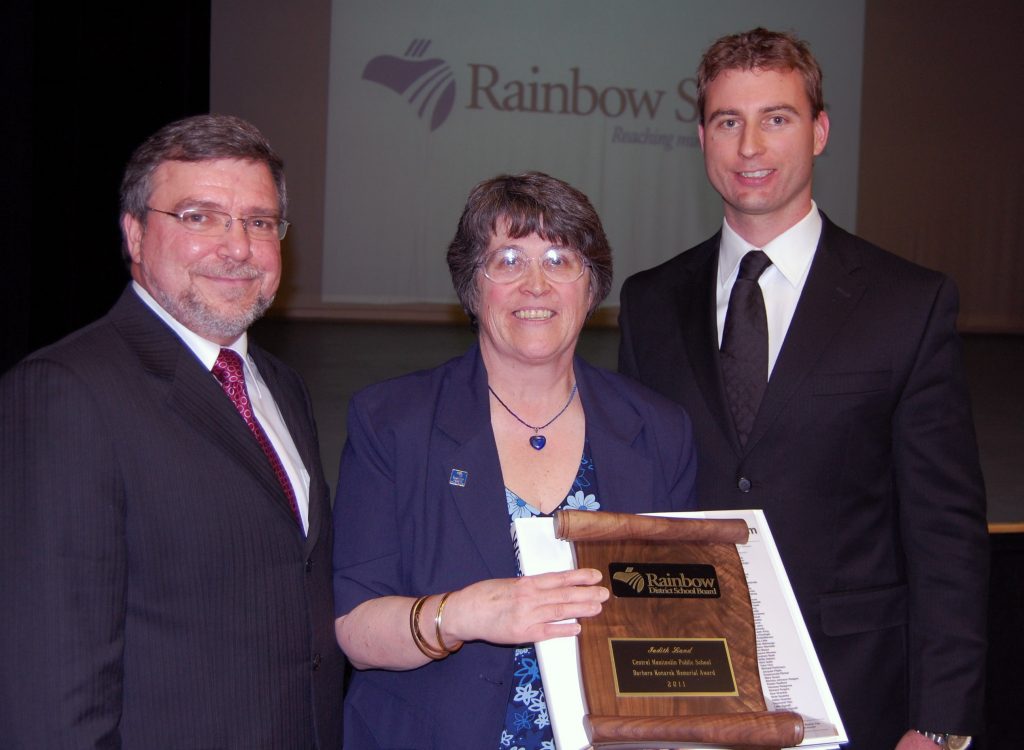 Judy Land – Central Manitoulin Public School
Judy Land, a Special Education Resource Teacher at Central Manitoulin Public School, believes in the potential of all children. They rise to her expectations. An enthusiastic and caring educator, Judy Land fosters a team approach to student achievement and success. She leads in-school team meetings and is actively involved in school improvement planning. In addition, she has been the teacher representative on School Council for the past 10 years and strongly promotes the role of parents as partners in education.
Judy Land enjoys professional development and willingly signs up for workshops that will improve her teaching practice.  She shares her knowledge with others and is regarded as the "go to" person on staff. Beyond the school, Judy Land supports local organizations. These include the Girl Guides of Canada, canvassing for local charitable organizations, taking leadership roles in Lyon's Memorial United Church and singing weekly with the Community Choir in Gore Bay. For her humanitarian contribution to the lives of students over the past 17 years, Judy Land is an ideal candidate for the Barbara Konarek Memorial Award.
William N. Roman Teach of the Year Award – 2011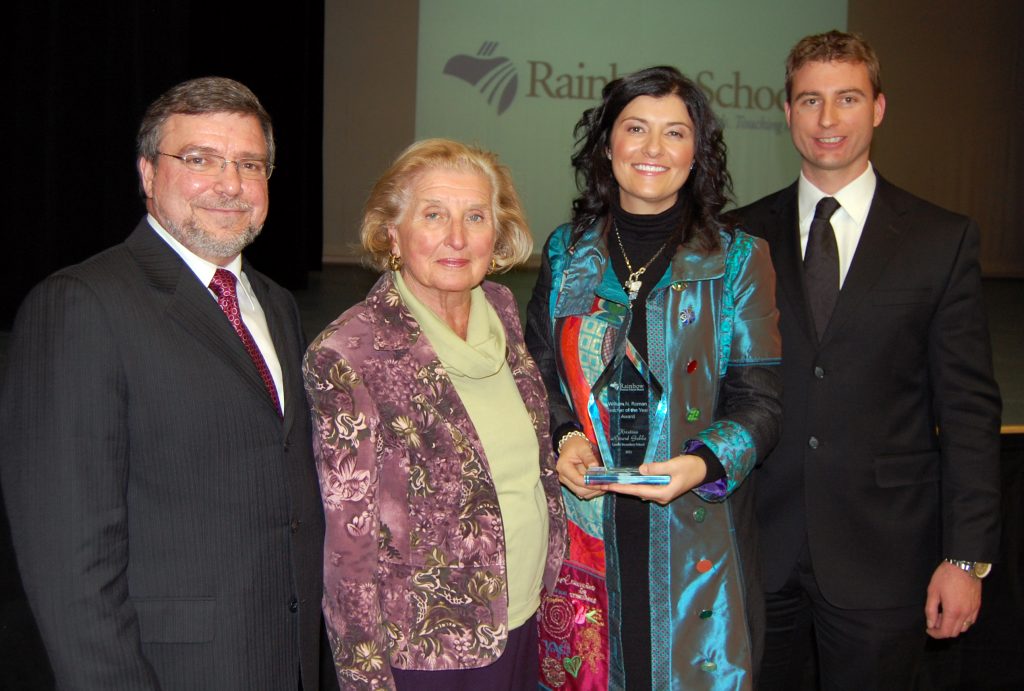 Kristina Rivard Gobbo – Lasalle Secondary School
Kristina Rivard Gobbo has been teaching for close to 10 years. Since joining Lasalle Secondary School in 2006, she has gained the respect of students and staff alike for her knowledge, support, creativity and compassion. Kristina Rivard Gobbo's students are keenly aware that she insists on their best efforts and they trust that their teacher has the skill to guide them to excellence. Her academic program is packed with unique learning experiences, including international excursions, guest speakers and field trips. She also teaches French at Laurentian University's Teachers' College.
Beyond the classroom, Kristina Rivard Gobbo has an immense impact on school, community and provincial levels. She leads Lasalle's Athletics Council, the Roots and Shoots Club, Saturday School and the Retreat. She assists with the Breakfast Club, School Council, Junior Awards and the Social Committee, and coaches cross-country running. An accomplished teacher of languages, she has presented numerous seminars for the Modern Language Teachers' Association. She has also served as a keynote speaker at Eco-League, inspiring teachers across Ontario to raise environmental awareness among students. Kristina Rivard Gobbo is an ideal candidate for the William N. Roman Teacher of the Year Award.