Board Awards – 2014
Rainbow District School Board paid tribute to dedicated employees and community partners on Wednesday, May 21, 2014 with the presentation of Awards for Outstanding Contribution to the Co-Curricular Program, Community Partnership Awards, Awards for Excellence, the Go Green Globe Awards, the Barbara Konarek Memorial Award, the William N. Roman Teacher of the Year Awards and the Apple Award. Employees with 25 and 35 years of service were also recognized.
"With the presentation of these awards, we continue a rich tradition of honouring excellence in Rainbow Schools," said Board Chair Doreen Dewar. "We are proud of our employees and community partners for their commitment. On behalf of the Board, I would like to congratulate all award recipients for their outstanding achievement."
"The contributions of our individual award recipients vary, but they all have one thing in common," said Director of Education Norm Blaseg. "They are dedicated employees and dynamic educational partners who go above and beyond the call of duty to reach minds and touch hearts in our schools and the communities that we serve."
Awards for outstanding Contribution to the Co-Curricular Program – 2014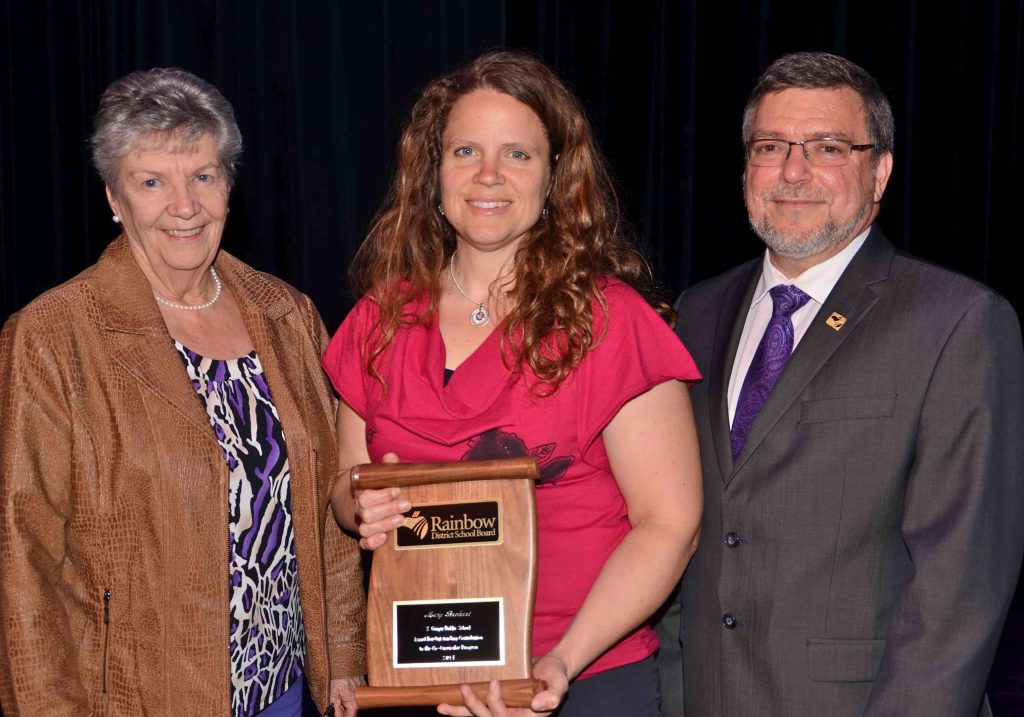 Mary Brohart – Teacher – S. Geiger Public School
Mary Brohart maximizes every opportunity to showcase student success. As a teacher at S. Geiger Public School, she devotes countless hours to the Heritage Fair, Geography Challenge, Yearbook Club, Cardboard Boat Races, All Science Challenge, holiday celebrations and outdoor events. She also coaches many teams, including girls' volleyball, co-ed triple ball and boys' basketball, which won gold at the Espanola Invitational Basketball Tournament. She welcomes players of all skill levels and acknowledges their contributions.
Participating in co-curricular activities enables students to enhance their learning, build valuable skills and improve self-esteem. Mary Brohart understands that schools are an important place for learning inside the classroom, on the ball court and in school clubs. She also appreciates the value of working as a member of a team and enjoys sharing her talents with students and colleagues. In the process, she provides a well-rounded education for all. Mary is most deserving of an Award for Outstanding Contribution to the Co-Curricular Program.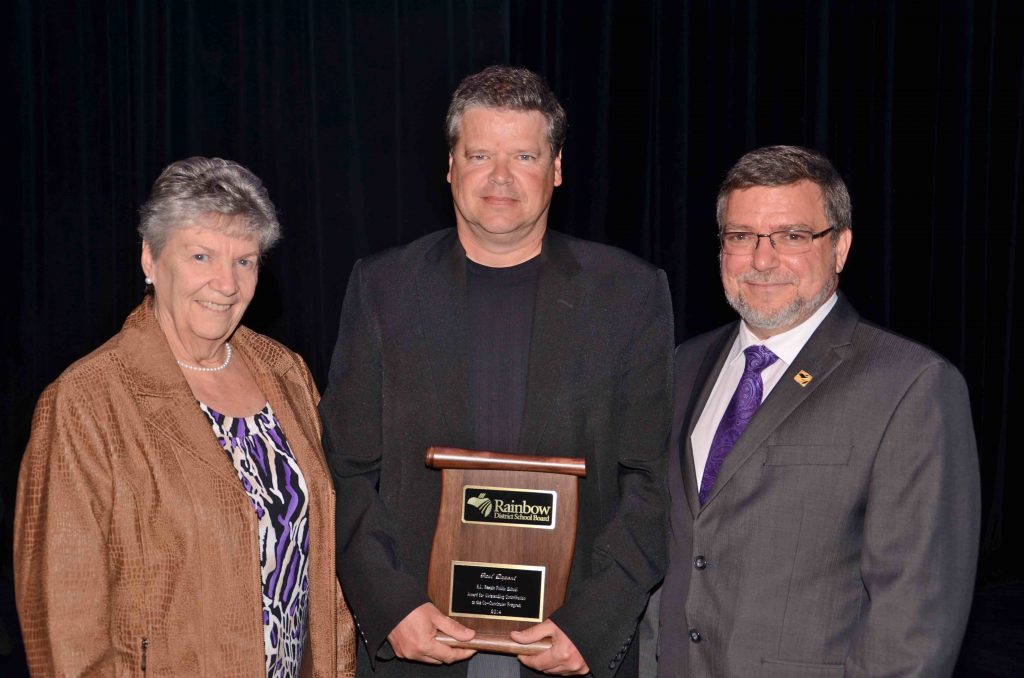 Paul Dupont – Principal – R.L. Beattie Public School
Paul Dupont has an excellent rapport with students, greeting them by name as they enter and leave the school. His energy and commitment to students extends into athletics, where he has shared his passion for sports throughout his career. Paul is a leader in a variety of sports, such as basketball, volleyball and track and field. He leads by example and encourages and mentors new coaches to help them provide the best experience possible for students.
Paul Dupont dedicates his time before and after school to inspire, guide and instruct young athletes to refine their skills and build their confidence, work ethic and self-esteem. His athletes have such great respect for him that they always give their best effort and consistently exceed expectations. While he has yet to succeed in converting everyone into a Montreal Canadiens fan, Paul has instilled a love of sport in students and ensured they learn from the experience and have fun along the way. Congratulations!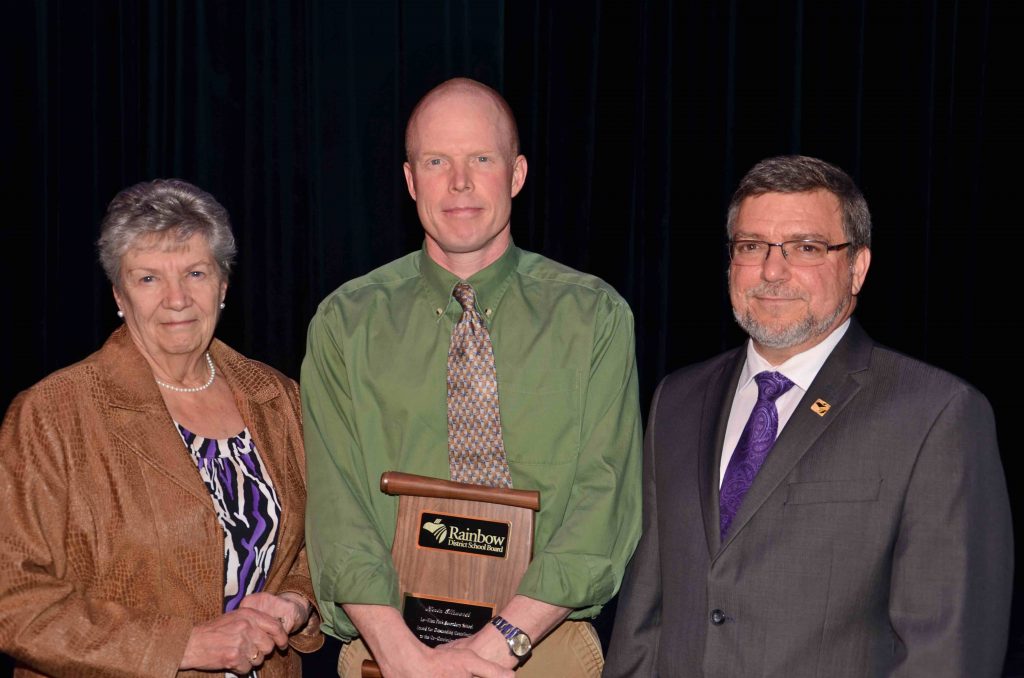 Kevin Ellsworth – Teacher – Lo-Ellen Park Secondary School
As a science teacher at Lo-Ellen Park Secondary School, Kevin Ellsworth has proven to be a committed and talented educator who provides an authentic learning experience to all. Students respect his authority and see him as a positive role model and motivational figure, which has transferred onto the football field. Kevin's tenacity and genuine love of football helped to expand the program to include a junior and senior team.
His commitment to education is evident inside and outside of the classroom, as he assumes the roles of head coach and defensive co-ordinator for both teams. Establishing priorities is a key component of his teaching. The Lo-Ellen Park football motto is family first, academics second, football third. And, while he has coached both teams to several city championships and Northern Ontario competitions, it is the life coaching that he provides to students on a daily basis that is valued the most. Congratulations!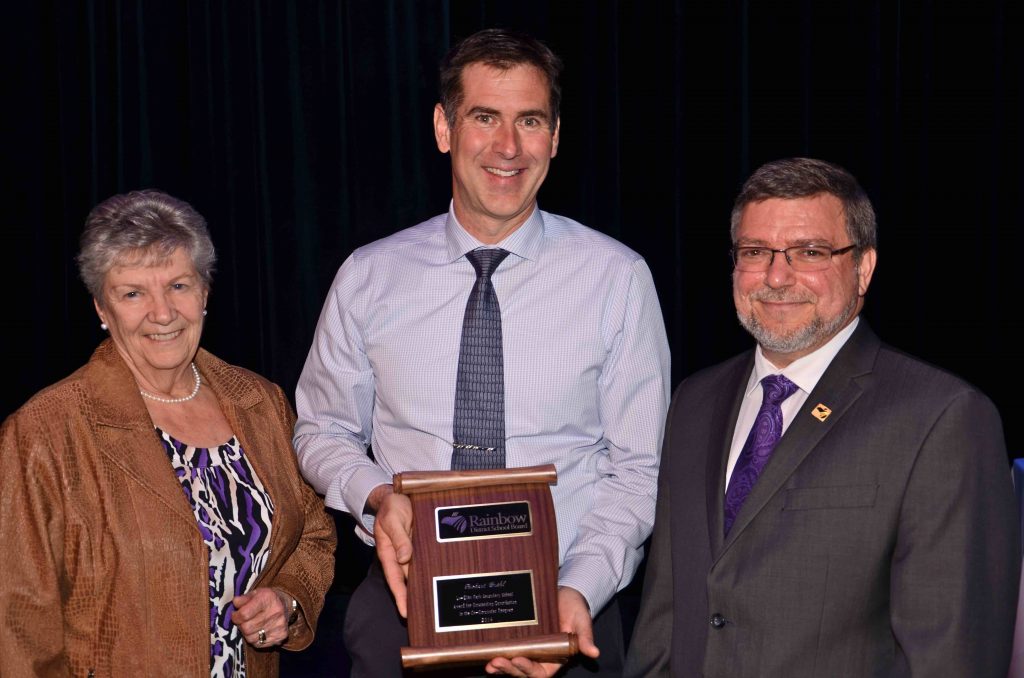 Robert Gruhl – Teacher – Lo-Ellen Park Secondary School
Robert Gruhl's passion for teaching has inspired students at Lo-Ellen Park Secondary School to strive for excellence each and every day. With his honesty, compassion and integrity, he empowers students to be accountable for their actions and guides them to achieve academic success. As the assistant coach and offensive co-ordinator for the junior and senior football teams, his dedication extends well beyond the classroom at Lo-Ellen Park where he teaches physics and math.
Robert Gruhl makes it a priority to ensure that his football players understand the value of fair play, teamwork and sportsmanship. He develops strong, confident individuals who can balance a full schedule and make a positive contribution to society. Regardless of the situation, he always maintains composure, emotionally and intellectually, and is highly respected by students, parents and staff. A principled individual, he demands a great deal of himself and his students. Robert Gruhl is an ideal candidate for an Award for Outstanding Contribution to the Co-Curricular Program.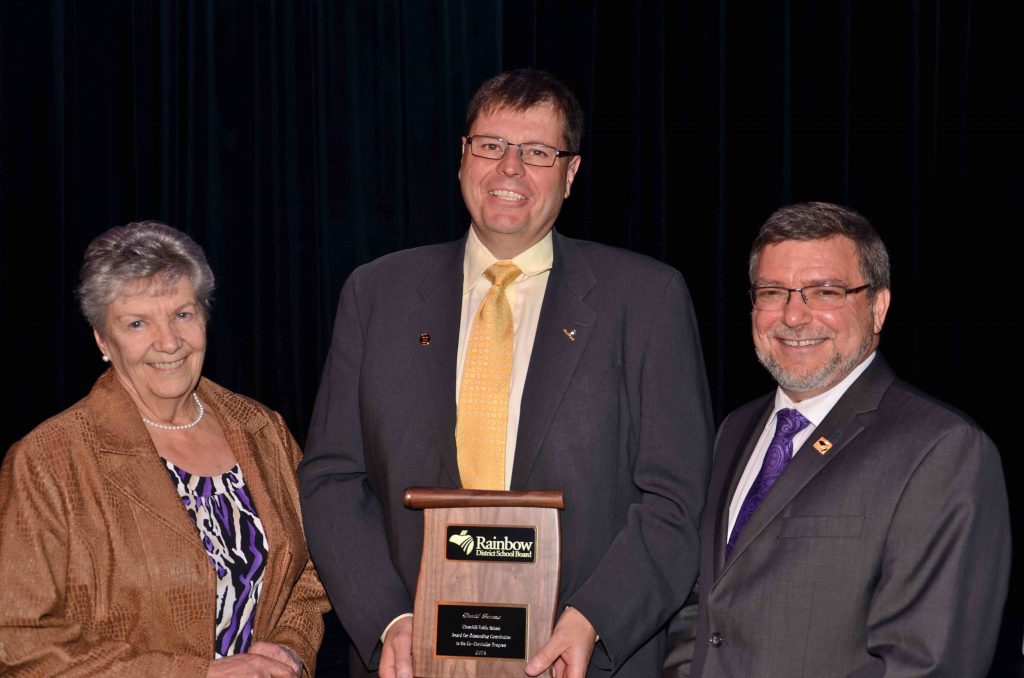 David Farrow – Principal – Churchill Public School
Churchill Public School has earned a reputation as a little school with a big heart. Under David Farrow's leadership, the school has supported a number of organizations and initiatives that make our local and global community a better place. As Churchill's number one cheerleader, Principal Farrow has inspired both students and staff to give back and model the character traits that we embrace in Rainbow Schools.
Thousands of dollars have been raised for the CIBC Run for the Cure, Maison Vale Hospice, Sudbury Minga for Massai, Mission of Tears, the Canadian Cancer Society, Canadian Heart and Stroke and the Sudbury Food Bank. Thousands of canned goods and toys have been donated to the Edgar Burton Kids Helping Kids Food Drive and the TD Toy Bank. In the process, Principal Farrow has eaten fried worms, shaved his head, dyed his hair pink, been duct taped to the wall, and participated in a suomo-wrestling match, all to challenge the Churchill Chargers to reach higher. Congratulations!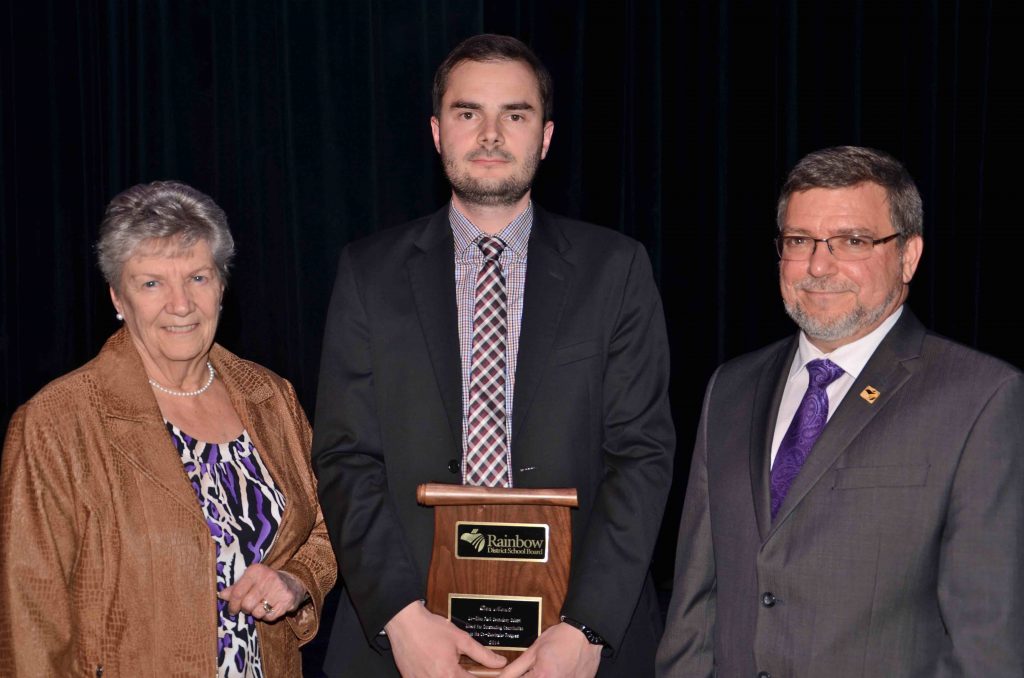 Dan Monti – Teacher – Lo-Ellen Park Secondary School
As a mathematics teacher, Dan Monti wants his students to understand how numbers and equations relate to the world around them. Leading the Lo-Ellen Robotics Team creates that culture of learning. Students, whose interests range from computer programming to machining to marketing and promotion, come together to build a robot with the guidance of community mentors and support of industry and education partners. Throughout the process, they gain teamwork, cooperation, problem-solving and communication skills.
Since the team's inception, the group has built three robots, competed in six FIRST Robotics Competition Regional Events, won the prestigious Rookie Award, a Regional Championship, and the Entrepreneurship Award, and performed exceptionally well in three World Championships in St. Louis, Missouri. They have also promoted science, technology, engineering, and mathematics in the community and have reached out to
mentor newly formed robotics teams at other secondary schools. Dan Monti is an ideal candidate for an Award for Outstanding Contribution to the Co-Curricular Program.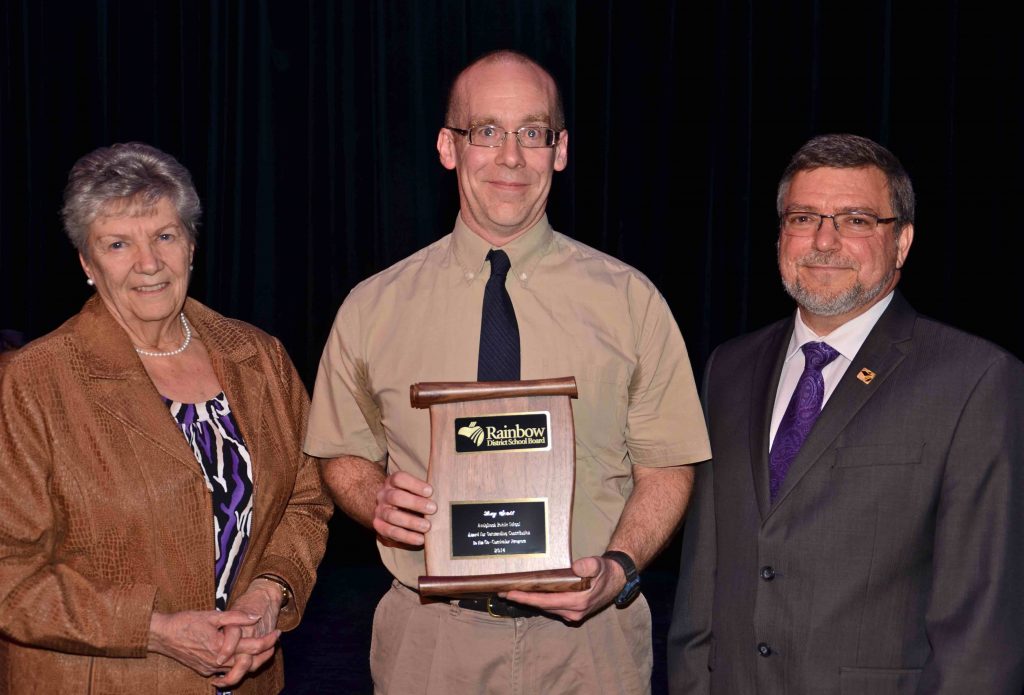 Ray Scott – Teacher – Assiginack Public School
Ray Scott gives students opportunities to shine, through the Chess Club, Running Club, Choir or Band. A music teacher at Assiginack Public School, he engages students in high quality experiences, including two musicals that garnered rave reviews. With support from the Board's Arts Education Coordinator, he launched a new instrumental music program and, this year, secured a $10,000 MusiCounts Band Aid Grant to purchase instruments.
As director of the Assiginack choir and band, Ray Scott uses a relaxed, humorous approach to develop skills in his students and instill a sense of teamwork. The choir received Gold at the Kiwanis Music Festival, while the band earned Silver. Adjudicators said the students were good listeners and very well behaved. The results, and the compliment, are a testament to Ray Scott and the high expectations he has for himself and the young people in his care. Ray Scott is a most deserving candidate for an Award for Outstanding Contribution to the Co-Curricular Program.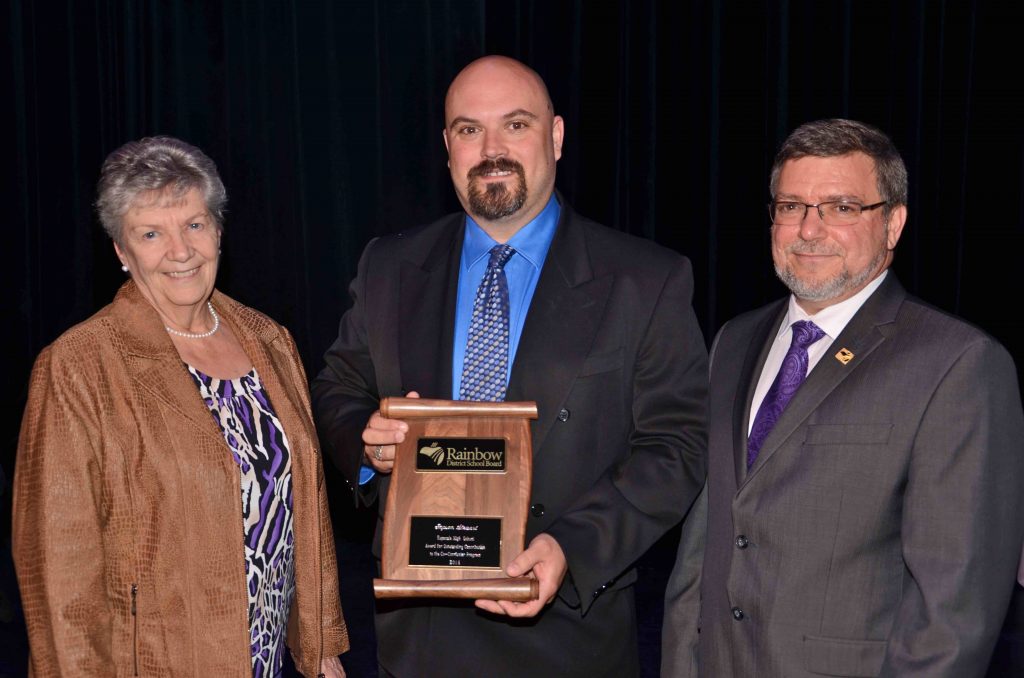 Jayson Stewart – Teacher – Espanola High School
A champion for equity and inclusive education, Jayson Stewart established Espanola High School's Gay Straight Alliance. He led Rainbow secondary students to the first Canada-wide Gay Straight Alliance Conference in Toronto. The students returned home with ideas to further foster a culture of inclusion in their schools. He has been a proponent of the International Day of Pink, which has been introduced system-wide. There is always a strong group from Espanola at the Board's annual Dare to Stand Out Conference.
Jayson Stewart spearheaded the creation of Spartan Youth Radio. For eight seasons, students shared their views and interviewed notable Canadians like Chris Hadfield, Margaret Atwood, Jack Layton, and Shawn Atleo. Spartan Youth Radio was recently replaced with The Launchpad, an incubator and idea factory to help students achieve their goals. Jayson has also taught in the Raven's program, supporting students who identify as First Nations, Métis and Inuit. He is an ideal candidate for an Award for Outstanding Contribution to the Co-Curricular Program.
Community Partnership Award – 2016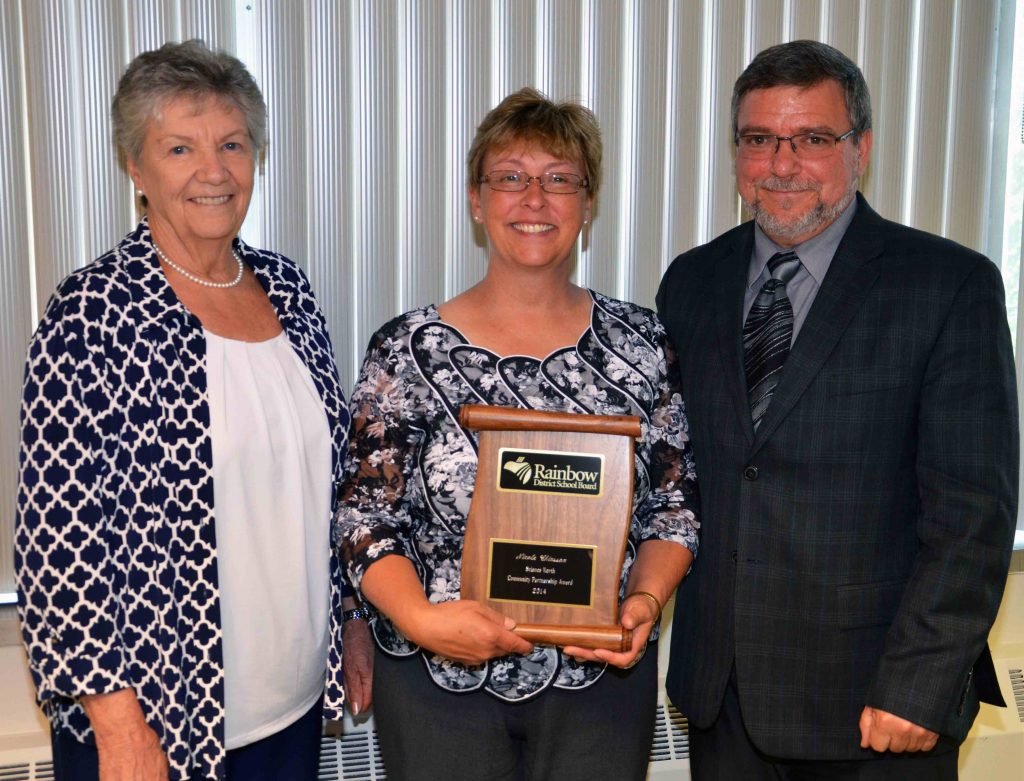 Nicole Chiasson – Director of Education and Northern Programs – Science North
Rainbow District School Board is fortunate to have one of the world's leading science centres right here at home. As Director of Education and Northern Programs, Nicole Chiasson ensures that Science North provides exceptional learning experiences from JK to Grade 12. Exhibits and school programs complement the curriculum and give students and staff an opportunity to engage in hands-on learning, making science accessible and fun. Special presentations, such as renowned guest speakers, captivating 3D films, and world-class exhibitions, keep the appeal fresh and exciting.
Nicole Chiasson's association with schools started 26 years ago as a Science North biologist delivering school programs and teacher workshops. She now leads a team of staff members who develop and deliver formal and informal science experiences, including summer camps. In her role at Science North, she also supports educational initiatives in the community, leads the Sudbury Regional Science Fair, hosts system-wide school events, and provides a venue for educators and community leaders to gather. Congratulations!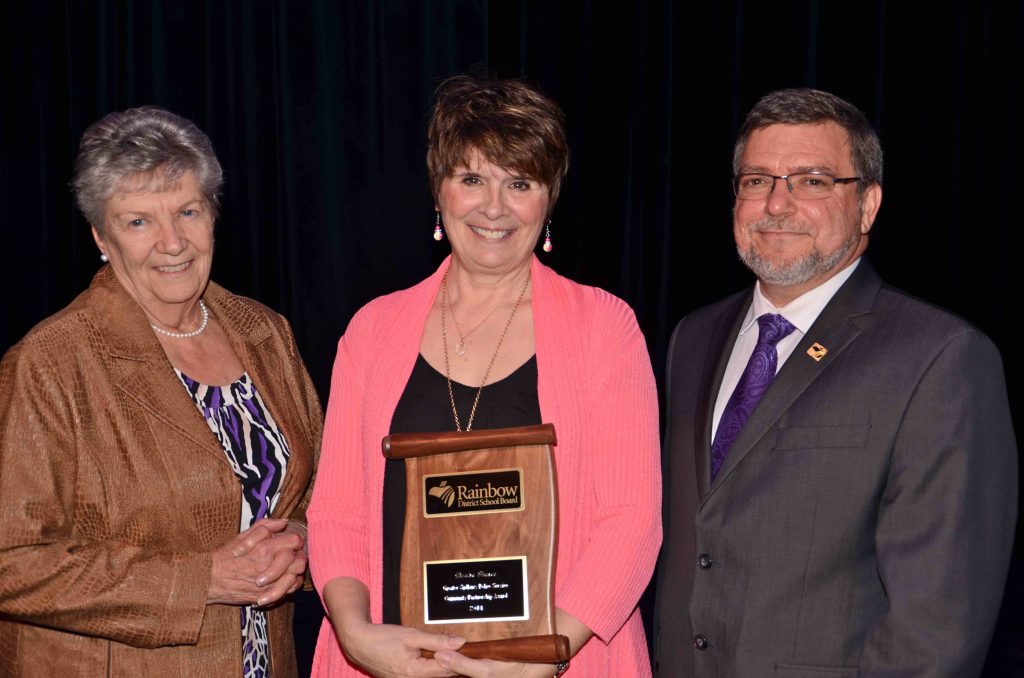 Denise Fraser – School Liaison Officer – Greater Sudbury Police Service
Denise Fraser has had a positive influence on thousands of children and youth since 1985. As School Liaison Officer with the Greater Sudbury Police Service, she teaches values and encourages morally right behaviour and positive decision-making. A dynamic presenter, Denise connects with students on their level and provides real-life examples to impart powerful messages about substance abuse, bullying, use of the Internet and respect for the law.
Denise has implemented a number of initiatives, from the Values, Influences and Peers (VIP) Program, to ball tournaments, to bike rodeos. Students, parents, teachers and colleagues describe Denise as "passionate", "dedicated", "selfless", "innovative" and "inspirational". Her sense of humour, patience and tact allow her to engage in difficult conversations and emerge a highly respected individual. She retires this year, having made a tremendous difference in our schools and our community. For her commitment and enthusiastic leadership, Denise Fraser is a deserving recipient of a Community Partnership Award.
Bob Hanson – Volunteer – Laurentian Nordic Ski Club
The OFSAA Cross-Country Running Championship held in Sudbury for the first time last fall attracted close to 1,700 student athletes from some 300 secondary schools. At the event, the coaches and athletes all raved about one thing – the trails. The person behind the trails was Bob Hanson. He cleared and groomed them, day after day, week after week, for two consecutive summers, volunteering hundreds of hours.
While building the trails, Bob Hanson not only had the student-athlete in mind, but also the natural environment. He would often dig out trees and replant them elsewhere so they would continue to prosper. Event organizers grew to admire and respect Bob Hanson for his good nature, his commitment to service, and his willingness to see a task through to completion. During the championships, Bob Hanson served as a lead biker. Bob Hanson will continue to support Rainbow Schools to host OFSAA Cross-Country Skiing. Thank you for your contribution.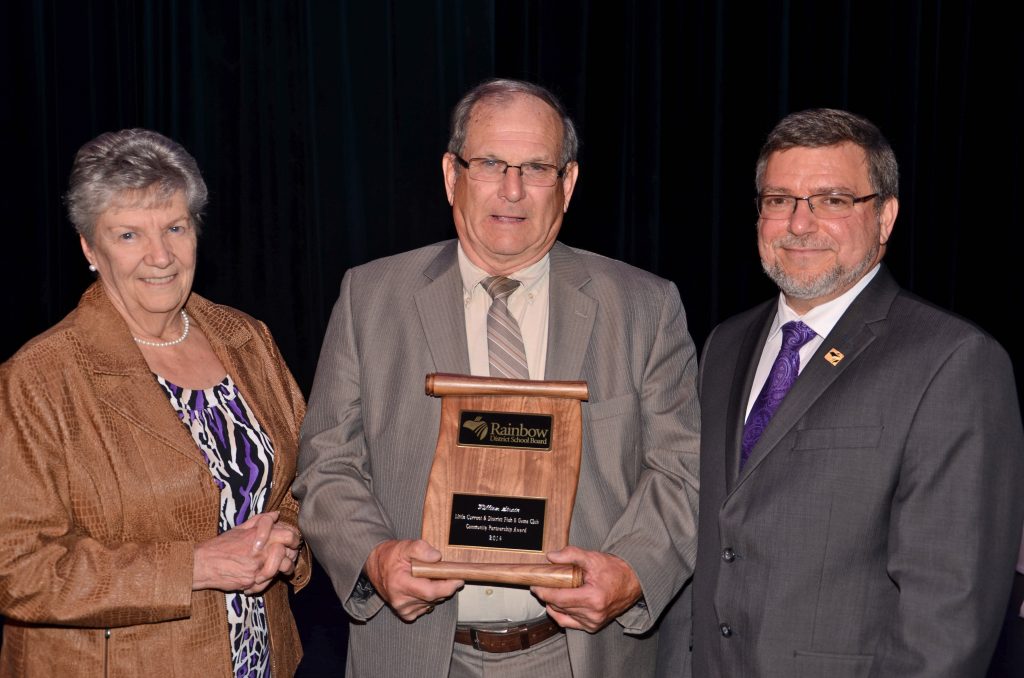 William Strain – President – Little Current & District Fish & Game Club
In his 40 years as a member of the Little Current & District Fish & Game Club, William Strain has combined his love of fish and wildlife with education. With the club's support, Bill Strain turned part of his property in Sheguiandah into an outdoor classroom where Grade 4 and 7 students learn about fish habitats, restocking programs, conservation and ecology. Workshops and demonstrations are designed to open students' eyes to many environmental issues and bring the curriculum to life.
A retired teacher, he connects with students and engages them through hands-on learning. Each student leaves with a fishing rod and reel. Bill Strain has even opened his property to postsecondary students to conduct stream assessments, monitor the ecosystem and document improvements. Bill Strain is a most deserving candidate for a Community Partnership Award for his dedication and the contribution of the Little Current & District Fish & Game Club to environmental preservation and education.
Go Green Globe Awards – 2014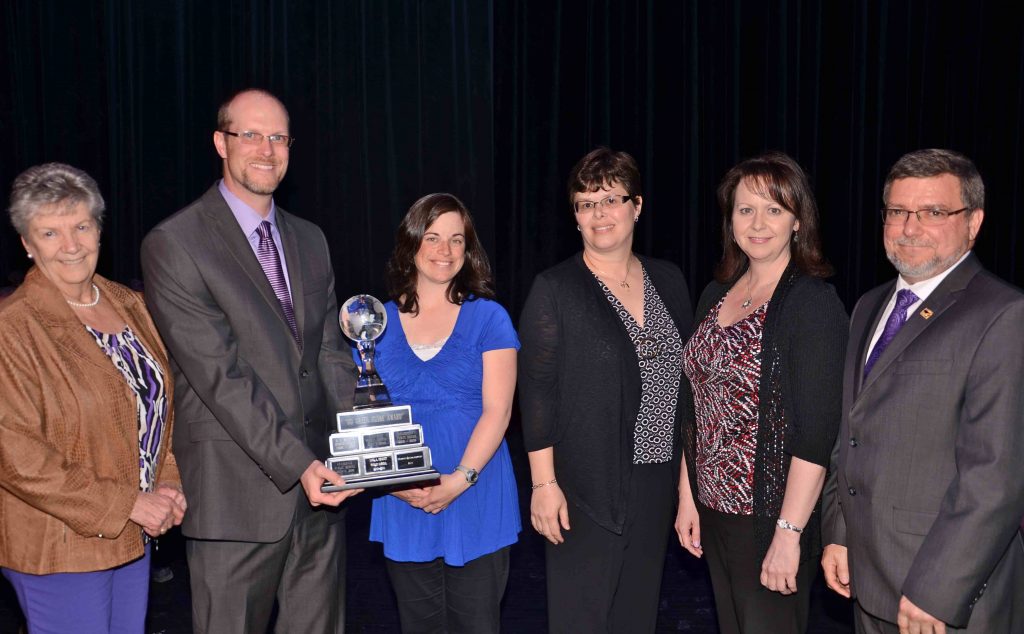 Walden Public School
Walden Public School, the Board's second green school, is a silver level EcoSchool, working hard to surpass this accreditation. Young environmentalists, made up of Grade 3, 4 and 5 students, promote waste reduction by encouraging litterless lunches, daily recycling, and the collection of organic waste. To conserve energy, lights and computer monitors are off when not in use. Students also participate in many activities – Earth Hour, Earth Week, World Water Day, Science North's Environmental Week, and Book Exchanges.
To build excitement around Green Team efforts, posters and messages featuring the "Green Three", cartoon characters created by a teacher, are shared with the school. Suze Reuse, Michael Recycle and Bruce Reduce encourage students to take ownership of their ecological footprint. Walden Public School also serves as a battery recycling centre, communicates via email to be 96 per cent paperless, and has a "no mow" zone in its natural school yard. They have earned the Go Green Globe Award for sustainability.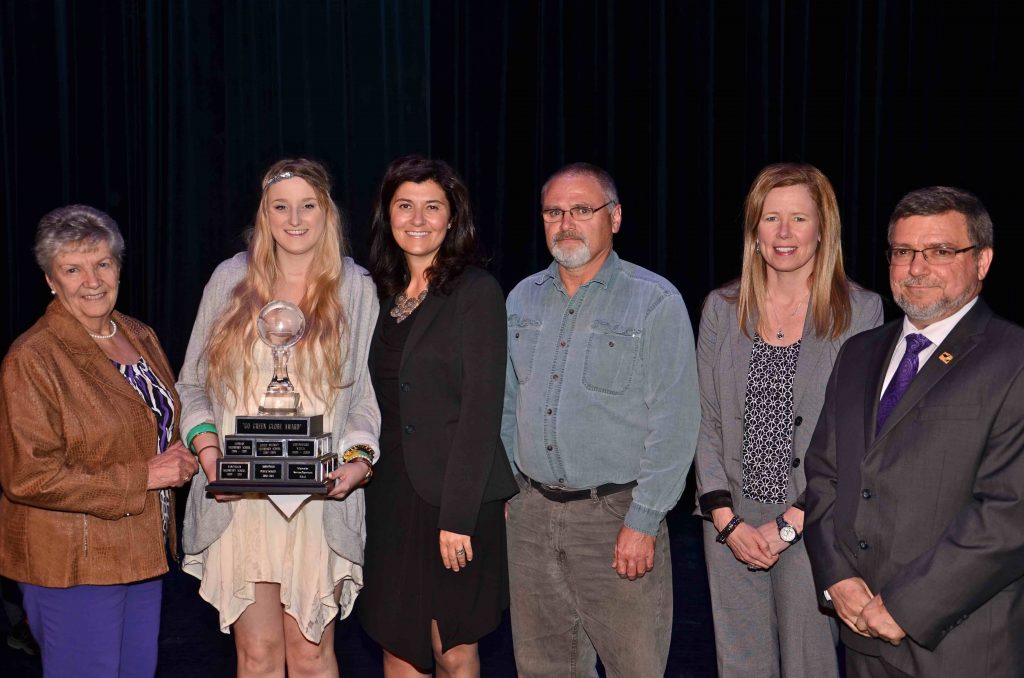 Lockerby Composite School
Lockerby Composite School is participating in EcoSchools, a provincial program that encourages environmentally responsible behaviour. The Go Green Team, made up of the custodian, facilities supervisor, administrator, students and teachers, has implemented many initiatives – school-wide recycling, battery and printer cartridge collection, water refilling stations, reduced heat and overall energy use, school yard re-greening and less waste.
Lockerby is fostering sustainability with impressive results, achieving savings while promoting a culture of conservation. This is shared through posters, newsletters, displays and Green Zone certificates for classrooms that have made big changes. Sustainability is also integrated into the curriculum. The Grade 9 Geography class, for instance, conducts waste audits. The Interior Design class maps out locations for garden boxes, trees, benches and picnic tables. Students in the Social Studies class water the garden beds and plant trees. Lockerby also participates in Earth Week and other eco-friendly events. For exemplary practice, they are most deserving of a Go Green Globe Award.
Awards for Excellence – 2014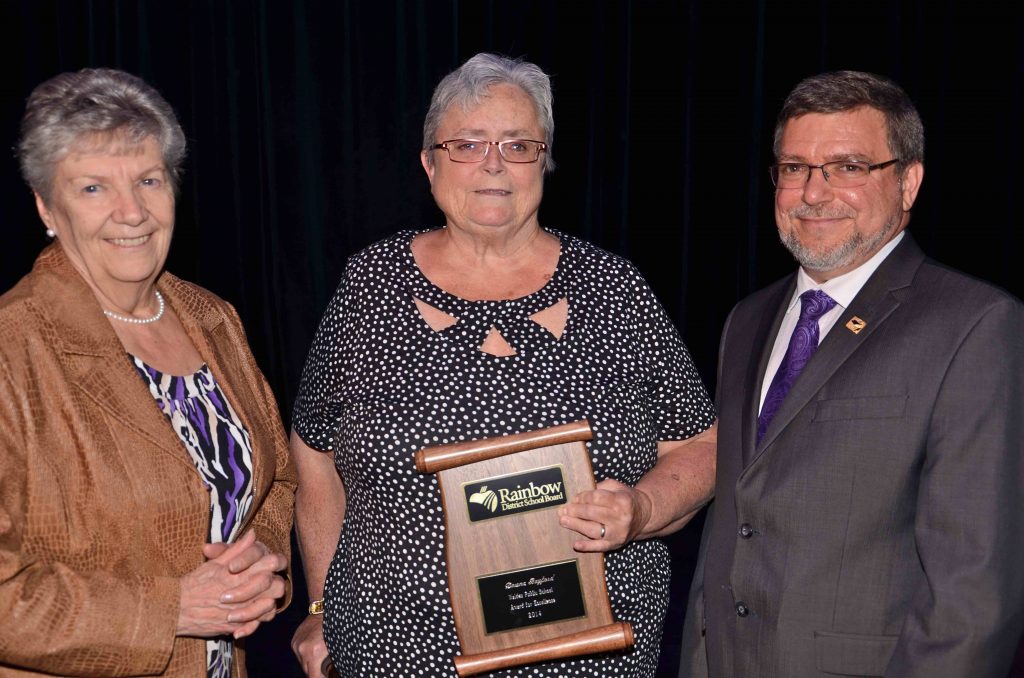 Dawna Bayford – Noon Hour Supervisor – Walden Public School
Dawna Bayford's toughest little critics sing her praises. "I love Mrs. B because she is just so warm. Her smile is over her eyes." Other children say "I love Mrs. B because she likes me… because she is nice… because she gives hugs… because she helps me open stuff." A retired cleaner with Rainbow District School Board, Dawna Bayford has been a Noon Hour Supervisor at Walden Public School for the past nine years.
Dawna is a highly energetic, positive person who sees the joy in everyday situations. She is adored by the Kindergarten students in her care and often receives visits from older students who remember her kind ways. She knows the children, their parents and, in some cases, their grandparents. She is always looking for ways to lift the spirits of others whether with flowers to celebrate accomplishments or baking to brighten everyone's day. She is loved and respected by all. Congratulations!
April Bois – Office Supervisor – Espanola High School
April Bois has been at the heart of Espanola High School for 30 years. Her professionalism, organizational skills and work ethic make her exceptional in her role as Office Supervisor. She also contributes to extra-curricular events such as graduations, school trips and award-winning curling teams. But it's her warm, caring, sensitive ways, and the little things that she does that set her apart. Her focus on the well-being of students ensures they feel important and valued.
April noticed a few students who regularly came to school without a lunch. She quietly went about finding out what they might like to eat and started making bagged lunches. Every year at Christmas, extra-large gift bags are assembled for more than 30 students. April compiles the list, collects money and items from staff and the community, sorts and organizes each bag, then sits back and wipes away tears as she witnesses the appreciation of the recipients as others hand them out. April Bois is an ideal candidate for an Award for Excellence.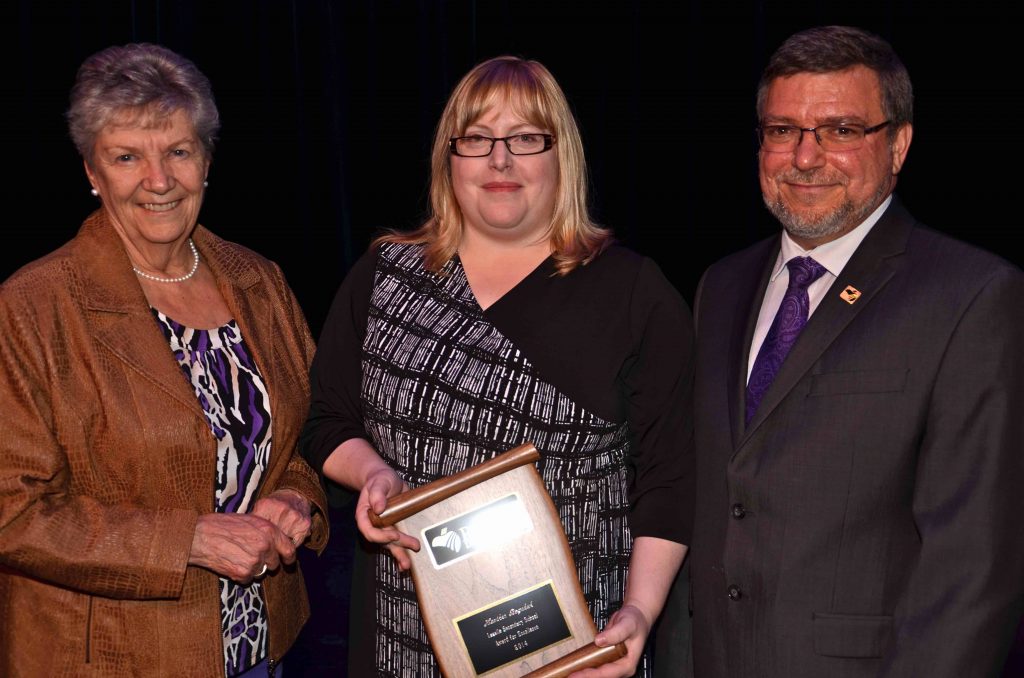 Heather Boychuk – Teacher – Lasalle Secondary School
Heather Boychuk is highly respected at Lasalle Secondary School where she teaches math. Well versed in the latest theories and instructional strategies, she can often be found working with students, before and after school, and during lunch. A versatile educator, she has helped Lasalle become a leader in integrating technology in math, including SMART boards in every math class and SMART response clickers. Other teachers have visited her classroom for professional learning.
At the heart of Heather's teaching is her desire to ensure that students achieve their full potential. She has the ability to engage even the most reluctant learners. Her persistence for student success makes her a teacher that students are happy to see on their timetables. Beyond academics, Heather Boychuk is the driving force behind Lasalle's Roots and Shoots Club that is raising funds to build a school in India. She is most deserving of an Award for Excellence.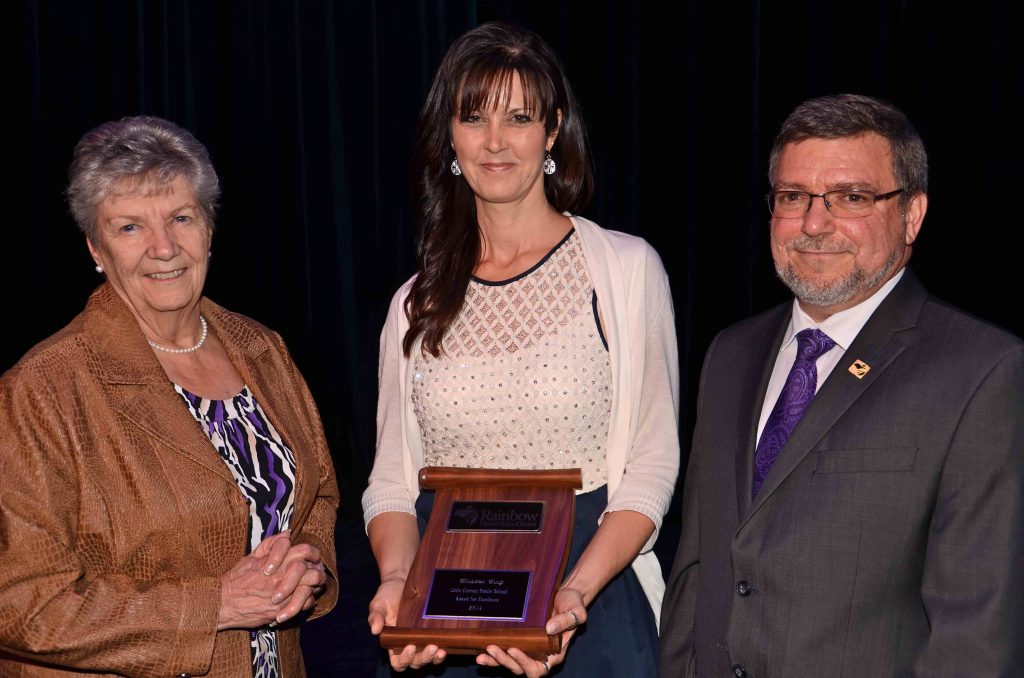 Christine Craig – Teacher – Little Current Public School
Dynamic instruction and a positive classroom environment make Christine Craig an exceptional educator at Little Current Public School. With 19 years as a teacher on Manitoulin Island, her passion for education is evident through her level of student engagement. Approachable and friendly, Christine acts as a positive role model for students and inspires them to consistently surpass expectations. She understands each student's strengths and what they require to improve as learners.
Christine Craig fosters inclusion, promotes healthy choices, and encourages physical well-being. She actively assists with many co-curricular activities, including cross-country and track and field. Christine engages with colleagues, contributes constructively to the overall improvement of the school, and can even get students excited about EQAO testing. Parents have expressed their appreciation for her drive, her sense of fairness and consistency, and her ability to meet student needs and make learning fun. Congratulations!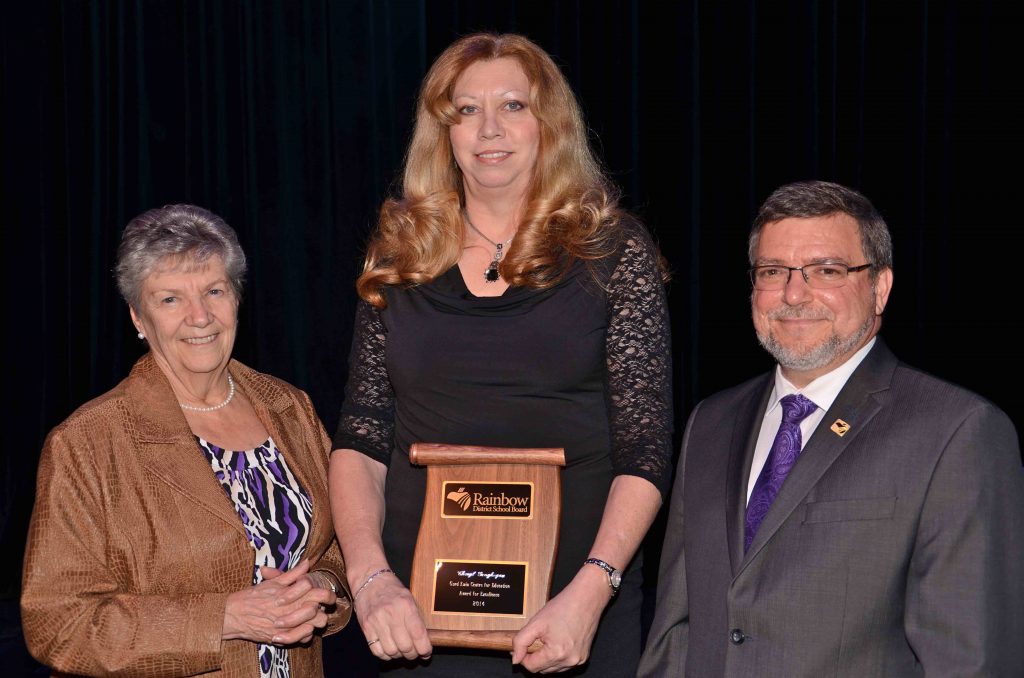 Cheryl Geoghegan – Co-ordinator – Gord Ewin Centre for Education
As Mathematics Co-ordinator for Grade 7 to 12, Cheryl Geoghegan is committed to student achievement. Working with teachers, she provides expertise in implementing the curriculum and leadership in developing dynamic teaching strategies. Cheryl is committed to supporting student engagement through 21st Century Technology. Students develop essential skills, such as critical thinking, creativity, communication and collaboration. Under her guidance, Grade 9 and 10 Applied Mathematics pass rates have significantly increased and there has been greater collaboration between Grade 7, 8 and 9 mathematics teachers.
In addition to her responsibilities as Co-ordinator, Cheryl is the Director of the Ontario Association of Mathematics Educators (OAME) and has been President of the Northern Ontario Mathematics Association (NOMA). As a result, Cheryl has an influence on instructional and assessment practices in mathematics across Ontario. She is an enthusiastic, innovative and visionary partner whose support is appreciated. Cheryl's hard work and dedication make her an ideal candidate for an Award for Excellence.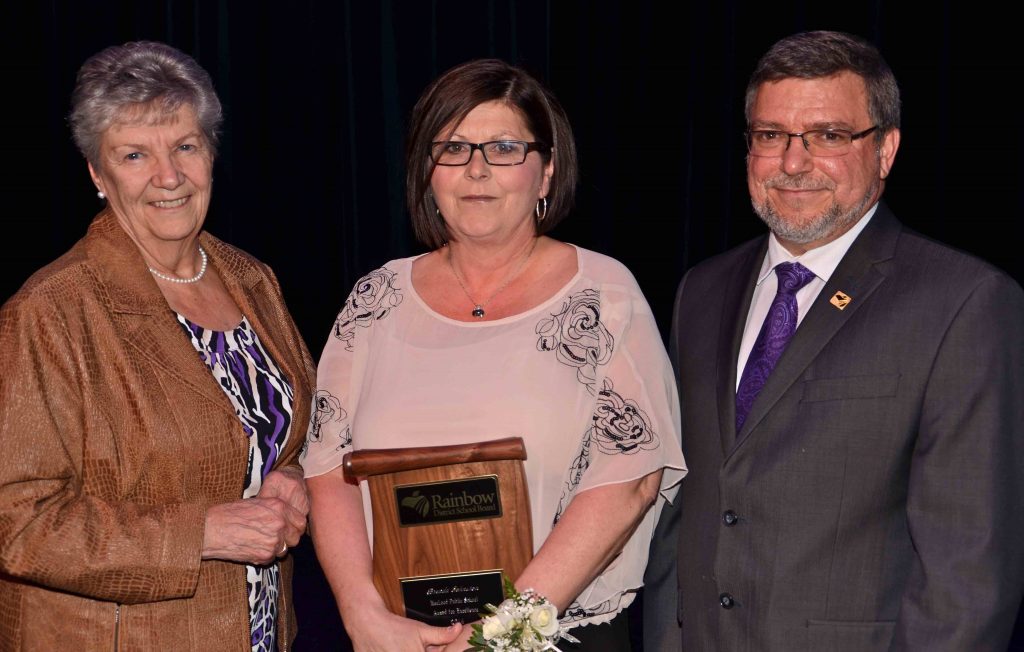 Brenda Johnston – Educational Assistant – MacLeod Public School
As an Educational Assistant, Brenda Johnston is an advocate for students with special needs, as well as those who require social, emotional and academic support. A continuous learner, Brenda keeps current through professional development and shares her expertise. While working with students with Autism and Asperger's, she developed an "All About Me" booklet to help everyone at MacLeod better understand the needs of these students.
Beyond her work as an Educational Assistant, Brenda supports many community charities and events such as the Sudbury Food Bank, the Alzheimer's Society and awareness walks for Tourette's and homelessness. While volunteering with the Elgin Street Mission, Brenda challenged staff and students to raise funds for the organization. Other schools in the Board have adopted some of her initiatives. Brenda nurtures self-confidence and success in every student, while creating a positive atmosphere. She is the heartbeat of MacLeod, the underlying pulse that is always there, no matter what. She is most deserving of an Award for Excellence.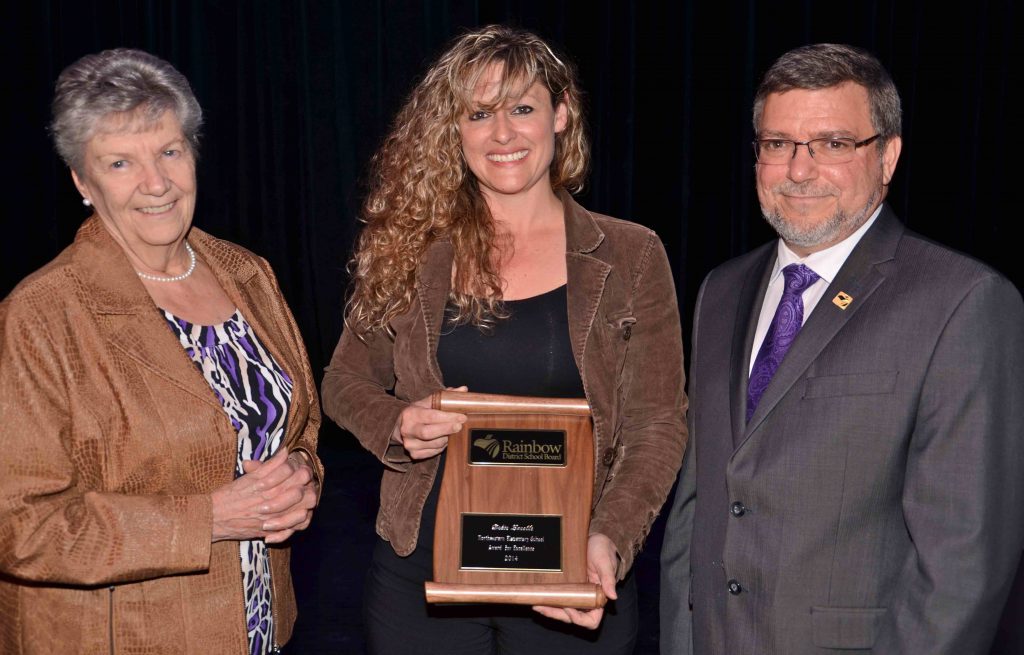 Debie Lacelle – Educational Assistant – Northeastern Elementary School
Debie Lacelle is dedicated to the students at Northeastern Elementary School. She goes above and beyond her role as an Educational Assistant to ensure students have the best possible experience at school. She helps prepare and serve breakfast to more than 280 students, demonstrates leadership on various committees, including the Student Parliament, and encourages students to lead fundraising activities and spirit days. As an experienced softball player, Debie shares her passion for sports through the Junior Softball team and the intramural recess program that she designed to develop social skills in students.
Everyone she meets feels important, valued and special. She greets newcomers warmly with her cheerful and positive attitude. Graduates have returned to visit Debie to express how much they appreciate and miss her. This lasting relationship stems from the fact that she treats every student with care and dignity while motivating and guiding them. Debie is a role model who is most deserving of an Award for Excellence.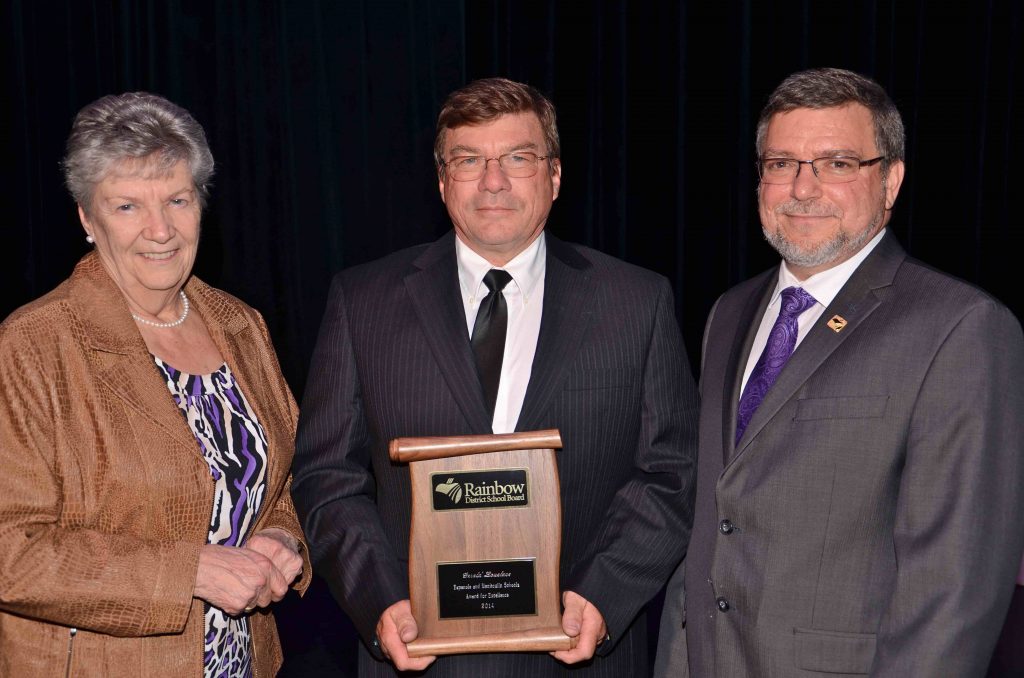 Gerald Lovelace – Facilities Supervisor – Espanola and Manitoulin Schools
Gerald Lovelace is an efficient, knowledgeable and dedicated employee. As Facilities Supervisor, he ensures the smooth operation of schools in Espanola and Manitoulin. His work ethic is outstanding. He goes above and beyond the call of duty in addressing the concerns that come to his attention at any time, day or night, whether related to plumbing, heating or security. Gerald is a problem solver and a good listener. He takes matters seriously and makes suggestions to help rectify problems. After work is completed, Gerald is either on site or will call to follow-up.
Gerald makes working on projects that can seem daunting a breeze. Whether speaking about facilities at School Council meetings or assisting with renovation plans for classrooms, Gerald can be counted on to meet the needs of students, staff and the community. A friendly, hard-working individual, Gerald is a talented and capable manager respected by all. Gerald Lovelace is most deserving of an Award for Excellence.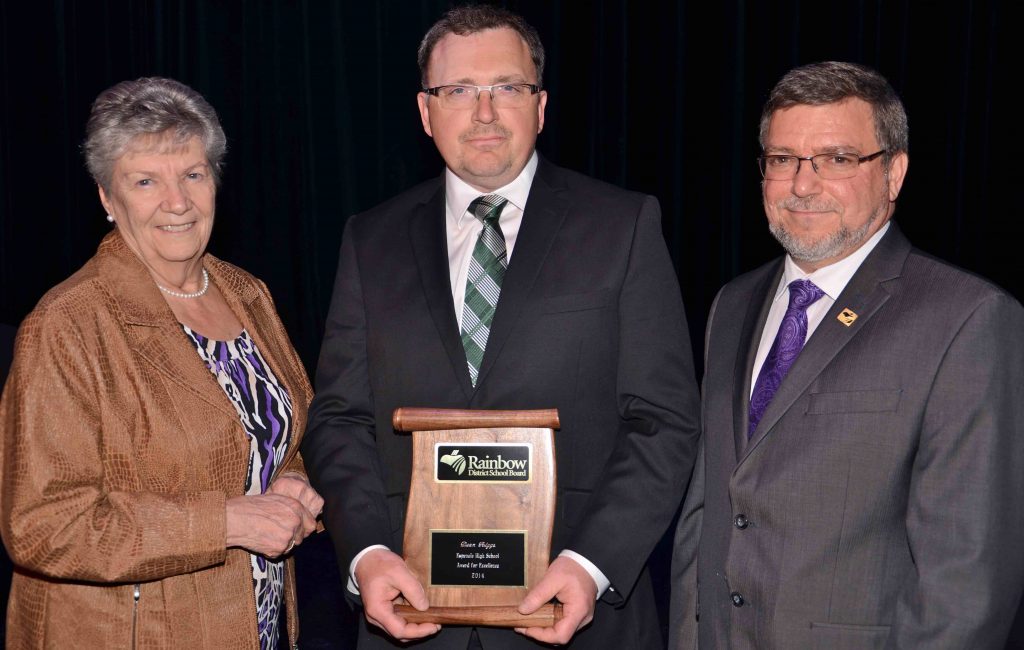 Dean Riggs – Teacher – Espanola High School
As a teacher at Espanola High School, Dean Riggs motivates his students to strive for excellence, and to become lifelong learners and responsible citizens. Dean leads the Co-operative Education program, which is among the most successful in the province. To celebrate the end of the year, Dean organizes a luncheon for the supervisors and students that is always well attended. He coordinates the school's breakfast club, hosts guest speakers, leads a trip to Europe every other year and has also coached several sports.
Trades/Careers Day, which brings together companies and individuals to showcase postsecondary opportunities to students, is one of his most significant contributions. Dean is also active in the community in which he lives. A humble person, Dean is one of those busy people who gets things done, often without anyone asking. His positive attitude and caring nature have made Espanola High School a better place to be. Dean Riggs is a deserving recipient of an Award for Excellence.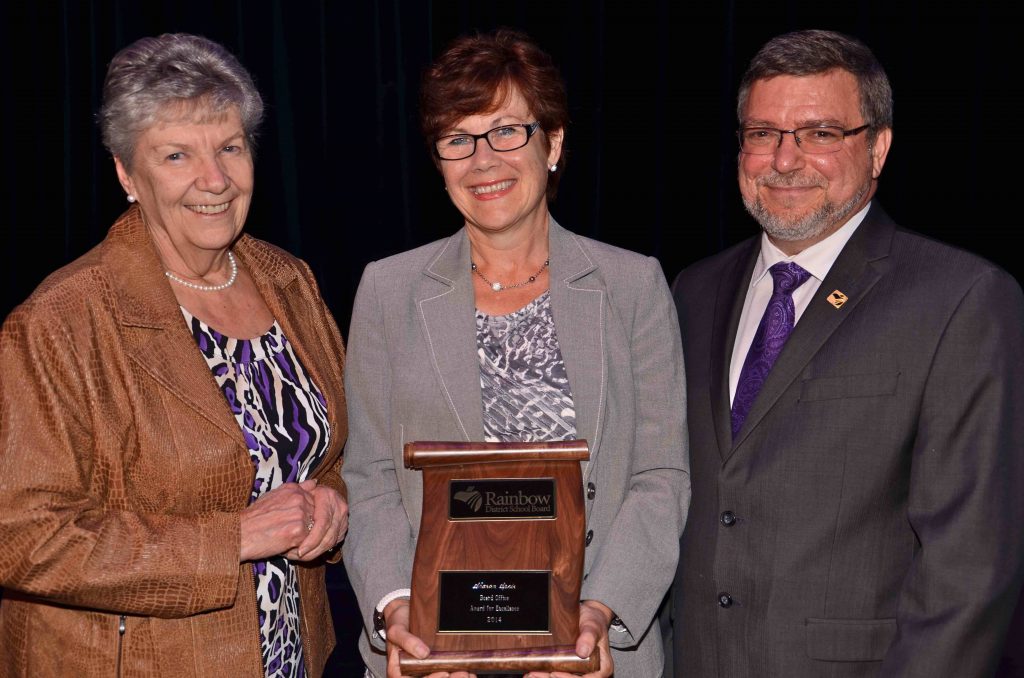 Sharon Speir – Superintendent of Schools – Board Office
As Superintendent of Schools, Dr. Sharon Speir played a leadership role in implementing new initiatives in Rainbow Schools, including the First Nations, Métis and Inuit Education Policy Framework and the new Early Learning Kindergarten Program. Most recently, she oversaw the delivery of education for students with special needs and the launch of the Board's mental health strategy. A highly respected educator on a provincial level, Dr. Speir was an exceptional advocate for students. She also served as a mentor for staff.
A champion of the Early Learning Kindergarten program, Dr. Speir was a catalyst for introducing the innovative Reggio Emilia approach to learning in Rainbow Schools. She also supported the creation of schools as community hubs for childcare services, ensuring a seamless transition. Dr. Speir's expertise has been recognized internationally. She recently retired from the Board to accept a position as Assistant Director of Early Childhood Education for the Ministry of Education in the Government of Bermuda. Thank you for your contribution.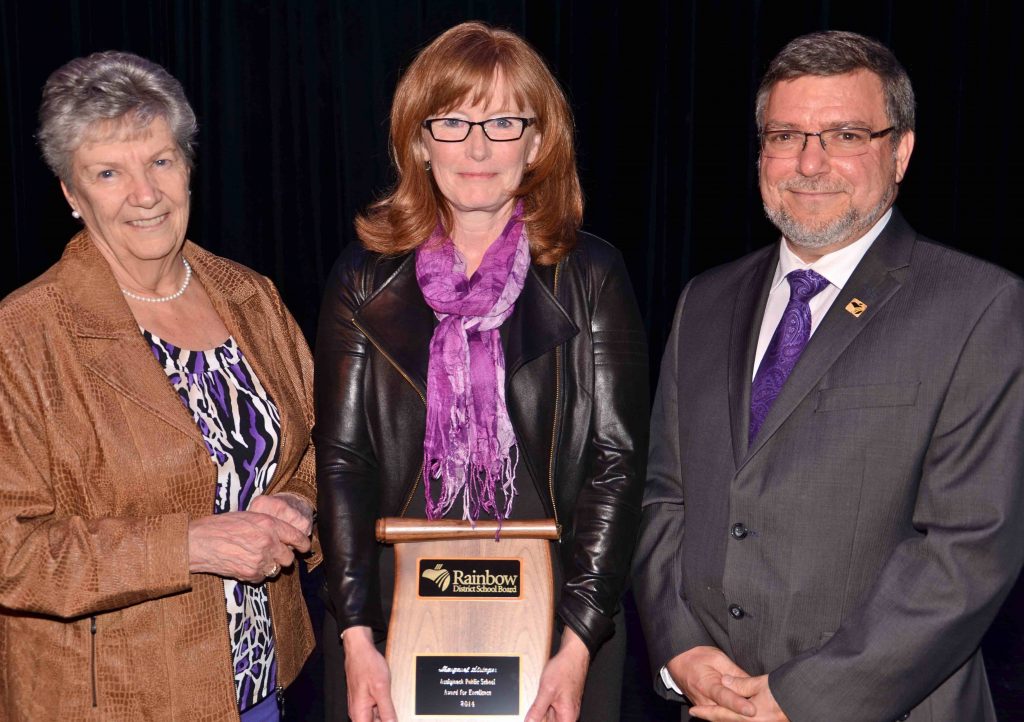 Margaret Stringer – Principal – Assiginack Public School
As Principal of Assiginack Public School and the former Principal of Special Education Programs and Services, Margaret Stringer is committed to the well-being of all students. She demonstrates compassion and kindness when working with children, parents and educators. She has a special place in her heart for students with special needs and advocates for programs that will support them in their learning. Margaret also maintains positive working relationships with community partners for the benefit of students.
Through her leadership in Learning for All and Assessing Achievement in Alternative Areas, Rainbow has been a lead board provincially and embraces the philosophy that "what's necessary for some is good for all." When working with colleagues, Margaret creates a comfortable and collaborative atmosphere. She is approachable and encourages others to share their experiences and concerns. She exemplifies professionalism and models patience, empathy, diplomacy, courtesy and acceptance. For her hard work and dedication, Margaret Stringer is a deserving recipient of an Award for Excellence.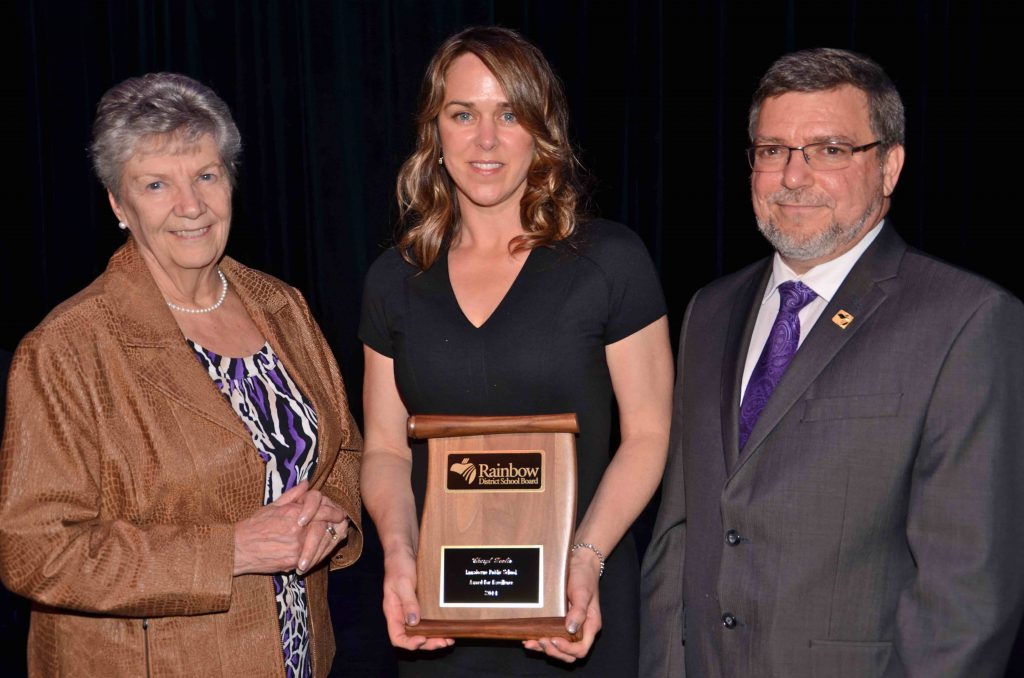 Cheryl Teolis – Teacher – Lansdowne Public School
Cheryl Teolis has high expectations for her students at Lansdowne Public School. Her lessons in math and literacy have real-life applications that enable students to see the connection between their learning and why it is important. Cheryl combines a firm, fair, and consistent approach to classroom management with care and compassion. She is patient, kind and positive, creating a safe space to provide guidance and help to nurture all students to achieve their full potential. Cheryl's open approach reassures parents that the school has the students' best interests at heart.
Cheryl strives to continually improve her practice through professional learning and additional qualifications. An excellent mentor for teachers, she enjoys engaging in deep conversations about teaching and learning. Cheryl is a dedicated and enthusiastic teacher whose love for children shines through in everything that she does. She is committed to providing her students with the very best educational experience. She is most deserving of an Award for Excellence.
Barbara Konarek Memorial Award – 2014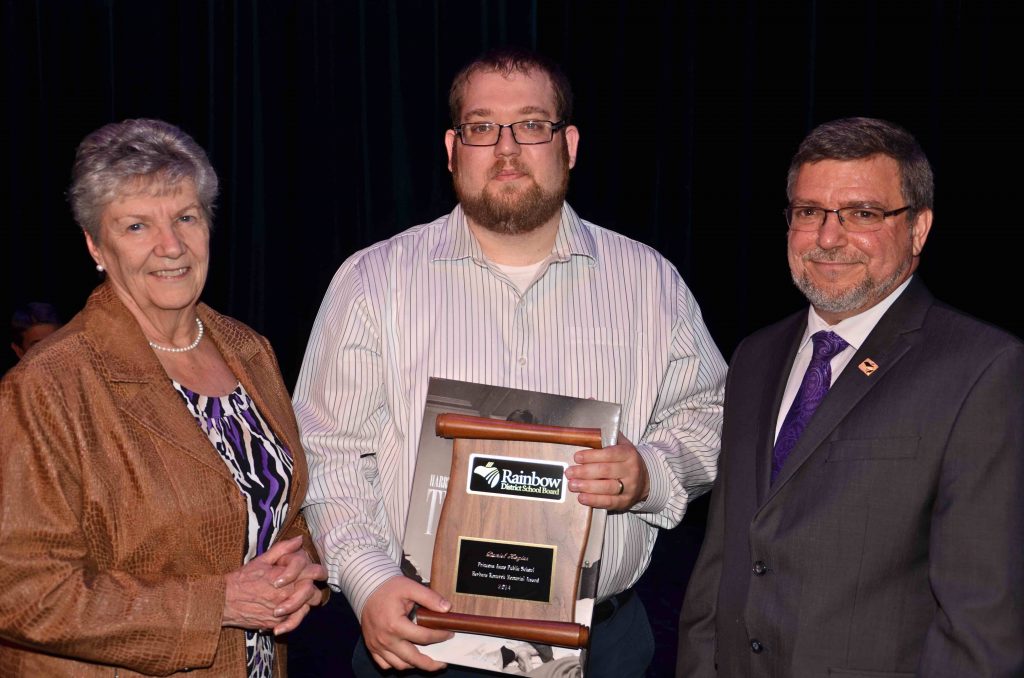 Daniel Koziar – Teacher – Princess Anne Public School
Daniel Koziar is a special education resource teacher at Princess Anne Public School. An exemplary educator with moral purpose, he is committed to the well-being and happiness of students. He welcomes families into the school before the first day to create a smooth transition and maintains ongoing communication throughout the year. He organizes Literacy and Numeracy Evenings, Welcome to Kindergarten, Open House events and guest speakers from community agencies.
A collaborative colleague, Daniel is committed to nurturing a culture of mutual respect and understanding by building partnerships, promoting diversity, acknowledging talents, celebrating accomplishments and taking pride in student success. He motivates students to reach their potential and achieve their goals by setting high expectations and providing support. He is the caring adult who offers a safe place where students go when they are having a tough day. He is the teacher that students fondly remember throughout their lifetime. Daniel Koziar's selflessness and hard-working nature have earned him the Barbara Konarek
William N.Roman Teacher of the Year Awards – 2014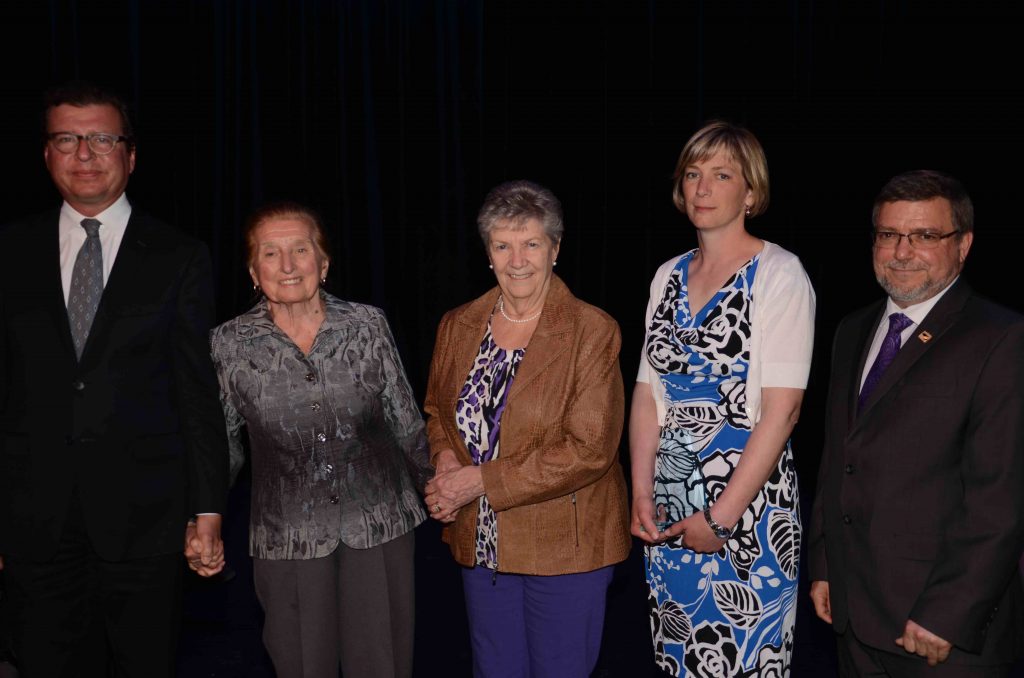 Heather Pennie – Teacher – Assiginack Public School
A creative, caring, and forward thinking teacher, Heather Pennie is a spark that ignites student learning at Assiginack Public School. Relevant lessons link the curriculum to real-life. This year, students made quilts based on novels and movies and wrote an article for the Canadian Quilter Magazine. Heather sets high expectations for her students and they rise to the challenge. She uses technology to build on each student's strengths and exposes them to a variety of virtual learning opportunities, including podcasts.
Heather incorporates her love of the outdoors into her teaching. She is currently working with the School Council, township and staff to develop an outdoor classroom at Assiginack Public School. She also contributes to co-curricular activities, such as cross-country and track and field. Staff are always welcome to observe Heather's lessons and she is always eager to improve her teaching practice through professional learning. An exemplary educator, Heather Pennie is an ideal candidate for the William N. Roman Teacher of the Year Award.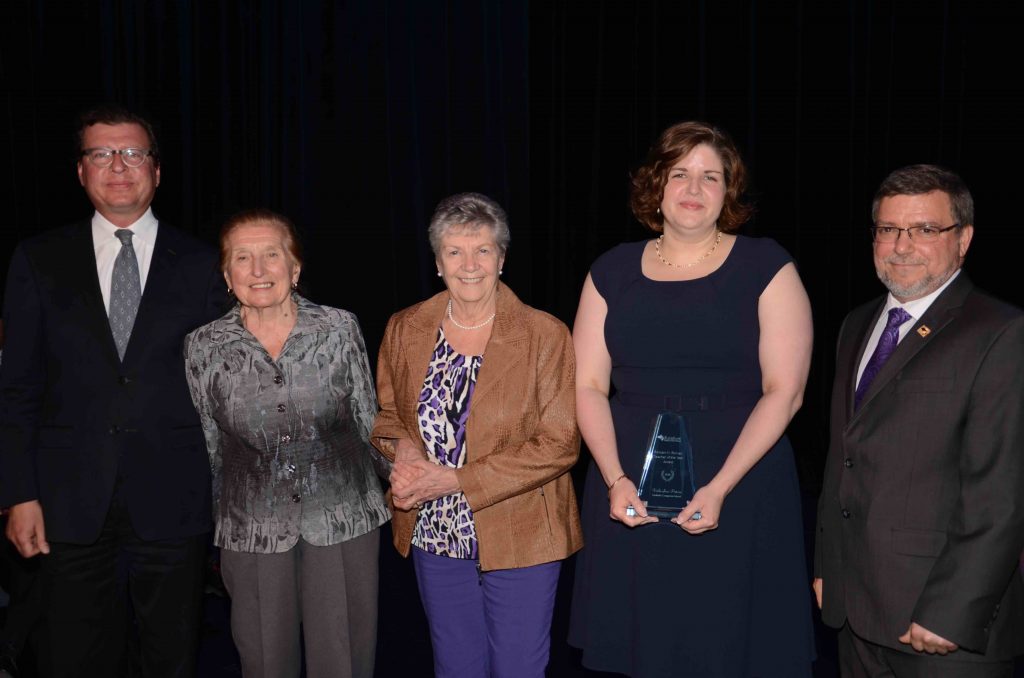 Vicki-Sue Potvin – Teacher – Lockerby Composite School
Vicki-Sue Potvin makes science fun at Lockerby Composite School where her subjects include chemistry. Working with community partners, she developed a Forensic Science program with specialized labs that engage students. Often the first to implement new technology and new approaches, teachers visit her classroom to observe lessons so they may adopt her best practices at their schools. Her assessment strategies ensure that students are aware of their strengths and areas of improvement.
Students appreciate her open door policy and visit her classroom for extra support. A wonderful motivator who runs an interactive classroom, students say she is extremely enthusiastic and hardworking and instills these character traits in them. Beyond the classroom, Vicki-Sue Potvin has provided leadership to students in organizing Lockerby's annual Kids Caring for Kids Remembering Laura Cotesta Cancer Drive. Vicki-Sue has a deep respect for adolescents and sees the potential in all of them. She is most deserving of the William N. Roman Teacher of the Year Award.
Apple Award – 2014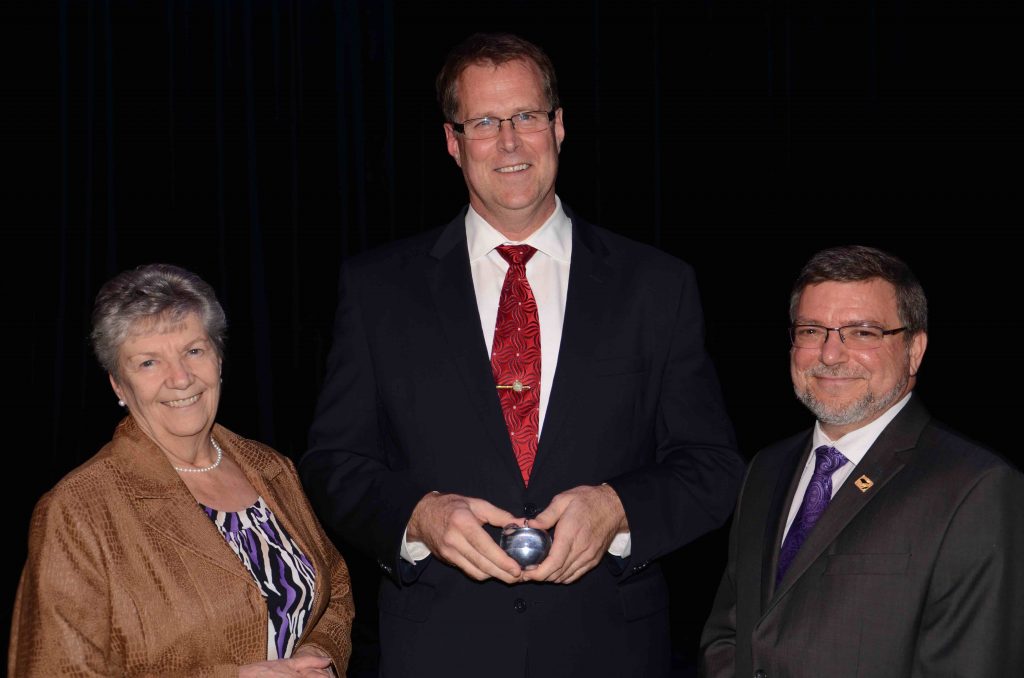 Jeff McKibbon – Principal – Lasalle Secondary School
The Apple Award is presented to a Rainbow District School Board employee who brings pride and praise to Rainbow Schools on a national level or beyond. Jeff McKibbon of Lasalle Secondary School was recognized for his exceptional leadership this year. He is among Canada's Outstanding Principals. The Learning Partnership uses a range of criteria to select recipients from student achievement, to instructional leadership, to professional learning teams, to partnerships with families and communities, to personal growth initiatives.
Principal McKibbon has consistently led by example. He nurtures student success, inspires staff, engages parents and builds partnerships with positive results. His focus is clearly aimed at making every student feel valued and successful. His vision and work ethic demonstrate a desire to enable each student to achieve his or her potential. Principal McKibbon's commitment to success for every student is reflected in his school's gains in student achievement. He models the character traits that we instill in students for learning and life. Congratulations!