Board Awards – 2015
Awards for outstanding Contribution to the Co-Curricular Program – 2015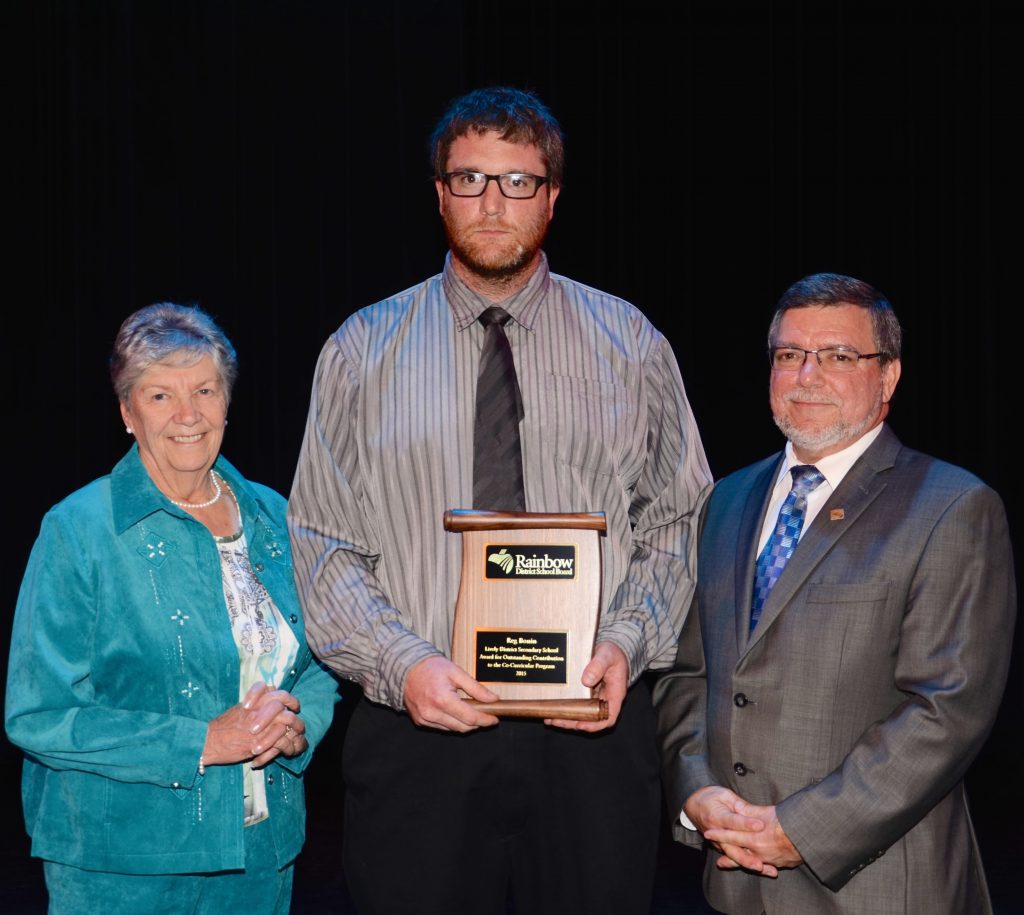 Reg Bonin – Teacher – Lively District Secondary School
Reg Bonin is a champion for students inside and outside of the classroom. When Lively District Secondary School brought football back, Reg Bonin was chosen as head coach for the senior team in 2008. As the level of student interest skyrocketed, he developed a junior team. Under his leadership, both teams have had tremendous success, including gold and silver medalists in City Championships. Through his efforts, he has helped students cultivate a sense of belief in themselves, their abilities and their love for the game. Noted by opposing teams as one of the most influential, inspiring and motivational coaches in the city, Reg Bonin received the House of Kin – Coach of the Year Award in 2013 – 2014. Off the field, he is a Program Leader for Special Education who continuously strives to build relationships with students to help them be successful. Congratulations!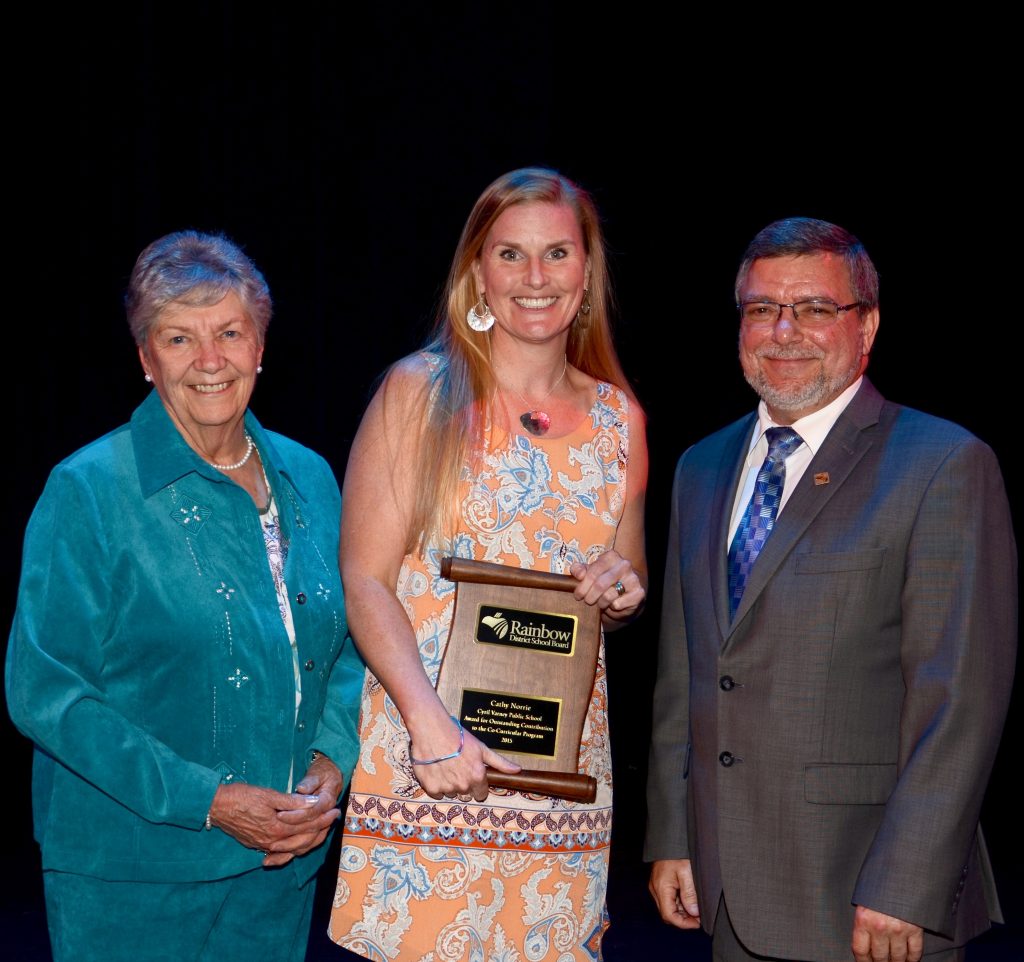 Cathy Norrie – Teacher – Cyril Varney Public School
Cathy Norrie has been a teacher with Rainbow District School Board for 16 years. She coaches numerous teams at Cyril Varney Public School, including cross-country running, cross-country skiing, volleyball, soccer and track and field. Students have the opportunity to participate in a variety of athletics and she often coaches two teams of the same sport to allow students to play. Tournament organizers comment on the respectful demeanor and sportsmanlike attitude of the players under her leadership. Cathy Norrie's passion for fitness serves as a great example for health and wellness. She takes pride in working with students to build self-esteem and promotes positive character building skills. She gives generously of her time to support causes like the Heart and Stroke Foundation's Jump Rope for Heart. Over the last seven years, she has helped to raise over $20,000 for the cause. Congratulations!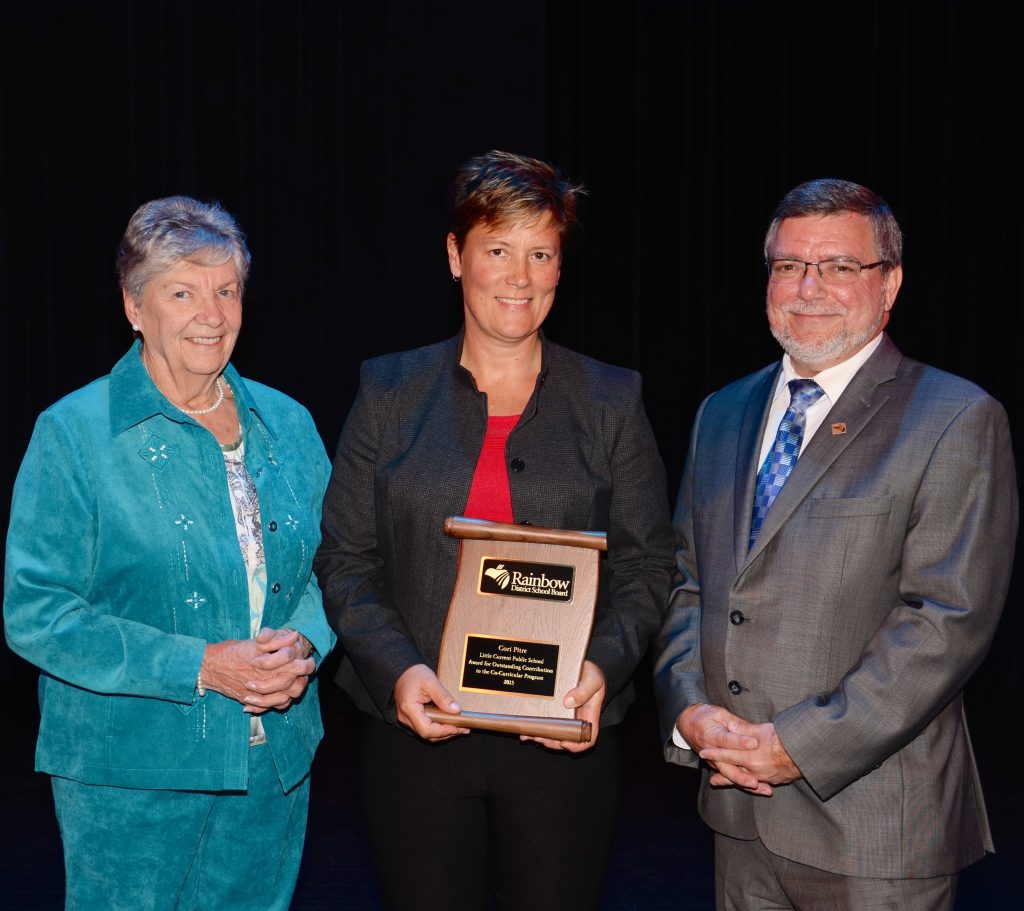 Cori Pitre – Principal – S. Geiger Public School/Webbwood Public School
Cori Pitre leads quietly by example and her students always come first.  Currently a Principal at Webbwood and S. Geiger, Cori was nominated for this award by the Webbwood staff when she was Vice-Principal.  As a Vice-Principal, Cori organized the breakfast club and monthly community breakfasts, planned awards ceremonies, led literacy circles, led community art projects, and worked tirelessly to promote diversity.  Cori Pitre is committed to providing athletic opportunities to all students. She encouraged involvement in the SPARK program and organized lunch hour volleyball, along with many staff-student volleyball games.  The Webbwood junior and intermediate volleyball teams competed and were successful in a variety of tournaments and championships.  System-wide, she shares her commitment to diversity as an active voice on the Equity and Inclusive Education Committee. She is most deserving of an Award for Outstanding Contribution to the Co-Curricular Program.
Colin Ward – Teacher – Lo-Ellen Park Secondary School
Colin Ward's passion for athletics inspires students at Lo-Ellen Park Secondary School to strive for excellence. A teacher in Outdoor Education, Kinesiology and Personal Fitness, his dedication to student wellness extends beyond the classroom. He has coached many Lo-Ellen Park athletes to the top of the podium at local and provincial levels in cross-country running, Nordic skiing, and track and field. Over the years, he has contributed to a number of OFSAA events held locally. He was head of the hurdle crew at the track and field meet in 2011, a start line official and member of the organizing committee for cross-country running in 2013, and parking/traffic manager for Nordic skiing in 2015. For his enthusiasm, patience and exemplary guidance, Colin Ward is highly regarded by students, staff, parents/guardians and colleagues alike. This makes him an ideal candidate for an Award for Outstanding Contribution to the Co-Curricular Program. Congratulations!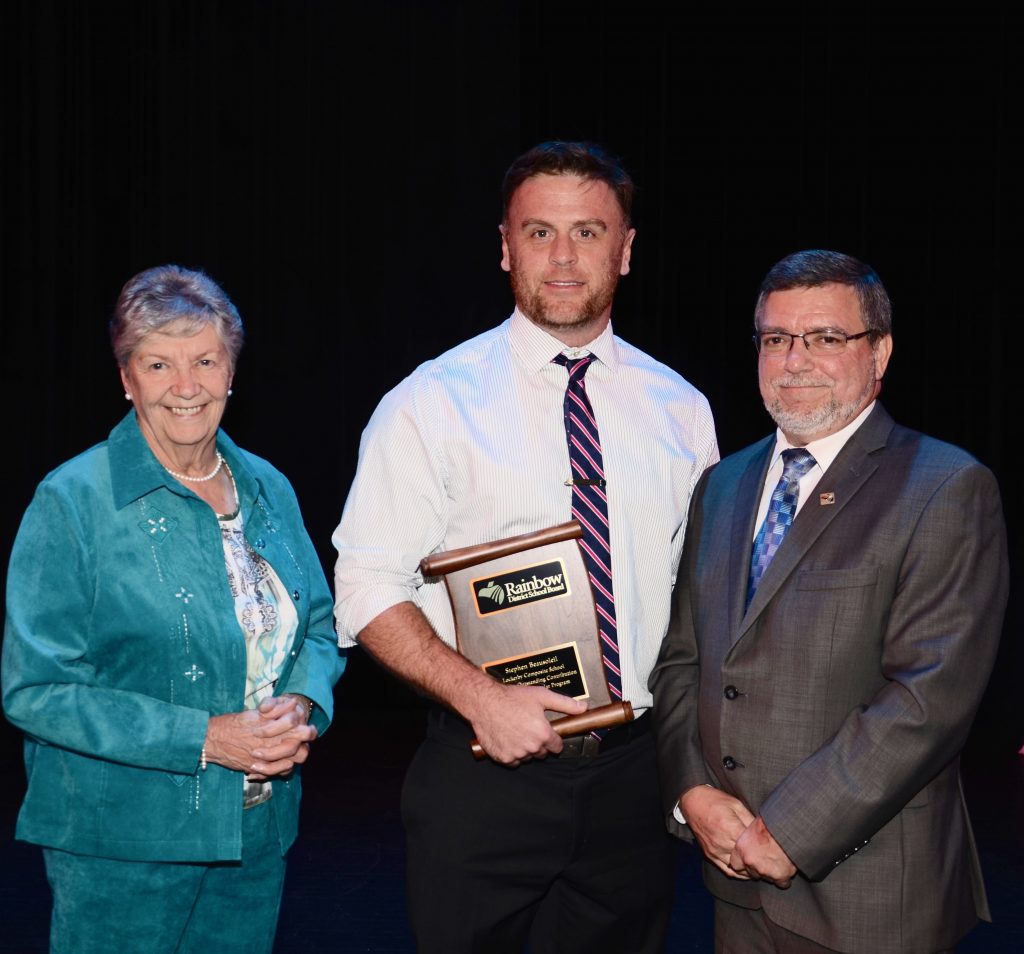 Stephen Beausoleil – Teacher – Lockerby Composite School
A teacher at Lockerby Composite School, Steve Beausoleil inspires students to excel in academics and athletics. Under his leadership, the Vikings boys' volleyball teams have garnered gold in six local championships and eight Northern championships. The senior team won OFSAA bronze in 2011. Steve Beausoleil also coaches the girls' volleyball teams and led them to capture gold during five local championships and two Northern championships. His love of volleyball extends from the school to the Greater Sudbury community. Thanks to his guidance, many students continue to play competitive sports following graduation. Steve Beausoleil also coaches badminton and tennis. He will often coach the junior and senior teams simultaneously, to allow students better opportunities to play. Selfless in nature, Steve Beausoleil puts his students' needs above his own. The Board is pleased to recognize Steve Beausoleil for his contribution to the co-curricular program. Congratulations!
Community Partnership Award – 2015
YMCA John Island Camp
YMCA Sudbury and Lasalle Secondary School have a well-established partnership through which John Island Camp, now in its 62nd year, is being revitalized. Students who participate in the John Island Camp Rejuvenation Project receive a Grade 11 construction technology credit, a co-operative education credit, and two dual credits in the Carpentry Level 1 Apprenticeship Program at Cambrian College. YMCA Sudbury also sponsors students for practical hours for an apprenticeship. The John Island Camp Rejuvenation Project offers students the opportunity to participate in an authentic learning experience in a non-traditional setting. The innovative partnership has proven extremely beneficial for students, particularly those who learn best by doing. Through this program, students develop important life skills like co-operation, integrity and responsibility, skills that will help ensure their success in the workforce. The Board is pleased to honour the YMCA John Island Camp for its contribution to student success.
Go Green Globe Awards – 2015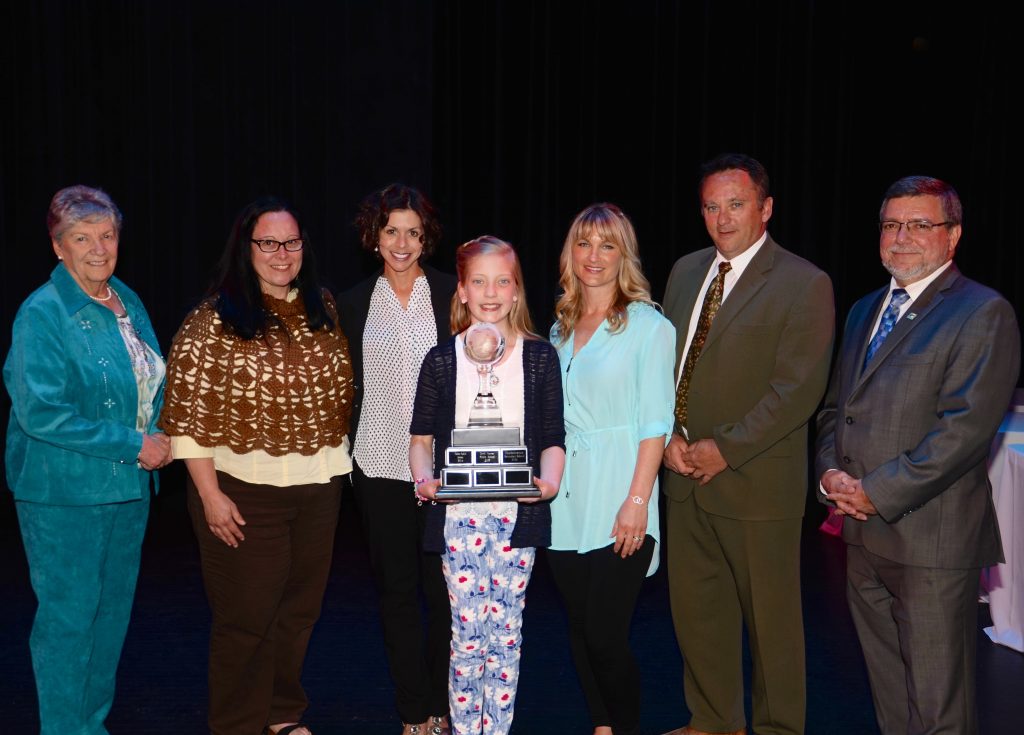 Cyril Varney Public School
Cyril Varney Public School's commitment to the environment has had a positive impact on the school, the community and the planet. Staff and students have worked diligently to achieve an Ontario EcoSchools certification. The school's Eco Team promotes waste minimization, school ground re-greening, and energy conservation. To build enthusiasm, students receive eco-friendly reminders on a daily basis through morning announcements, newsletters and classroom projects. Eco Team members regularly perform waste audits and sift through wastebaskets to find recyclable items. There are Lights Out When You Can signs near all switches and Good On One Side bins for single-sided recyclable paper. Students also compete for the Golden Garbage Award, which is given to the class that produces the least amount of waste during litterless lunches, which are held twice a week. For their efforts in sustainability, Cyril Varney Public School has earned the Go Green Globe Award. Accepting the award on behalf of Cyril Varney Public School are, from left, Vice-Principal Janelle Bast, Designated Early Childhood Educator Amanda Deni, student Kailey Bridge, teacher Christine Nicholson and Principal Ron Hodkinson.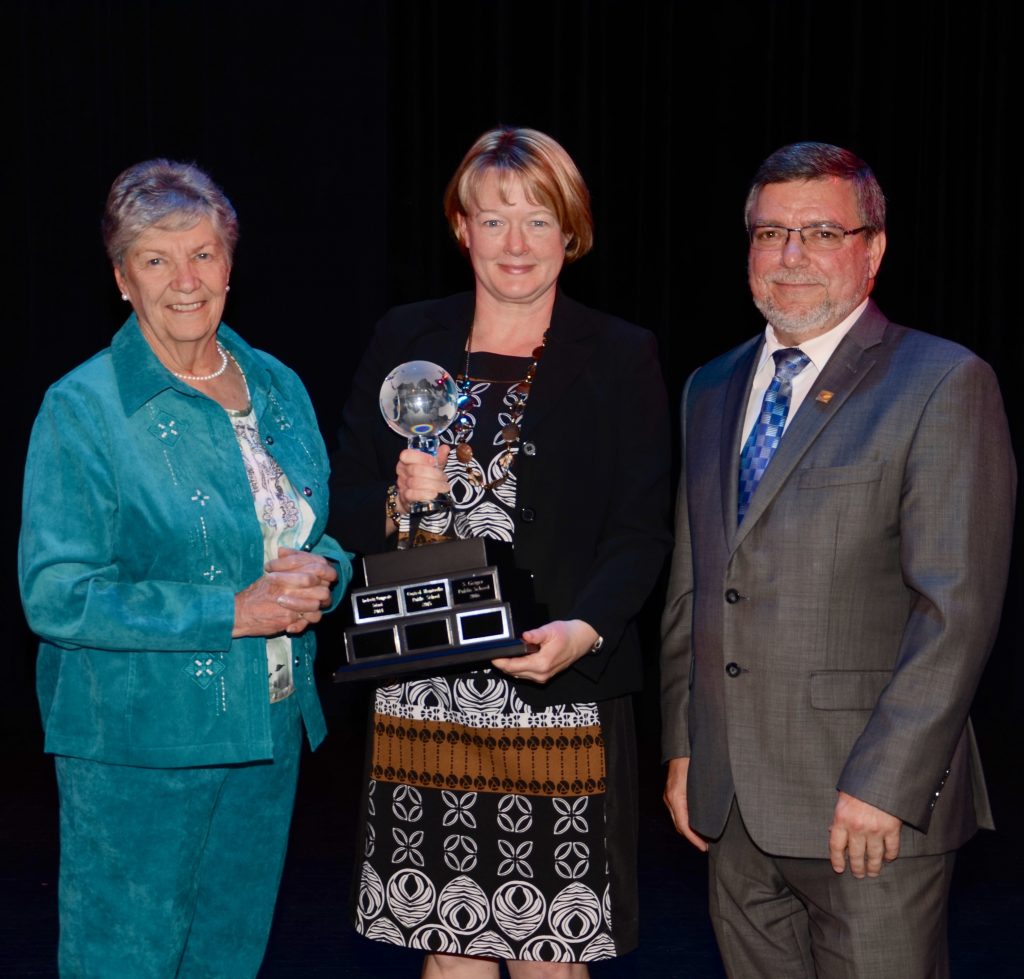 Central Manitoulin Public School
Central Manitoulin Public School received a Toyota Evergreen Grant to support sustainability, with flower beds, vegetable gardens and trees being planted. Fresh fruit and vegetables are harvested for the breakfast program and the flower beds contribute to bird and monarch butterfly habitats. The outdoor re-greening projects also provide excellent opportunities to integrate environmental education into everyday learning. The Go Green Team leads a number of initiatives including the school's composting program and events such as boomerang and lights out lunches, and Turn It Off Tuesdays. Go Green members perform regular audits to monitor food waste, recycling and energy use. Students and staff participate in activities such as the Great Canadian Shoreline Cleanup, and celebrate international events like Earth Day and Mountain Day. Staff and students continue to build prosperous relationships with community volunteers and partners to sustain their efforts. Congratulations on your Go Green Globe Award! Accepting the award on behalf of Central Manitoulin Public School is Principal Tracey Chapman.
Awards of Excellence – 2015
Beth Davidson – Teacher – Central Manitoulin Public School
With close to 30 years as an educator, Beth Davidson believes every student can learn. An inspiring teacher, she worked diligently to ensure students made individual gains on a daily basis and encouraged them to spread seeds of kindness. An exemplary role model, she was a goal-oriented and reflective practitioner who asked herself how things could be done better. Beth Davidson's dedication to literacy was highlighted in literacy best practice DVDs and a series of Reading at Home tip sheets for parents/guardians. She taught volunteers how to read to at-risk students and spent two years as a Literacy Coach. A trailblazer for Aboriginal culture and education, Beth implemented Aboriginal Day at Adamsdale Public School. She also understood the importance of modern educational practices and was a strong advocate for iPads at Central Manitoulin Public School. Congratulations on your Award for Excellence!
Doris Peristeridis – Secretary – Gord Ewin Centre for Education
Doris Peristeridis is a self-motivated learner with a variety of technical and clerical skills. As Secretary at the Gord Ewin Centre for Education, she is quick to analyze situations and identify how tasks can be completed efficiently. With a background in accounting, her data entry capabilities are top notch. She has the ability to multi-task within the office environment and often seeks proficiencies in her actions. Doris Peristeridis has developed an outstanding rapport with staff, students, parents and community members alike. She ensures that any and all matters are addressed with careful consideration and the utmost professionalism. It is evident that she cares deeply for those around her, as she is always willing to lend a helping hand. Her creativity, dedication and skilled enthusiasm for her work make her an ideal recipient of an Award for Excellence. Congratulations!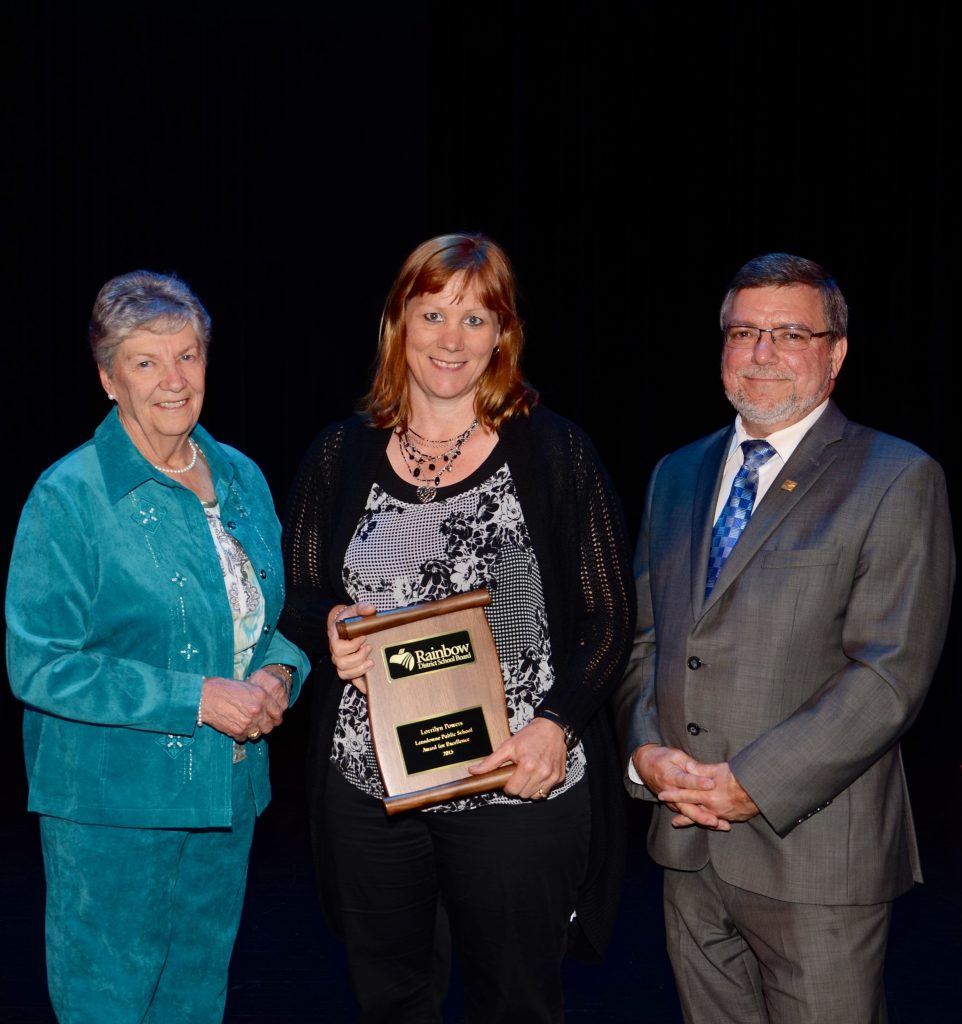 Lorrilyn Powers – Educational Assistant – Lansdowne Public School
Lorrilyn Powers has been an Educational Assistant for 10 years. She helps students at Lansdowne Public School build positive learning habits and self-confidence. She nurtures the whole student, considering academic, physical, and emotional needs to provide a proactive approach to learning. She ensures students experience challenges on a daily basis and they are supported in all subjects. Lorrilyn leads Lansdowne's junior soccer team. She takes pride in guaranteeing students have uniforms and equipment, and encourages fair play and sportsmanship. She runs the school's snack program each day and has nurtured student leadership through the recruitment of a student support team. She teaches guitar, coordinates youth activities in the community, and acts as a role model in and out of the classroom. Self-motivated, attentive, quiet, and humble, Lorrilyn Powers leads by example. For Lorrilyn, there are no problems, only solutions. Congratulations!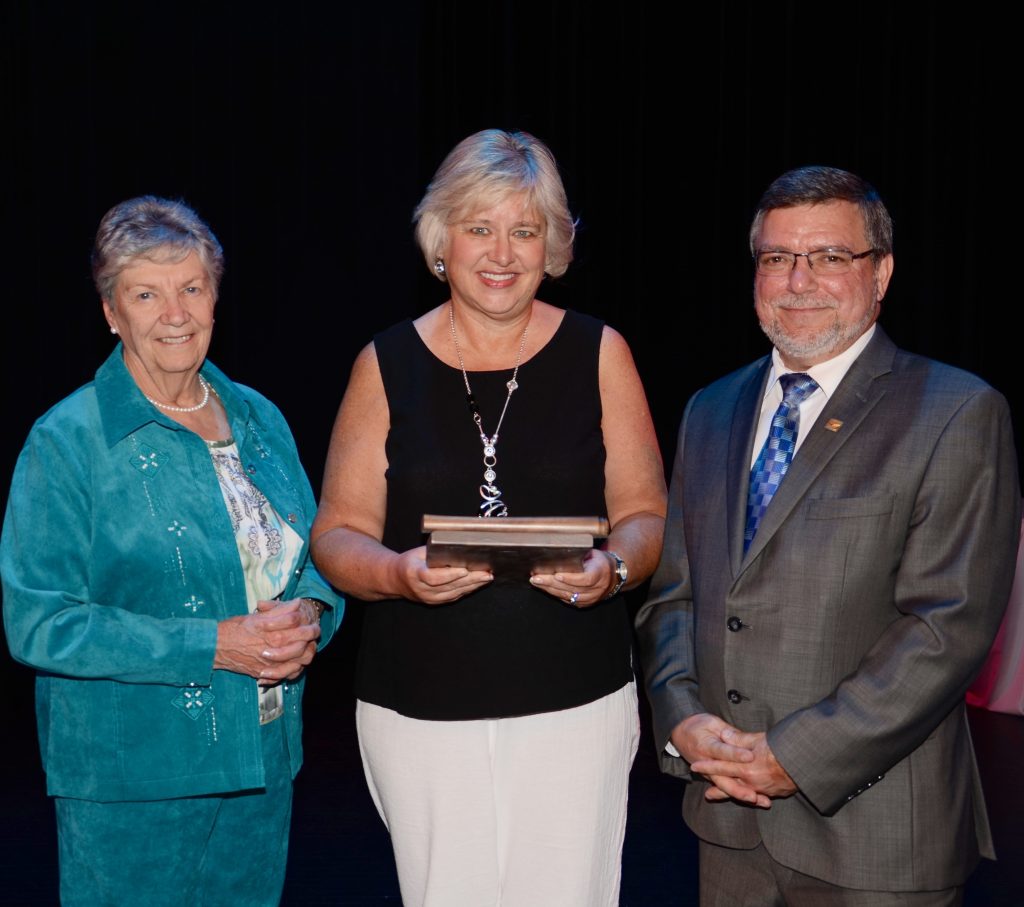 Marlene Rantala – Program Leader Student Services – Lockerby Composite School
Conscientious and caring, Marlene Rantala brought a wealth of enthusiasm to Lockerby Composite School. During her 32 years with the Board, she taught Co-op, English and Family Studies. She also served as Program Leader in various pathways. Regardless of her position, her passion for student achievement remained her primary focus. Marlene Rantala was always willing to go the extra mile. Students relied on her for guidance on postsecondary education and career paths. A strong leader, she spearheaded a number of initiatives for students, including building positive relationships with community members and developing a student services website. She worked diligently with the Student Success Team to raise awareness and respond to at risk students and students with special needs. As Chairperson of the Sudbury and District Guidance Counselors Association for two years, she was also a role model for colleagues. Congratulations!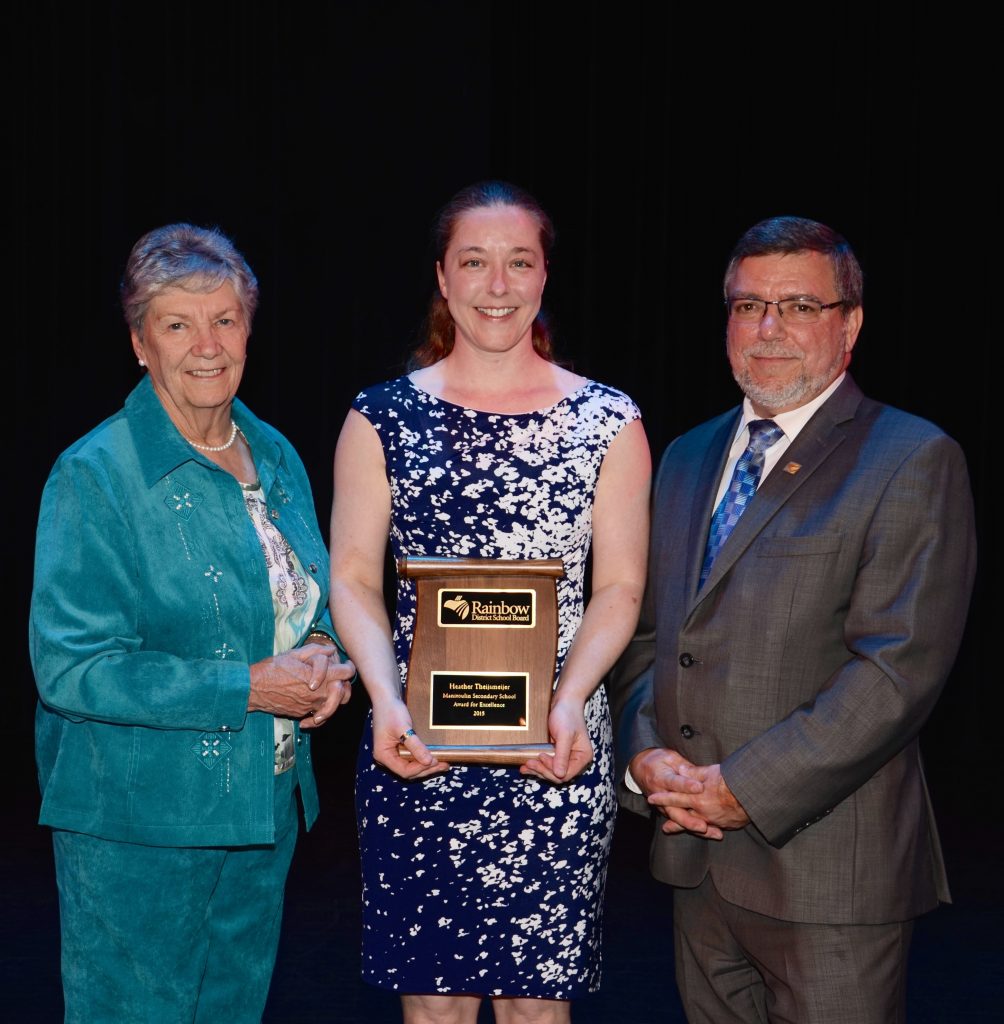 Heather Theijsmeijer – Teacher – Manitoulin Secondary School
Creative and innovative, Heather Theijsmeijer is a highly successful 21st century educator. She is an active member of the Student Success Team and Technology Committee, and Numeracy Professional Learning Community. Her commitment to student success inspired her to integrate a Bring Your Own Device philosophy into her math and science classes. As co-leader of Manitoulin IGNITEd, she educates teachers across the province about current strategies. She speaks regularly and volunteers for the Science Teachers' Association of Ontario and shares her technological expertise during professional learning. Last year, she earned a provincial Award for Exceptional and Creative Teaching in Secondary Mathematics. Heather Theijsmeijer brings learning to life with guest speakers, inquiry and experimentation, and always puts the needs of students first. She also contributes to the school community by coaching gymnastics, fundraising for gymnastics equipment, conducting school choirs, managing the technical crew for school musicals, and leading yoga. Congratulations!
Barbara Konarek Memorial Award – 2015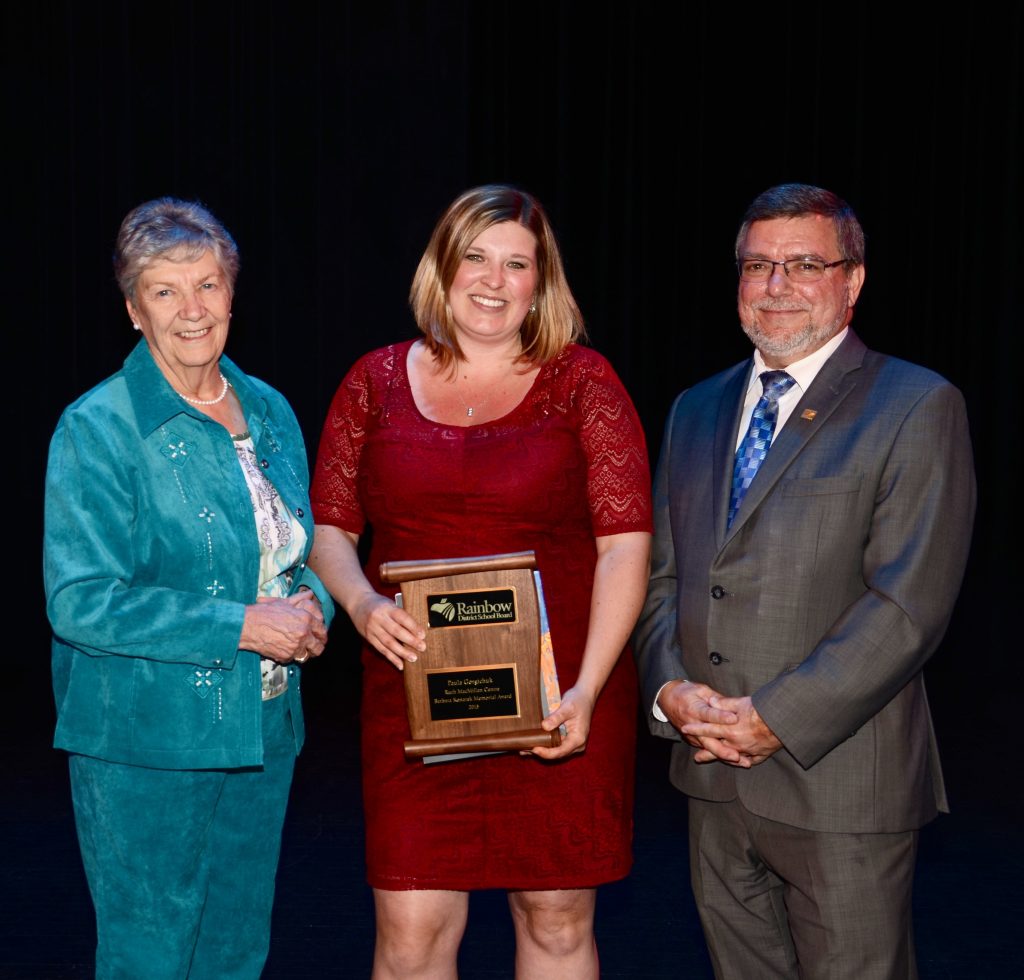 Paula Gorgichuk – Special Education Resource Teacher – Ruth MacMillan Centre
As a Special Education Resource Teacher, Paula Gorgichuk maintains a high level of support for students with autism and behavioural needs. Recognizing the importance of engaging students in team activities, no matter what their level of participation, she ensures that students are included in as many enriched and extra-curricular activities as possible. And she relishes the opportunity to celebrate all achievements, no matter how big or small. She also contributes the necessary guidance and motivation for students to reach their full potential. A leading educator, Paula Gorgichuk is committed to collaborating with support staff and local agencies to ensure smooth transitions. She gives back to the school community through coaching, assisting with events, and participating in parent evenings to answer any questions about special education. Paula Gorgichuk's gracious nature makes her an ideal candidate for the Barbara Konarek Memorial Award.
William N.Roman Teach of the Year Award – 2015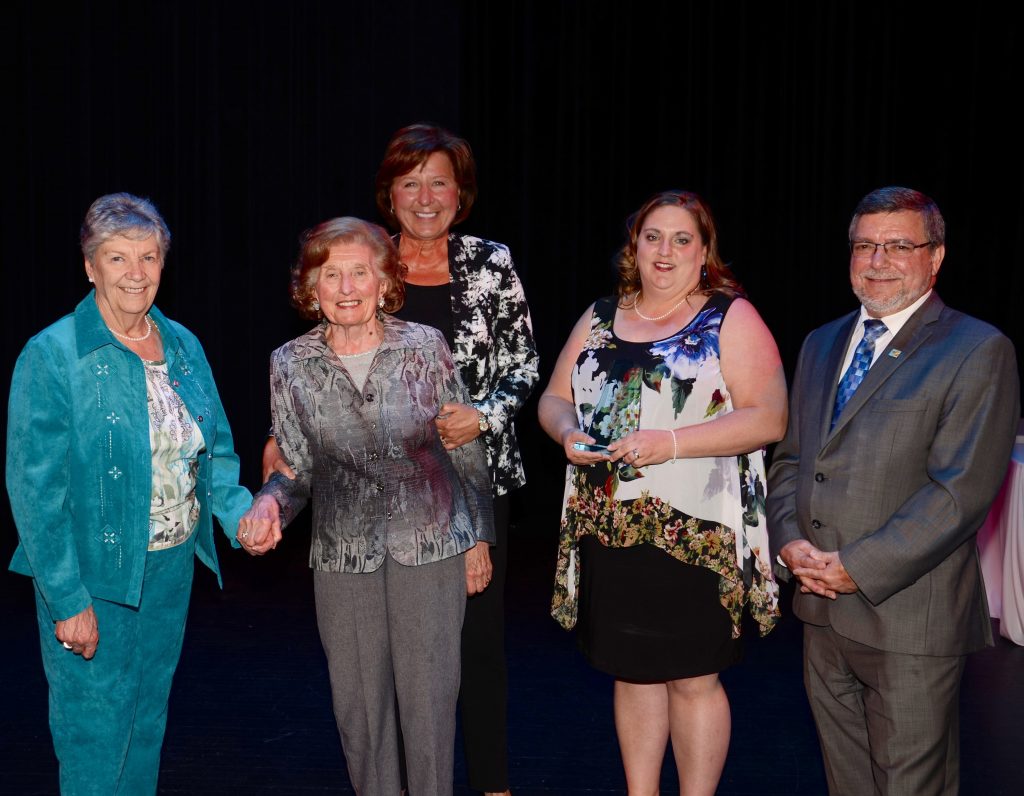 Sara Neva – Teacher – R.H. Murray Public School
Sara Neva's students describe her as tireless, kind and understanding. An exceptional motivator and gifted teacher, she inspires students at R.H. Murray Public School to strive for greatness. With a keen understanding that students learn differently, she engages even the most reluctant learners. Attentive and respectful, Sara Neva gives students a sense of comfort when asking for help. She embraces new initiatives and integrates hands-on learning into all aspects of her program. Sara is a life-long learner whose eagerness to do her best is evident. Humble and approachable, she enjoys sharing her knowledge and joy of life. She organizes spaghetti dinners, play days, fundraisers, graduations, field trips and sporting events. Teachers, support staff and parents value her ideas and opinions. Sara Neva is well-respected among the Whitefish community. Congratulations! Joining Board Chair Doreen Dewar and Director of Education Norm Blaseg for the presentation of the William N. Roman Teacher of the Year Award are Mrs. Olga Roman and daughter Donna Rudakas.