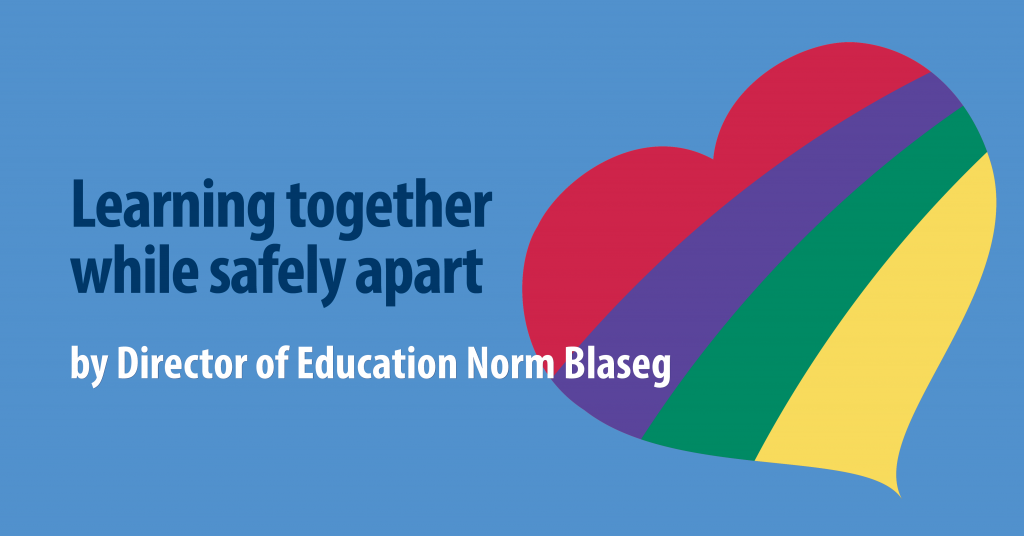 Bringing learning to life during school closures
June 19, 2020
Adapting 101: Gym without the gymnasium
Students are getting up and getting active as teachers in Rainbow Schools find creative ways to teach gym without the gymnasium.
Nick Contini, who teaches phys-ed in Grades 1 to 3 at Princess Anne Public School, was skeptical about moving his classes online, since literacy and numeracy are the primary focus for distance learning.
Recognizing the importance of wellness for reading, writing and math, Nick Contini changed his mindset and changed his practice.
To keep students active and engaged, he created one-minute video challenges using everyday items as exercise equipment—anything from socks, pillows, spoons, shoes and t-shirts to a single sheet of toilet paper.
"Students responded positively and offered suggestions to make it more enjoyable," he says. "Parents even asked me to create alternative exercises to allow them to join in the fun."
Larchwood Public School teacher Andrew Jones wanted to promote the importance of a healthy, active lifestyle with his students.
So he came up with the idea to host virtual track and field with silly events students could do at home.
"I really put myself out there by being overly enthusiastic, challenging the students to do better than me and keeping them motivated," he says. "I tried to be a kid myself with it. Normally the students would be competing in softball throw or shot put, but in the Larchwood Games, we did a paper ball toss."
Traditional events like long jump and running were blended with new events like  jumping to create a unique experience.
"Being active has been a passion of mine," says Andrew Jones. "The benefits of being active for overall health, both physical and mental, are so well documented that I saw this as an opportunity to build on this in a time of great need."
Over at Adamsdale Public School, primary phys-ed teacher Jennifer Holub capitalized on her skills as a musician and performer in her series of  "Ms. Holub Exercises" workout videos.
"I could not be sure that any of our students had more than a few feet of floor space to work with, nor did I know if they had any specialized workout equipment," she said. 
So she had to improvise.
She developed exercises anyone can do, even in the tiniest spaces. Using their own body weight and things lying around the house, students follow Ms. Holub through energetic dance routines, calming yoga exercises, and high intensity workouts.
Some videos feature "special guests"—aka Ms. Holub in disguise—including her twin sister Jill, cousin Tanya, and teacher colleagues Mrs. Hype, Mr. Kind, Mrs. Proper, and Mr. Dandy. 
Other videos include cross-curricular mini-lessons in subjects like science and vocabulary. In a collaboration with Ojibwe language teacher Monica Mejaki, Jennifer Holub teaches students animal names in Anishinaabemowin. In another, she has students imitate creatures found in Northern Ontario.
Bringing phys-ed from the gymnasium to the home has been a fun challenge.
"In the advertising field, there's an expression that speaks to this relationship between limitations and creativity: 'give me the blessing of a small frame'," says Jennifer Holub. "Ironically, when you are limited by parameters, you are more likely to produce something creative. The same is true for art and, as we have seen over the past 100 days, for teaching."
And it's not only elementary students who are staying active during distance learning. 
Laura Stanyon, a phys-ed and athletics teacher at Lockerby Composite School, created two walk or run challenges using the Nike Run Club app for her students.
"Some athletes are quite motivated on their own, others are into sports for the social aspect, the guided coaching," she says. "The app gets people moving at any pace in a virtual group setting. It allows them to set goals, cheer each other on and compete."
Laura Stanyon says anyone can participate. Vikes 4 Life Green challenges participants to walk or run a total of 75 km by the end of the month, while Vikes 4 Life Gold sets a goal of 150 km.
At Lo-Ellen Park Secondary School, the Athletics Department also wanted to encourage students to stay active.
Inspired by a coast-to-coast viral video, athletics teacher Sherry Green invited her students to participate in The Toilet Paper Challenge. Students filmed themselves catching a toilet paper roll from the right of the screen, doing their favourite exercise, and then throwing it off to the left of the screen to be caught by the classmate in the next clip.
Athletics teachers also worked together to choreograph a plank workout routine to the song Cha Cha Slide by DJ Casper.
"The Phys-Ed Department has been working out together while safely apart," says Sherry Green. "Our motivation was to actively engage students through this pandemic and Mother Nature's temper tantrums."
Check out some of our teachers' amazing work:
Lo-Ellen Park's Cha Cha Plank
Lo-Ellen Park's Toilet Paper Toss