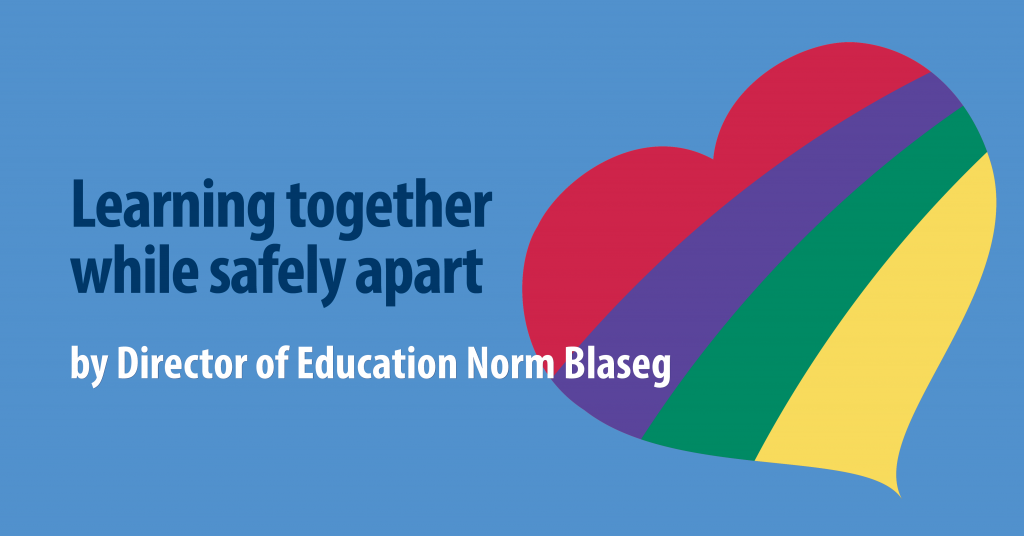 Bringing learning to life during school closures
June 12, 2020
Lights. Camera. Action.
Staying connected through fun and engaging videos
Rainbow District School Board's mental health team has created a series of fun and engaging videos to stay connected with students while schools are closed. (Spoiler alert: They include awesome read-alouds of children's books.)
Adapted from the Kids Have Stress Too!® program, the series features the familiar faces of Social Workers along with puppet friends Barrett the Bear, Becky the Porcupine, Rufus the Dog and Henrietta the Hippo.
"Although we can't physically be with our friends, we can enjoy the extra time we have with our family," says Social Worker Ms. Christine in one video. Ms. Christine is always joined by one of her puppet friends whenever she leads a lesson. "We can cuddle and read a book, play a board game, or do an art project. We're in this together. Thank you for doing your part."
Social Workers demonstrate yoga poses, proper handwashing, and meditation and mindfulness techniques; provide strategies for problem-solving, conflict resolution and communication; and nurture life skills like empathy, perseverance and kindness.
They also share activities students can do at home when they need to quiet their mind and reduce anxiety, like rock painting, playing outside, exploring nature, enjoying a walk, or other exercise.
In one video, Social Worker Alison explains the importance of being flexible by comparing flexible thinking to a pipe cleaner kids bend into all kinds of shapes.
"Right now, we have all been forced into being somewhat flexible thinkers, because we've all had to learn how to learn from a distance," she says. "The really cool thing about being a flexible person is we can wrap our minds around problems. When we wrap our minds around problems, we can think of lots of solutions."
During storytime in another video, Social Worker Dan reminds students that taking a second to remember all the things that you're grateful for can make you feel better when you're sad or angry.
"Right now we're going through a difficult time and many of us are missing school, missing our friends, and missing our teachers," he says. "Think of some things that you're grateful for that are happening right now or all around you in your family."
And Social Worker Matt uses a drawing of a person to illustrate what happens to our bodies when we feel stressed, to help students understand what stress might feel like for them.
"When feeling stressed, you might get a headache," he says. "You might also feel impulsive, or say bad words that you regret. When we feel these things, it's kind of like an early warning signal that we should slow down and take deep breaths to calm down."
Rainbow District School Board's mental health team has worked with students on strategies for managing emotions through the Kids Have Stress Too!® program for the past two years.
Developed by the Psychology Foundation of Canada, Kids Have Stress Too!® uses lessons, stories, and skill-based activities to give students the tools they need to cope with emotions.
"Children have stress, particularly at this time, and they are capable of managing this stress if we can provide them with tools to do so," says the Board's Mental Health Lead Mary Jago. "We want our children to feel that they are able to see problems, address them and experience a wide range of emotions."
"We know that for students to be available for learning, they need to have skills to manage emotions, stress and problems in their lives," adds Jago. "The videos are an ideal way for us to ensure that socio-emotional learning continues through teacher-led distance education."
While schools are closed, Rainbow District School Board remains focused on supporting wellness.
And last, but not least, here are some wonderful books with valuable life lessons:
The Thankful Book by Todd Parr
Beautiful Oops! by Barney Saltzberg
Only One You by Linda Kranz
How Full is Your Bucket? For Kids by Tom Rath and Mary Reckmeyer
The Girl Who Never Made Mistakes by Gary Rubinstein and Mark Pett
To access the Kids Have Stress Too!® videos, click the links below.
To access mental health resources, click the link at the bottom of the page.
Kids Have Stress Too!® Videos