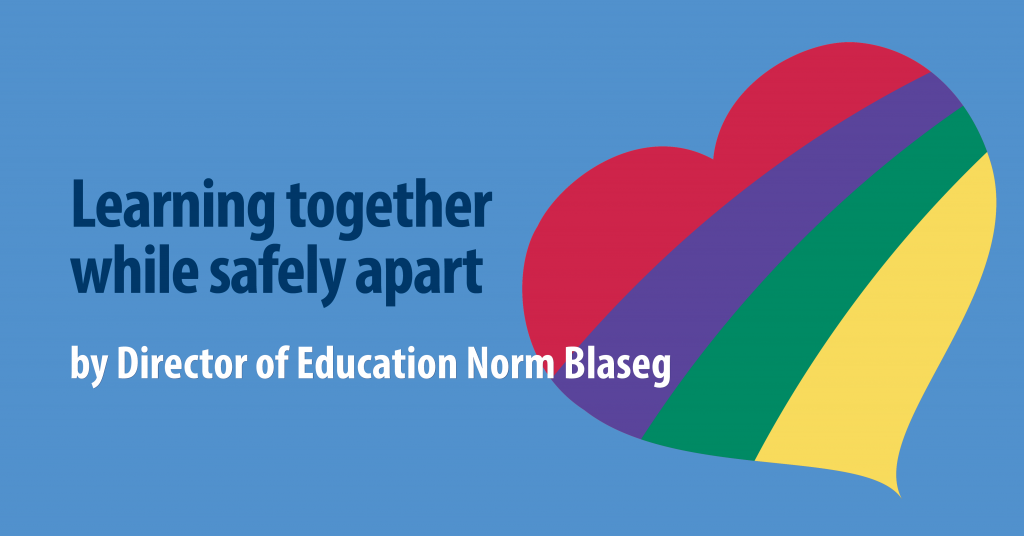 Bringing learning to life during school closures
June 25, 2020
PPE: 3D printers to the rescue along with creative students and staff
Prior to the pandemic, PPE was an acronym used mostly in the field of health and safety. Since the onset of COVID-19, however, PPE has become a household word.
In response to demand for personal protective equipment, Rainbow Schools stepped up to make hundreds of face shields and headbands for hospitals and long-term care facilities locally.
"It's wonderful to see the many ways our students and staff have come together to help during a time of great need," says Rainbow District School Board Director of Education Norm Blaseg. "We are very proud of them for their individual and collective contributions."
When the pandemic hit, a staff member from Laurentian University reached out to teachers Tim Walker of Lively District Secondary School and Dan Monti of Lo-Ellen Park Secondary School to create PPE for first responders.
Thrilled to contribute, both teachers turned to colleagues and students who had the know-how and the resources to help.
"It was an honour," says Tim Walker. "I welcomed the opportunity to create a teachable moment for my students, showing them that makers and designers can use creative solutions for unanticipated problems on a global scale."
Lively teacher Eric Bacon and student Josh Brownlee, who used his 3D printer at home, made headbands for local medical personnel. By adding a transparent plastic visor, the headbands turn into fully functioning face shields.
"In terms of comfort, these are preferred by medical personnel over traditional facemasks, especially as the temperatures continue to rise," says Tim Walker.
Lo-Ellen Park teacher Dan Monti was more than happy to get involved. In fact, it was a perfect fit as many community contributors of PPE support the Lo-Ellen Park FIRST Robotics/EDIT (Engineering Design and Innovative Technology) Program.
"A key component of these programs is to inspire young people to be science leaders and innovators," says Dan Monti. "This was an exceptional opportunity for hands-on learning. More importantly, it enabled us to give back to the community that has greatly supported us over the years."
Using school board and personal equipment, teacher Rob Gruhl, student Josiah Poxleitner, and parent Eric Albers produced some 200 face shields for Health Sciences North.
3D printers and ABS plastic were used for the visors, and letter-sized plastic transparency for the face shields. Each print took approximately one hour to complete.
Ron Hodkinson, the Principal of Northeastern Elementary School, also jumped into action when the pandemic hit. A strong proponent of 21st century learning, he acquired a 3D printer for his school's innovative makers-space.
"The idea came about while browsing local laser group forums online," he says. After finding some designs he could work with, he had to begin sourcing materials, which he says was "his biggest challenge."
With materials in hand, and a little practice, Principal Hodkinson worked to perfect his craft down to 10 minutes per face shield from start to finish.
Northeastern Elementary School has proudly donated 180 face shields to the Health Sciences North Emergency Department. "It felt great to be able to help," he says.
"With the possibility of a second wave of infections, it is imperative that the medical community has a local network of makers that can provide PPE if the need arises," says Tim Walker. He adds: "We are on stand-by and will be more than willing to help out."