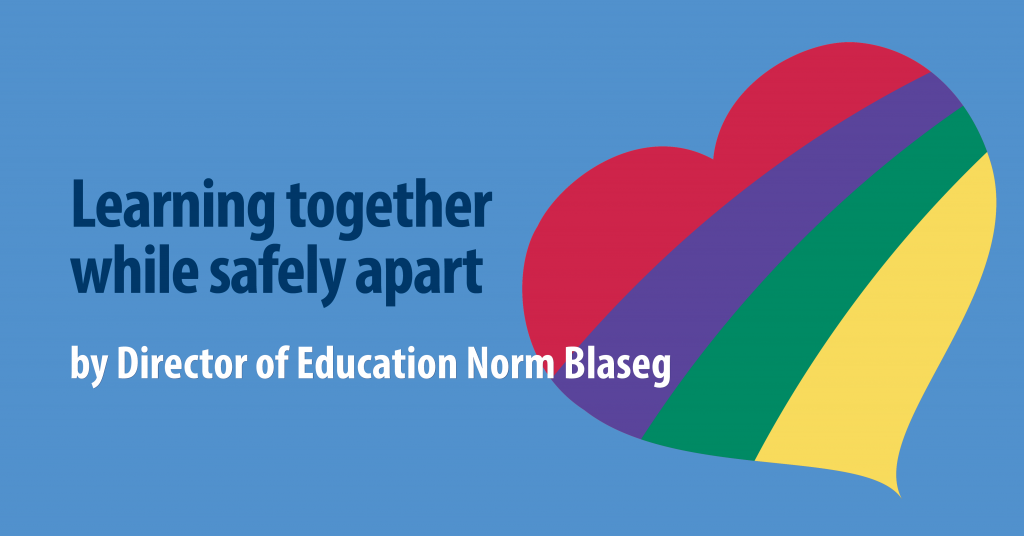 Bringing learning to life during school closures
June 25, 2020
Small schools. Big hearts.
During distance learning, some of the Rainbow District School Board's smallest schools were spreading kindness and happiness in their communities. These schools might be small, but they have a lot of love to go around, and found creative ways to share it with each other and with others.
Staff at S. Geiger Public School in Massey started looking at ways to connect with students soon after the move to at-home learning.
"We wanted to build engagement in distance learning, but even more importantly, we wanted to remind everyone that S. Geiger is a strong community made up of students and staff who care about each other," says Principal Cori Pitre.
To break up the week and bring students and staff together, S. Geiger introduced Wacky Wednesday, a theme day that allowed students to have fun with their families and their classmates. Photos from Twin Day, Meet Your Stuffy Day, Backwards Day and more provided wonderful ways to connect through the school's Facebook page.
The school also decided to go ahead with annual traditions like their Spring Variety Show and their Talent Show – without the live performances and live audiences, of course. For the Variety Show, students sent in clips of themselves singing, which were compiled into a video and shared with the community. For the Talent Show, students performed for the camera, recordings that were also shared.
"It was touching to see the efforts of students and contributions of staff," said Principal Pitre. "There were more than a few tears along with the cheers." She added, "It's moments like these that make you realize how important social connection is for all of us, especially for the overall development of children."
Students at Larchwood Public School in Dowling continued to make people smile by spreading kindness in their communities. The school's Kindergarten Kindness Ninjas have been just as committed to their mission as they were before distance learning began.
"Kindness Ninjas spread love and kindness without expecting anything in return," says Natalie Taylor, a Kindergarten teacher at Larchwood. "For the last two years, our class has been focused on random acts of kindness in our school, home and community."
Picking up trash on Earth Day, writing positive messages in chalk on sidewalks, thanking garbage collectors for their hard work, and helping parents cook and clean are some examples.
"My absolute favourite was making masks to thank nurses for helping keep our community safe and healthy," says Natalie Taylor. "It was inspired by one of my Kindness Ninjas. Her mother is a nurse, so during National Nurses' Week we decided to show our thanks to nurses by making colourful masks for them."
Grade 1 and 2 students at Larchwood also decided to spread love and kindness in their community. The students painted rocks with bright colours and wrote positive messages on them. They delivered the rocks to their neighbours' doorsteps, along with a note and smiley face.
The idea came from their teacher, Joanne Noel, who was inspired by a news story about two young girls who had done something similar.
"I thought this would be fantastic for my students, to nurture their artistic talents and to further develop their positive character traits like caring, compassion, generosity and empathy. They took up the challenge immediately and delivered their own rocks all over our little community, to each other, to my house, and especially to their neighbours who live alone," she says.
Principal Elizabeth Mack says the pandemic did not deter students and staff from bringing people together while safely apart. "Their little acts of kindness spread joy in the community," she says. "During times like these, we need to support each other and show, in tangible ways, that we care and we are grateful."
At C.R. Judd Public School in Capreol, teachers and staff wanted to recognize the hard work of students and families during distance learning. So they re-imagined a weekly tradition to suit the times. At Home Learning VIPs emerged.
"We appreciated the tremendous commitment that our families made to continue learning and to staying connected," says Principal Susan Cousineau. "We wanted to continue to celebrate student success and put the spotlight on students who were rising to the challenge."
Every week, teachers showcased students on the school's Facebook page. "Families genuinely appreciated the contact, recognition and support," says Principal Cousineau. "And it was a fun way for students to stay motivated and focused."
S. Geiger Public School Spring Variety Show
S. Geiger Public School Talent Show
S. Geiger Public School Science Fun Friday
Larchwood Public School Kindness Ninjas
Larchwood Public School Kindness Rocks