Making the Transition from Grade 8 to Grade 9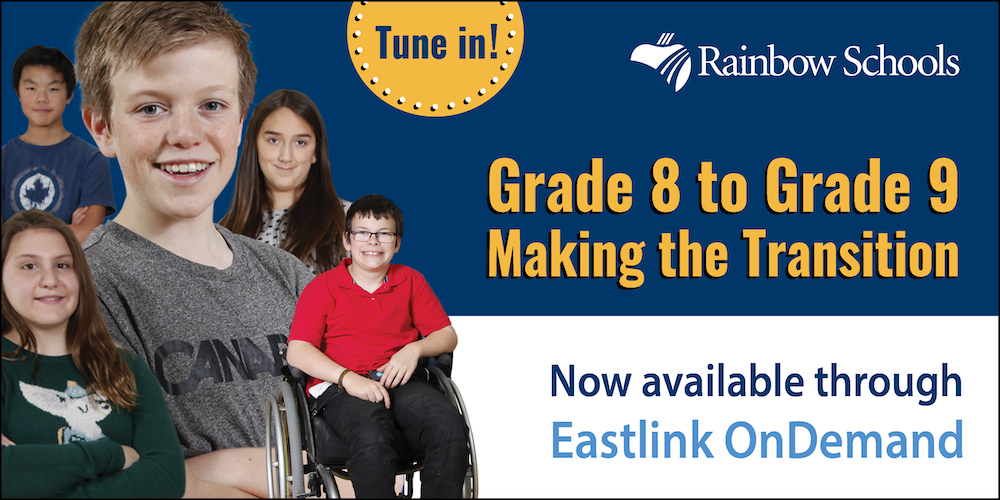 Your Future Begins Here!
Welcome to secondary school, a new and  exciting time in your life where endless opportunities and pathways are yours to  discover.
Throughout this journey, caring teachers and supportive school administrators will work with you to help you maximize your potential and fulfill your aspirations.
As a secondary school student, you will have important choices to make that will open doors for your future. You will also be given opportunities to gain hands-on experience and explore careers of interest.
In Rainbow Schools, we are committed to giving students every opportunity to achieve success in learning and life.
Enjoy the journey!
Making the Transition Guide
This Guide contains information about course codes, levels of study, timetables and tips to help you along the way.
This Guide can also be of benefit to parents/guardians, our partners in the learning process.
Parental involvement improves student achievement and we thank parents/guardians for supporting their children as they make the transition into secondary school.
This information was produced by the Rainbow District School Board Parent Involvement Committee with funding from the Ministry of Education Parent Engagement Office.
Secondary Virtual Information Nights 2021
Grade 8 students and their parents/guardians are invited to take part in virtual information nights for Rainbow secondary schools.
To ensure safety for all, sessions will be live for families to join online or pre-recorded to access anytime on the school's website.
All students are welcome to participate, regardless of which elementary school they currently attend.
Please note that events are subject to change due to COVID-19.
Access a list of schools, dates and times below.