What's happening in Rainbow Schools?
January 13: Lo-Ellen Park Secondary School hosts Virtual Open House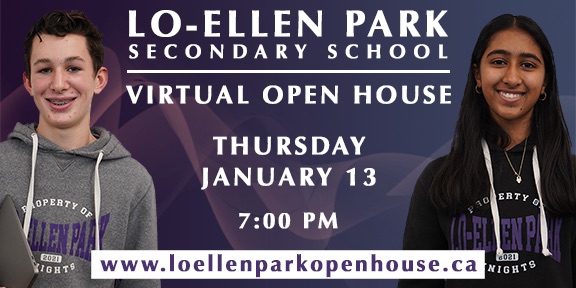 Students in Grades 6 and 8 and their parents/guardians are invited to tune in to Lo-Ellen Park Secondary School's Virtual Open House on Thursday, January 13, 2022 at 7 pm. A series of pre-taped videos and tours will be available at loellenparkopenhouse.ca. All students are invited to participate regardless of which elementary school they currently attend.
"Our Open House will showcase the exceptional prospects available to students at Lo-Ellen Park Secondary School," says Principal Pamela Potvin. "Everyone is welcome to join us online. Don't miss it!"
Lo-Ellen Park Secondary School offers English and French Immersion and is home to the International Baccalaureate (IB) program. This world renowned program encourages critical thinking, research skills, inquiry and reflection. Students graduating with an IB Diploma can earn up to three first-year university credits. Greater Sudbury students who qualify for the IB Program receive transportation.
Lo-Ellen Park also offers four Specialist High Skills Majors: Business – Personal Finance; Construction – Architectural and Technology Design; Environment – Sustainable Agriculture; and Manufacturing – Engineering, Design + Innovative Technology (EDIT). In addition, students enjoy a variety of extra-curricular activities in arts, athletics and academics.
Recent interior and exterior renovations have made Lo-Ellen Park Secondary School a school for the 21st century. The main entrance was relocated to the ground level next to the newly renovated library. The old foyer has been redesigned into a bright, modern cafeteria with a café-style setting. The former cafeteria has been repurposed into new classrooms. An additional classroom on the third floor is now a modern science lab. Upgrades also include new heat recovery units, LED lighting and a building automation system as Rainbow District School Board continues to make sustainability a priority.
-30-
Media Contact:
Pamela Potvin, Principal, Lo-Ellen Park Secondary School,
Rainbow District School Board, 705-522-2320