What's happening in Rainbow Schools?
Rainbow Schools highlight technology on Digital Learning Day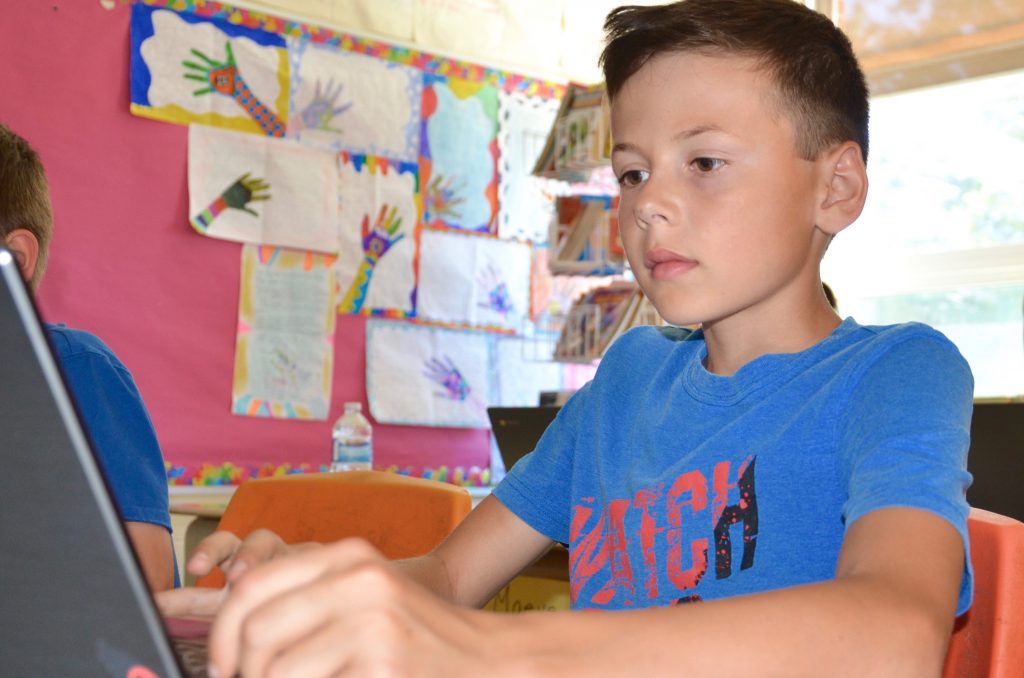 Thursday, February 28, 2019 is Digital Learning Day, an opportune time to highlight technology in Rainbow Schools from the tools to the teachings.
"Our schools use technology to enhance each student's learning experience," says Norm Blaseg, Director of Education for Rainbow District School Board. "Students access relevant content, engage in interactive inquiries and dig deeper. More importantly, they use technology to imagine and create."
Through technology, students are gaining global competencies including critical thinking and problem solving; innovation, creativity and entrepreneurship; self-directed learning; collaboration, communication and citizenship.
Here are more examples of how technology is enhancing teaching and learning:
Technology has spawned maker spaces and innovative learning labs in Rainbow Schools. Students are writing code to program robots, design games and apps, and build objects with 3-D printers.
On Digital Learning Day, Central Manitoulin Public School will participate in a Google Mystery Hangout with a Grade 5 class in California. The event will promote critical thinking skills, communications and cooperation. It will also provide an interesting lesson in geography.
Through TechnoMath, students at Chelmsford Valley District Composite School are honing their math skills by designing video games and connecting with other video game designers around the world on Twitch.
At Espanola High School, a graphing calculator app called Desmos is enabling students to look for patterns and trends in data and equations. Teachers can assign digital activities for their class and monitor progress.
Larchwood Public School is participating in the Stock Market Challenge. Grade 7/8 students are using spreadsheets to track changes and trends.
Central Manitoulin Public School is using Gapminder for a social science unit. Grade 7/8 students are exploring correlations between socioeconomic factors and variables over time.
Grade 4/5 students at Charles C. McLean Public School are practising numeracy skills using Osmo (Numbers). The interactive app for iPads combines the digital visuals of a game with concrete manipulatives for math instruction.
A group of Grade 4 to 6 teachers is participating in The Learning Partnership's Coding Quest program. They are teaching students to code with Scratch, a block-based language developed by MIT. Participating students will showcase their projects in Coding Quest Arcades this spring.
Some Grade 7/8 Math teachers are participating in a Math and Coding project. They are using various technologies (Spheros, Ozobots and Scratch) to teach coding to their students.
Many students are using Lexia to improve literacy. Lexia is also being used to assess reading levels and provide focused interventions.
Students in Grades 3 to 12 are accessing Google Read&Write. It offers a range of powerful support tools including text-to-speech, speech-to-text dictation, word prediction and dictionary support.
G Suite for Education has been provided to students with grade appropriate content. With anytime, anywhere access to applications and documents, G Suite offers exceptional learning opportunities to students, including real-time collaboration and feedback in document creation and editing.
-30-
Media Contact:
Nicole Charette, Senior Advisor,
Corporate Communications and Strategic Planning,
Rainbow District School Board, 674-3171, ext. 7217.