What's happening in Rainbow Schools?
Rainbow Schools participate in Treaties Recognition Week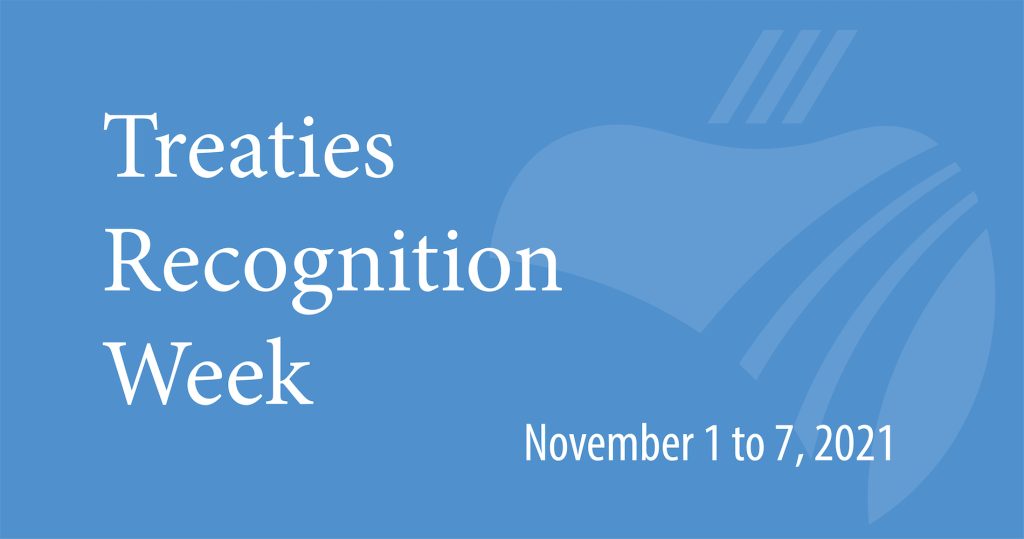 Staff and students in Rainbow Schools will continue to learn about treaty rights and relationships during Treaties Recognition Week from November 1 to 5, 2021. Activities and lessons are part of Rainbow District School Board's ongoing focus on Indigenous Education.
"Treaties Recognition Week will engage students in dynamic learning opportunities," said Bruce Bourget, Director of Education for Rainbow District School Board. "The week provides another opportunity to deepen knowledge and build understanding as we move from commitment to action on Truth and Reconciliation."
Rainbow District School Board passed a motion in April 2017 committing to key recommendations from the Truth and Reconciliation Commission as they relate to education. Under the guidance of the First Nations Advisory Committee, and through broad community consultations led by Nbisiing Consulting, the Truth and Reconciliation: Commitment to Action plan was developed and is currently being implemented.
Here are some examples of what's happening in Rainbow Schools during Treaties Recognition Week:
Assiginack Public School
Students from Assiginack Public School will learn about treaties through literature and the arts, including Kindergarten and Grade 1 students who will read about the wampum belt and create one. In addition, the Grade 7/8 class will discuss the Robinson-Huron Treaty virtually with Roger Jones, a legal team member of the Robinson-Huron Trust.
C.R. Judd Public School
Students from C.R. Judd Public School will take part in a series of activities to learn about treaties, including Indigenous speakers sharing their knowledge, reading books such as "We Are All Treaty People," and making wampum belts. Some classes will create classroom treaties, and others will participate in online "Treaty Talks" with Tomorrow's Leaders.
Copper Cliff Public School
Throughout the week, students from Copper Cliff Public School will explore treaties and their meanings. Information will also be shared during morning announcements, and dialogues will continue in all classrooms.
Cyril Varney Public School
Primary students from Cyril Varney Public School will explore treaties and their meanings. Junior students will use resources to learn about the Robinson-Huron Treaty and our responsibility to continue the journey of healing and reconciliation with Indigenous peoples. Information on treaties will be shared during daily electronic announcements, and discussions will continue in all classrooms.
Espanola High School
Students at Espanola High School will take part in a series of learning opportunities throughout Treaties Recognition Week, including lessons about the Robinson-Huron Treaty, Truth and Reconciliation Report, residential schools, Indigenous business customs and recognition days.
Larchwood Public School
Larchwood Public School students will learn about the treaties of Ontario, with a focus on the Robinson-Huron Treaty. A treaty map will be prominently displayed, and student reflections will be posted alongside the map as the week progresses. Students will also learn about the significance of wampum belts through shared literature and activities.
Little Current Public School
Little Current Public School has a variety of classroom activities planned including learning about local treaties and self-governance. Daily announcements will be shared in all classrooms. Bulletin boards and displays will be placed throughout the school.
Lively District Secondary School
At Lively District Secondary School, students in Grade 11/12 Law will be assigned a Canadian Indigenous treaty to research and present to the class using a pennant flag. All flags will be strung together to create a banner that will hang in the class.
Manitoulin Secondary School
Students in the First Nations, Métis and Inuit in Canada class will continue studying treaties – from wampum belts in the 1700s, to The Royal Proclamation of 1763, the Robinson-Huron Treaty of 1850, the James Bay and Northern Québec Agreement, and finally a detailed analysis of the Treaty of Manitoulin Island from 1862. On Monday, November 1st, students can take part in a Lunch-and-Learn Treaty Introduction session where they will discuss treaties and their meaning as well as the Tehsehwang teachings. Grade 9 and 10 students will learn about the wampum belt during lunch on Tuesday, November 2nd. All interested classes can join Zoom sessions with Chiefs of Ontario on Thursday, November 4th at 1 pm including Ogimaa Pawis, Ogimaa Peltier, Ogimaa Rickard and Ogimaa Sayers.
Markstay Public School
Markstay Public School students will take part in a variety of activities with a focus on treaties including making wampum belts, discussing treaties, listening to read alouds, Virtual Living Library events and watching "Indigenous Voices on Treaties" videos.
Monetville Public School
Educators at Monetville Public School will use the "We Are All Treaty People" kit to share information about treaty relationships. Students will make connections to various areas of the curriculum and will incorporate the teachings of the medicine wheel. Students will also learn about the wampum belt with an opportunity to make their own. In class, students will discuss treaties and the treaty map with a focus on Dokis First Nation. Students will watch videos from the "Indigenous Voices on Treaties," where speakers share their knowledge about the importance of treaties, treaty relationships and rights in Ontario. A guest will visit Kindergarten and Grade 1/2/3 classes to read "Dakota Talks About Treaties" by Kelly Crawford. Students in Grades 4 to 8 classes will take part in a virtual Anishinaabemowin storytelling presentation.
Queen Elizabeth II Public School
Queen Elizabeth II Public School will raise awareness for Treaty Recognition Week during morning announcements. Staff will share "A Promise is a Promise" by Robert Munch. Students will engage in conversations about promises. All classes will use the Anishinabek Nation's interactive online resources to learn more about treaties, as well as Alex's wampum belt. Classes will watch a video "We Are All Treaty People." Students will also receive a "Treaty Tracks" activity book.
Redwood Acres Public School
At Redwood Acres Public School, students will learn about treaties being promises and the importance of keeping a promise. Various classes will create wampum belts and explore the meaning behind them.
-30-
Media Contact:
Nicole Charette, Senior Advisor,
Corporate Communications and Strategic Planning,
Rainbow District School Board, 705-674-3171 ext. 7217.