Board Awards – 2012
Rainbow District School Board paid tribute to dedicated employees and community partners at the Board meeting held on Wednesday, May 23, 2012 with the presentation of Awards for Outstanding Contribution to the Co-Curricular Program, Community Partnership Awards, Awards for Excellence, the Go Green Globe Awards, the Barbara Konarek Memorial Award and the William N. Roman Teacher of the Year Award. Employees with 25 years of service were also recognized.
"With the presentation of these awards, we continue a rich tradition of honouring excellence in Rainbow Schools," said Board Chair Doreen Dewar. "We are proud of our employees and community partners for their commitment. On behalf of the Board, I would like to congratulate all award recipients for their outstanding achievement."
"The contributions of our individual award recipients vary, but they all have one thing in common," said Director of Education Norm Blaseg. "They are dedicated employees and dynamic educational partners who go above and beyond the call of duty to reach minds and touch hearts in our schools and the communities that we serve."
Awards for outstanding Contribution to the Co-Curricular Program – 2012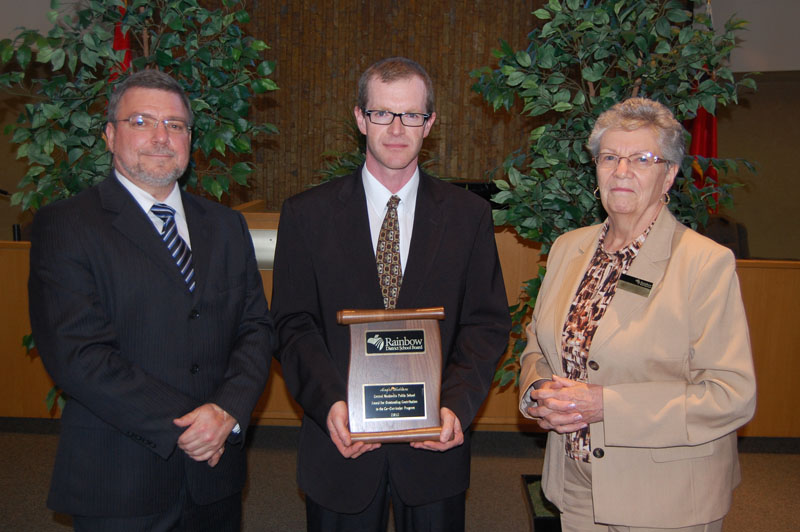 André Leblanc – Teacher – Central Manitoulin Public School
André Leblanc goes out his way to make Central Manitoulin Public School a better place by dedicating his time to co-curricular activities. He coaches cross-country running, boys' volleyball, co-ed volleyball, intermediate soccer and track and field, which keeps him involved in sports the entire school year. André is an exceptional role model. An athlete himself, he encourages active living and leads a healthy lifestyle.
André Leblanc is also an outdoor enthusiast who shares his love of the environment and nature. He runs an outdoor club for intermediate students, where they learn navigation, basic first aid and outdoor survival skills. Students are given an opportunity to put what they have learned into practice when André Leblanc takes them on an overnight hiking trip. André Leblanc remembers the positive influence that his teachers and coaches had on him. He now hopes to impart these same values on his students. Rainbow District School Board congratulates André Leblanc for his outstanding contribution to the co-curricular program.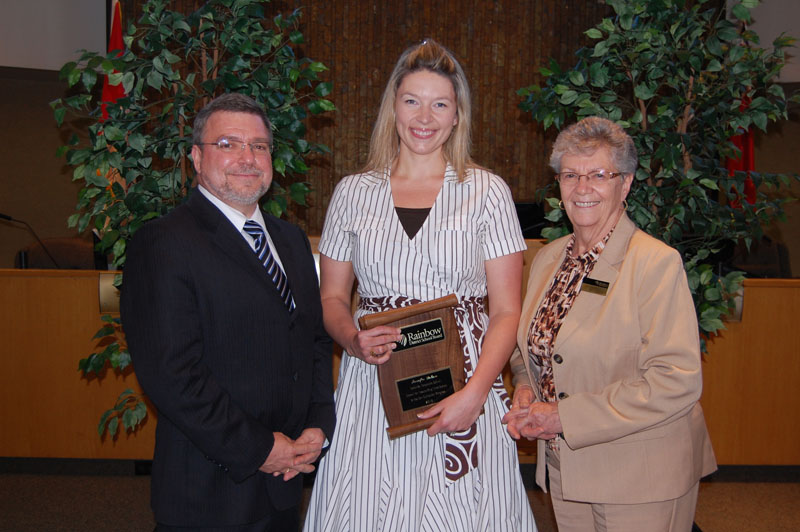 Jennifer Peloso – Teacher – Lockerby Composite School
Jennifer Peloso has been Lockerby's teacher advisor for the Kids Caring for Kids Remembering Laura Cotesta Cancer Drive for six years. Over the last 16 years, Lockerby has raised $550,000 for the Pediatric Division of the Northeastern Cancer Foundation. Much of this success is due to Jennifer Peloso's leadership and commitment. She has a deep understanding of the obstacles children with cancer face and knows the money raised makes a difference in their lives.
Every year, Jennifer Peloso helps to establish a student committee for the drive. She supports students in achieving their own leadership goals. The committee, in turn, motivates approximately 600 students to canvas the City of Greater Sudbury. Lockerby staff members also provide support. Jennifer Peloso's commitment to the drive, along with Laura's mom Pina Cotesta, has been a catalyst for its success, year after year. Those who benefit the most are the young people fighting cancer in our community. Jennifer Peloso's efforts are most deserving of an Award for Outstanding Contribution to the Co-Curricular Program.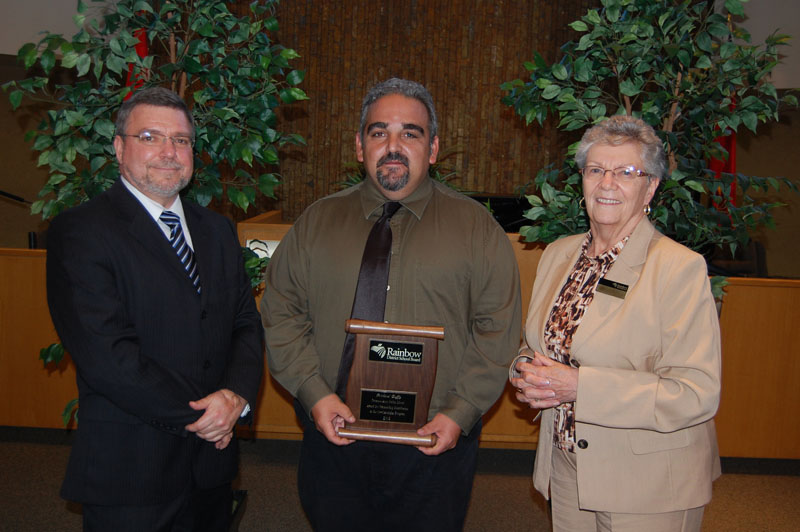 Richard Duffy – Teacher – Princess Anne Public School
Richard Duffy is a teacher, coach, and basketball convener at Princess Anne Public School who is committed to athletes and coaches Board-wide. Richard Duffy has guided and encouraged athletes to grow and develop their skills and character on the basketball court for many years. His teams have always shown tremendous improvement and passion for the sport. More importantly, he has nurtured in students a respect for the game and their opponents that model the value of sport at its best.
As a long-time convener of basketball, Richard Duffy has been a humble, unassuming hero in working behind the scenes to provide the leadership and organization for athletes to play and for coaches to coach. He has made a significant contribution to our elementary schools by giving young people opportunities to participate in co-curricular activities that foster sportsmanship and teamwork skills. Richard Duffy is an ideal candidate for an Award for Outstanding Contribution to the Co-Curricular Program.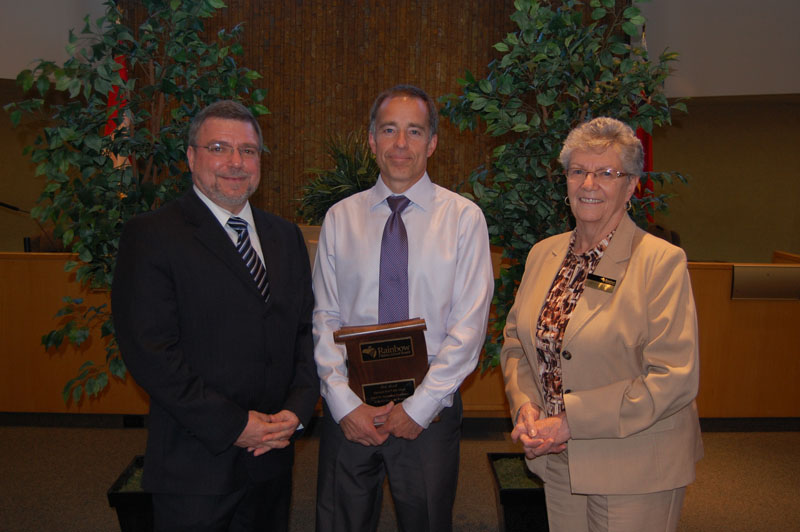 Bob Deeth – Principal – Algonquin Road Public School and Long Lake Public School
As a secondary school physical education teacher, Bob Deeth coached volleyball, basketball, hockey, soccer, track and field, and football. He led the senior girls' volleyball team at Sudbury Secondary School to their first-ever city championship in 1994. As a Program Leader of Sport, Bob Deeth was on the executive of the Sudbury District Secondary School Athletic Association, was the Co-Chair of the OFSAA Boys AAA Hockey Championship, and a member of the organizing committees for OFSAA track and field, soccer, swimming and basketball championships.
He has served as Chair of the Sudbury District Secondary Schools Athletic Association (SDSSAA), an executive member of the Northern Ontario Secondary Schools Athletic Association (NOSSA), and a member of the board of directors of the Ontario Federation of School Athletic Associations (OFSAA). As an elementary Principal, Bob Deeth has coached basketball and volleyball and co-convenes the Board's cross-country running championships. Bob Deeth now shares his expertise as Co-Chair of the Rainbow District Elementary Sports Council, which was recently created to enhance athletics for students. Congratulations!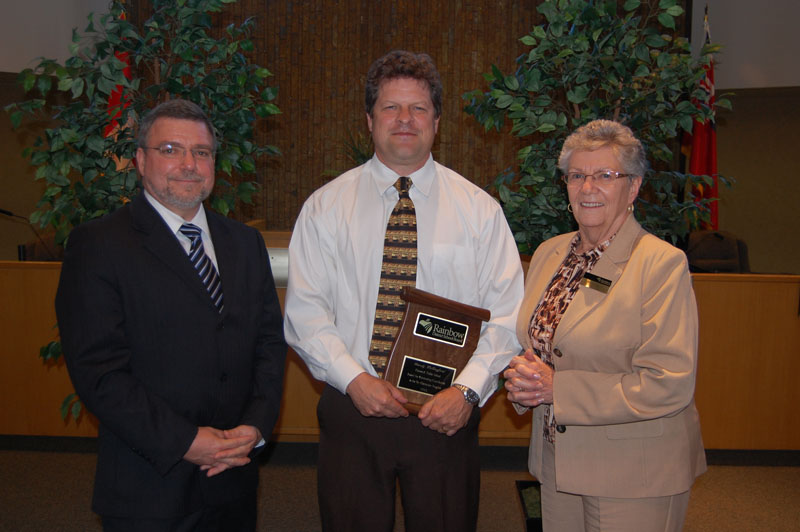 Randy Wallingford – Principal – Pinecrest Public School
Randy Wallingford, who has a passion for sports, has shared his work ethic and values with his athletes at the elementary and secondary levels. He coached the Senior Boys' Basketball Team at Sudbury Secondary School for many years, leading them to multiple playoff appearances. He also spent evenings coaching track and field and the Boys' Soccer Team at Sudbury Secondary School.
In the elementary level, he has been a committed leader in basketball and track and field. He has coached the Pinecrest Junior Girls' Basektball Team and convened cross-country running. His ability to inspire has led his athletes to overachieve and exceed expectations.
Randy Wallingford has also served as co-chair of the new Rainbow District Elementary Sports Council. As a result of his inspiration, student involvement has grown and coaching professional development has been enhanced. Student athletes in Rainbow Schools have been the direct beneficiaries of his efforts. Randy Wallingford is most deserving of an Award for Outstanding Contribution to the Co-Curricular Program.
Community Partnership Awards – 2012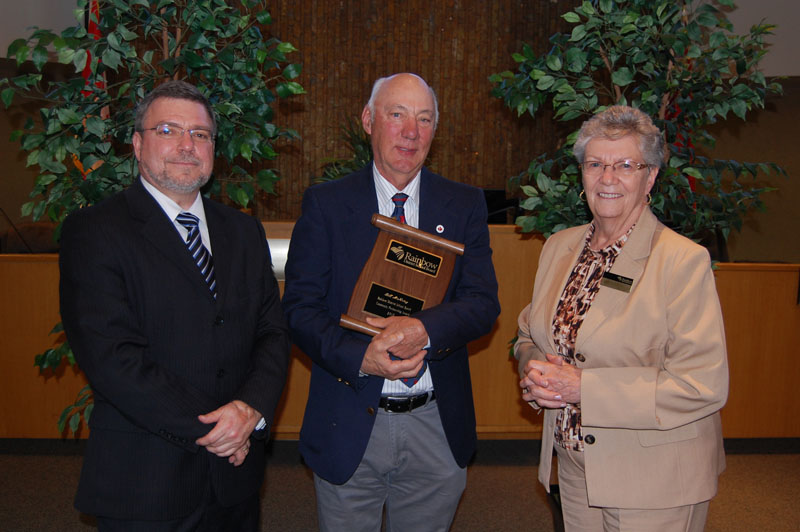 Bill McKetsy – Volunteer – Rainbow District School Board
Bill McKetsy has dedicated many hours to amateur sport, from track and field, to curling, to playing pivotal roles in the Ontario Summer Games and the Special Olympics. Although he is retired from the Board, he continues to enable young people to enjoy sports. He helped to introduce the Challenge Meet for students with special needs and secured funding for the Laurentian track. He was a founding member of Sudbury Sportslink, a local organization that promotes sport initiatives.
As a student, Bill McKetsy participated in the first-ever elementary track meet some 55 years ago. This has now become a series of meets named after Bill McKetsy's mentor, Errol Gibson. Bill McKetsy has been co-convening track and field since 1998. Bill McKetsy and his wife volunteer for a variety of sports and can often be found at the local swimming pool, curling rink, hockey arena or gymnasium. This former recipient of an Award for Outstanding Contribution to the Co-Curricular Program is a most deserving candidate for a Community Partnership Award for his ongoing dedication.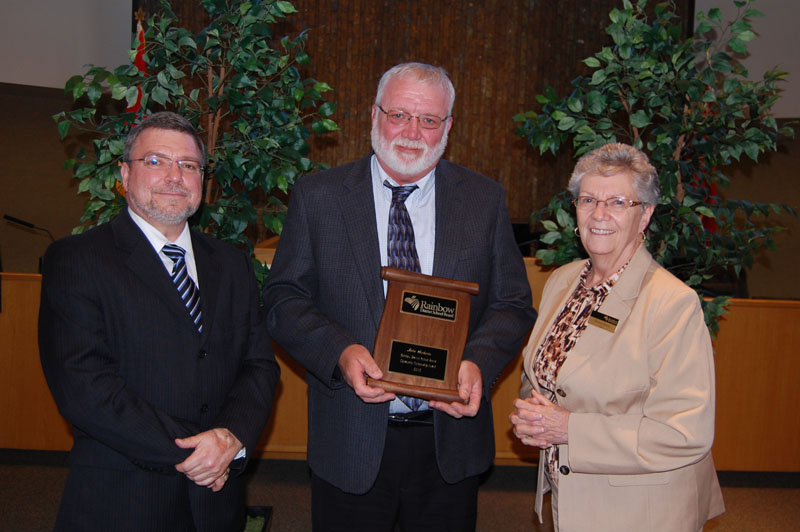 John Roberts – Volunteer – Rainbow District School Board
John Roberts is also retired from the Board and continues to dedicate his energy to sports for the benefit of students, including the highly successful Challenge Meet for students with special needs. He co-convenes the elementary track meets, is a long-time volunteer for Special Olympics, and was Co-Chair of the 2010 Ontario Summer Games in Sudbury.
From track and field to curling, to pivotal roles in provincial events and many points in between, John Roberts has done it all. He was even a member of the steering committee that helped restore the Laurentian site to its former world-class status as a track and field facility.
He is a previous member of Sudbury Sportlink, and a past recipient of a Board Award for Outstanding Contribution to the Co-Curricular Program. For his important efforts, he will be inducted into the Sudbury Sports Hall of Fame this year. Rainbow District School Board is proud to recognize John Roberts with a Community Partnership Award for his continued dedication to sports and young people. Congratulations!
Awards for Excellence – 2012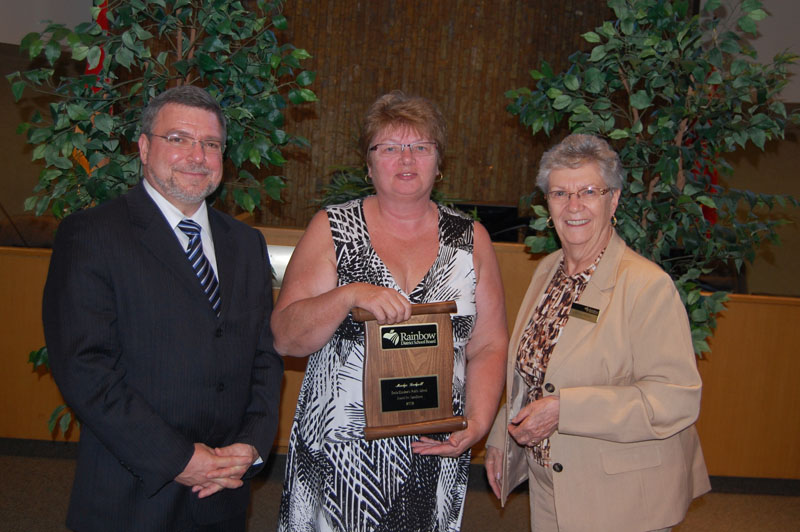 Madge Budgell – Custodian – Ernie Checkeris Public School
Madge Budgell's positive approach has a ripple effect at Ernie Checkeris Public School. She makes the school a safe, clean and friendly place and goes above and beyond the call of duty. Madge Budgell takes pride in her work and cares about the people with whom she works. Students adore "Mme Madge" because she is so kind to them, whether she is helping out with the Breakfast Club, the new outdoor classroom area, or fixing a zipper on a coat.
We can all learn from Madge Budgell's philosophy for living – find time and opportunity in every situation to smile and laugh; embrace every day for the promise that it holds; there is nothing that can't be achieved without a little imagination and ingenuity; and treat others as you would like to be treated. For her impact on the school community, her dedication to her work, and her commitment to students and staff, Madge Budgell is a most deserving recipient of an Award for Excellence.
Mike Carré – Custodian – Espanola High School
Mike Carré responds to his many requests with two simple words – "no problem" or "my pleasure" – and he does so with a smile. As Custodian at Espanola High School, Mike Carré is a reliable, compassionate, caring team player. Teachers can call on Mike Carré for assistance with technology, and any other needs, as they prepare their lessons. Mike Carré also supports student success by being an advocate.
He has mentored students with special needs on Co-op placements, providing them with hands-on experience and life skills. On occasion, he drops into the Life Skills classroom to invite students to help out with tasks. Mike Carré spends time in the Sunrise Café, supporting students who benefit from the Breakfast Program. In the community, he volunteers with the Espanola Little Theatre, demonstrating the importance of giving back. He is a positive role model for students at Espanola High School. A respectful, cheerful and energetic employee, he is most deserving of an Award for Excellence.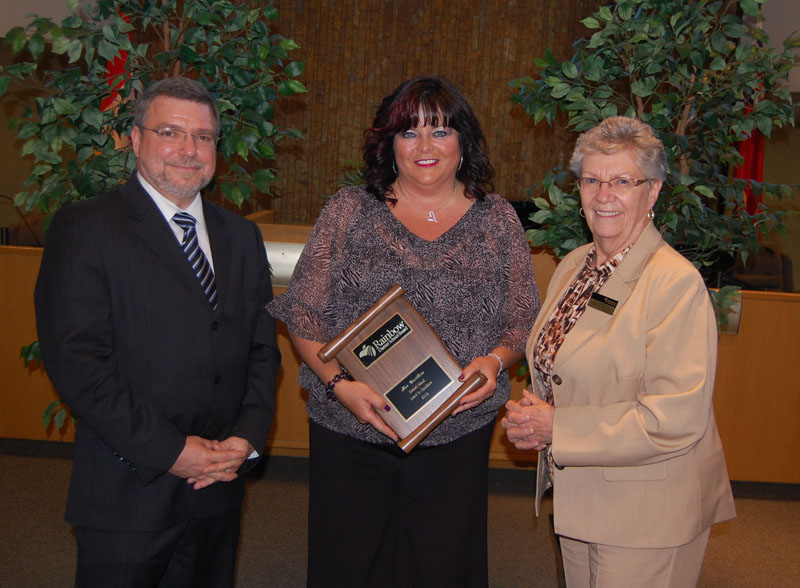 Lise Castilloux – Educational Assistant – Gatchell School
At Gatchell School, Lise Castilloux is highly respected by peers and parents alike. A team player, she consistently nurtures students with special needs to achieve their full potential. Lise Castilloux has an incredible work ethic. With her kind, gentle and loving manner, she meets the needs of students on a daily basis, never hesitating to help out. Lise Castilloux not only works with students in the classroom, she also makes time to volunteer with activities outside of the classroom.
She organizes the swim program schedule for the entire school. She also uses her artistic abilities to decorate the gym for graduation, assemblies, concerts and special events. Over the years, she has created props and performances for Gatchell School's popular Blacklight Theatre. There is always laughter when Lise Castilloux is in the room. She has a wonderful sense of humour that she willingly shares with staff and students. A dedicated Educational Assistant, Lise Castilloux exemplifies the qualities of an Award for Excellence recipient. Congratulations!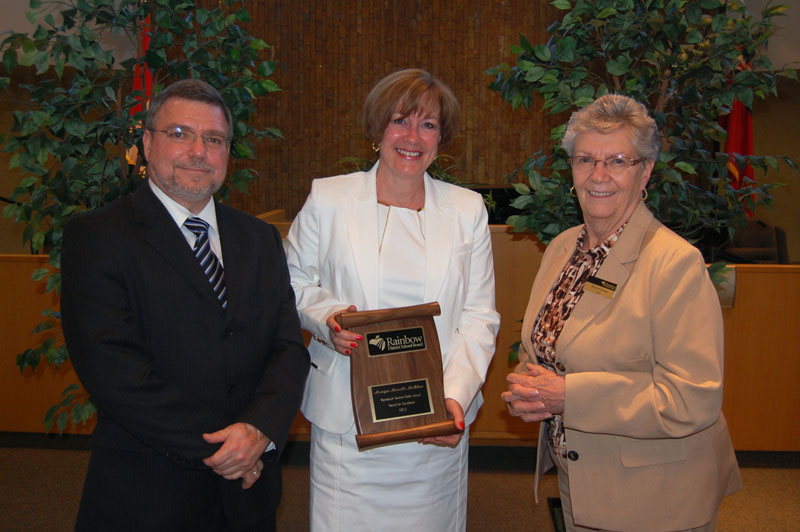 Monique Loiselle-LeBlanc – Teacher – Westmount Avenue Public School
Monique Loiselle-LeBlanc has a gift to inspire the love of learning in students of all abilities. She takes pride in providing a caring and nurturing environment for students in her French Immersion classroom. Learning a second language is fun. In her daily practice, Monique Loiselle-LeBlanc exemplifies what it means to be a lifelong learner. She willingly adapts to technological and curricular changes to provide her students with a well-rounded learning experience.
Monique Loiselle-LeBlanc volunteers her time in all committees that involve improving the JK and SK program. She knows the importance of making a child's first experience in school positive. She attends conferences and workshops to continually enhance her teaching practices and willingly shares her knowledge with others. Her great sense of humour, positive attitude and joie de vivre have endeared her to students, parents and staff. Monique Loiselle-LeBlanc is a caring, reliable, thoughtful person who always puts children first. She is most deserving of an Award for Excellence.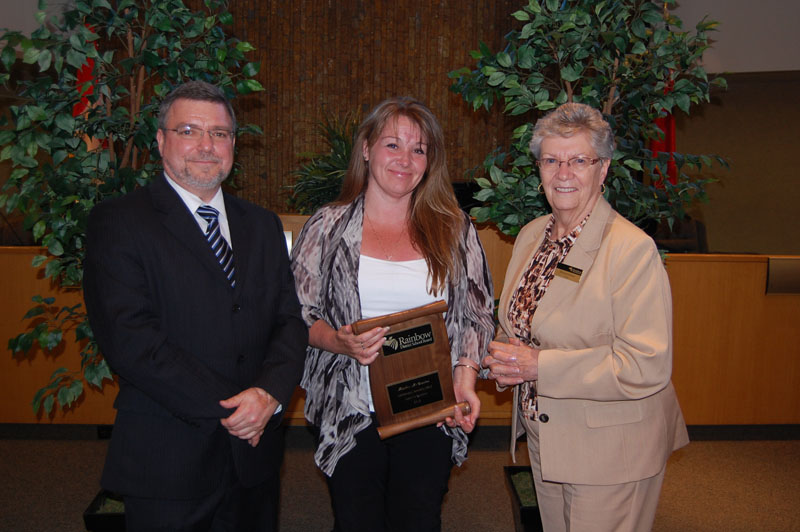 Heather McCracken – Secretary – Confederation Secondary School
Heather McCracken is a valued member of the team at Confederation Secondary School. She is the first person students, parents and staff members see as they enter the main office. Many parents ask to speak with her on a first name basis because of her courteous and friendly service. While Heather McCracken makes people feel welcome and she is always there to offer a helping hand, her most meaningful contribution is her positive impact on students.
During lunchtime and often after classes, she leads a self-help group, where students come for a safe place to talk. Heather McCracken's compassionate nature guides students as they solve problems and deal with their struggles. She has a natural ability to build trust with them and many open up to her. She does this while demonstrating a firm, yet fair, expectation that students be accountable for their actions. Heather McCracken is well respected by her peers and a much-needed beacon of hope for students. She is most deserving of an Award for Excellence.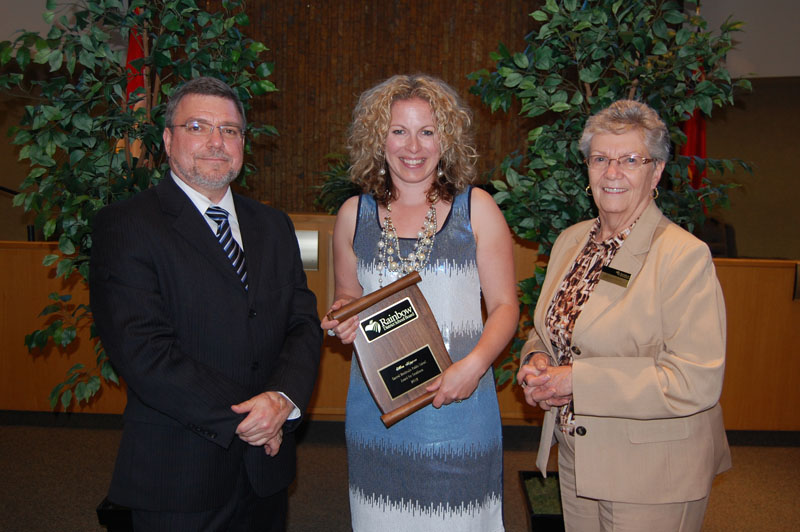 Ellen Skippen – Teacher – Central Manitoulin Public School
Students love Mrs. Skippen. She has a natural gift to teach. She is a master at bringing out the best in children, making them feel valued as learners. When you walk into her classroom, it is buzzing with activity and you can tell that students enjoy being there. She often refers to her classroom as her favourite place – a place where she feels comfortable, relaxed and excited. This enthusiasm is reflected in her students.
Ellen Skippen's passion for teaching inspires her colleagues. She attends workshops and conferences and meets with staff to share what she has learned for the benefit of all students. A natural leader, she mentors others and takes pride in their success. She also coaches several teams and organizes a quilting club. Ellen Skippen believes that all children can learn and that learning is about engaging. She lights the spark to capture their interest and guides them to achieve their full potential. Congratulations! Ellen Skippen is an ideal candidate for an Award for Excellence.
Go Green Globe Awards – 2012
The award is presented annually to schools that have made a significant contribution to sustainability by thinking globally and acting locally.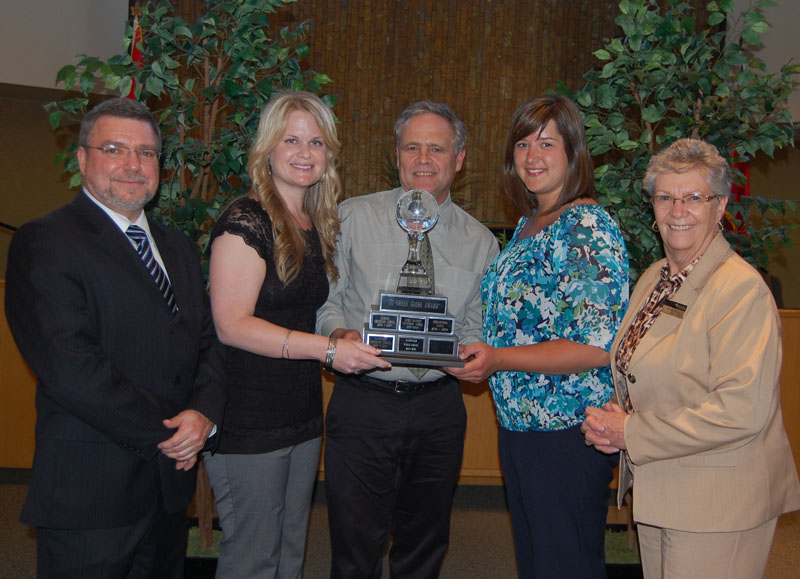 Assiginack Public School
Assiginack Public School on Manitoulin Island has been recycling paper, cardboard and plastic as part of the Township of Assiginack's blue box program since 2010. Students compost lunch waste on a daily basis. Students are also encouraged to drink from re-usable water bottles to minimize waste. Assiginack is home to a litterless playground. Students unwrap their snacks indoors before heading outside to play. Staff and lunchroom supervisors keep the school and playground neat and tidy, modeling the behavior they are instilling in their students.
Classroom lessons focus on water as a limited resource and incorporate respect for the Earth. During Earth Day, students completed a recycled art project and played green games at www.ecokids.com. Environmentally friendly practices are shared locally. Students and staff help clean up Manitowaning each year, making the community a better place to live. When it comes to going green, the Assiginack Public School All Stars live up to their name. They are most deserving of a Go Green Globe Award.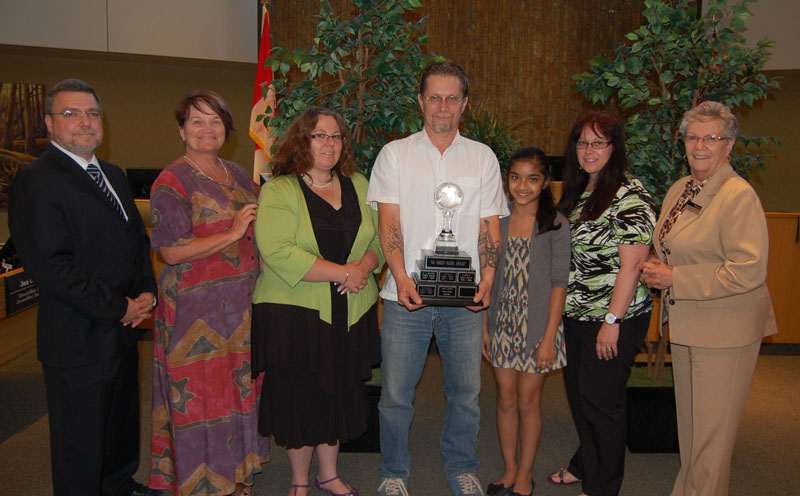 Carl A. Nesbitt Public School
Carl A. Nesbitt Public School is affectionately known as "Greenland". Staff and students have made sustainability a way of life – in the classroom and in the community. The school promotes litterless lunches and the use of water bottles, hosts clean up weeks, conserves energy, sells rain barrels, and collects old computers and other electronics for recycling. Students also participate in important environmental conferences such as Roots and Shoots and the EcoLeague Youth Forum.
Over the past few years, Carl A. Nesbitt Public School has received grants to regreen its schoolyard. Students enjoy poetry readings outdoors, play in shaded areas, and tend to vegetable and flower gardens. Last year, Carl A. Nesbitt was among the 2,000 students from Rainbow Schools who took part in a Water Walk in support of Sudbury Minga for Maasai and Free the Children. The event raised awareness of global issues, nurtured leadership skills, and empowered youth to be agents of change. These Go Green Globe Award recipients are leading the way!
Barbara  Konarek Memorial Award – 2012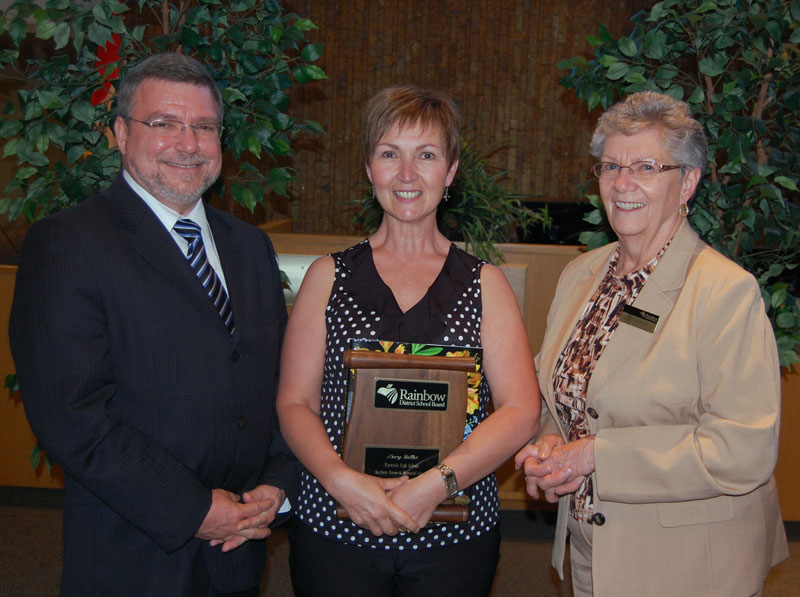 Nancy Fallat – Teacher – Espanola High School
Nancy Fallat teaches in the Section Program at Espanola High School. Credit accumulation in the program is very high because Nancy Fallat has excellent subject matter competence, enthusiasm for teaching, is sensitive to learning needs, and has exceptional communication skills. From making and taking students to appointments, to feeding, clothing and advocating for them, Nancy Fallat wills students to achieve and they rise to her expectations. Students come back to thank Nancy Fallat for believing in them.
Nancy Fallat saw a need for a breakfast club and began the Sunrise Café. Nancy Fallat was also staff advisor for the Student Council, coached volleyball, and has organized staff activities. She is highly regarded by her peers and is an integral part of the school. Nancy Fallat recently received The Allyson Hughes Award for Teaching Excellence presented by the Parents for Children's Mental Health. The award recognizes a teacher who exemplifies the understanding, dedication, encouragement and inspiration necessary for all children to reach their full potential. Nancy Fallat is most deserving of the Barbara Konarek Memorial Award.
William N. Roman Teacher of the Year Award – 2012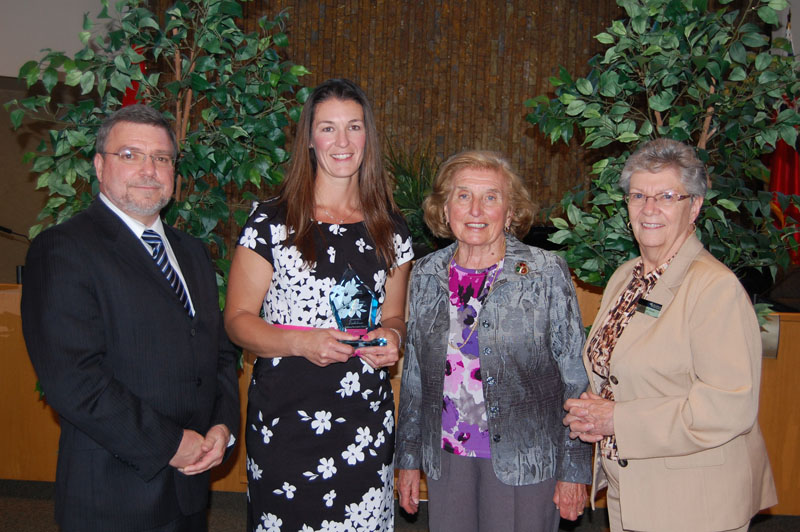 Jeanette Lankshear – Teacher – Sudbury Secondary School
Jeanette Lankshear is a Student Success Program Leader and Credit Recovery Teacher. A caring educator, she has a contagious outlook on life. Her positive energy fosters a "want to learn" attitude in her students. Students connect with the school, which improves their attendance and increases credit accumulation. Jeanette Lankshear's door is always open. Students go to her class for tutoring, for a quiet, safe space for homework, and for her popular Student Success Study Hall. She motivates students to complete their work by giving them constant feedback.
Jeanette Lankshear attends many conferences and professional learning sessions to broaden her knowledge of the curriculum and current trends in education. She also takes additional qualifications courses. Jeanette Lankshear shares best practices with colleagues for the benefit of all students. She mentors new teachers and models healthy living. Jeanette Lankshear also advises Student Parliament, assists with softball and volleyball, and facilitates school events. The Board values Jeanette Lankshear's philosophy of education, contributions to building a caring community, and commitment to student success. Congratulations!