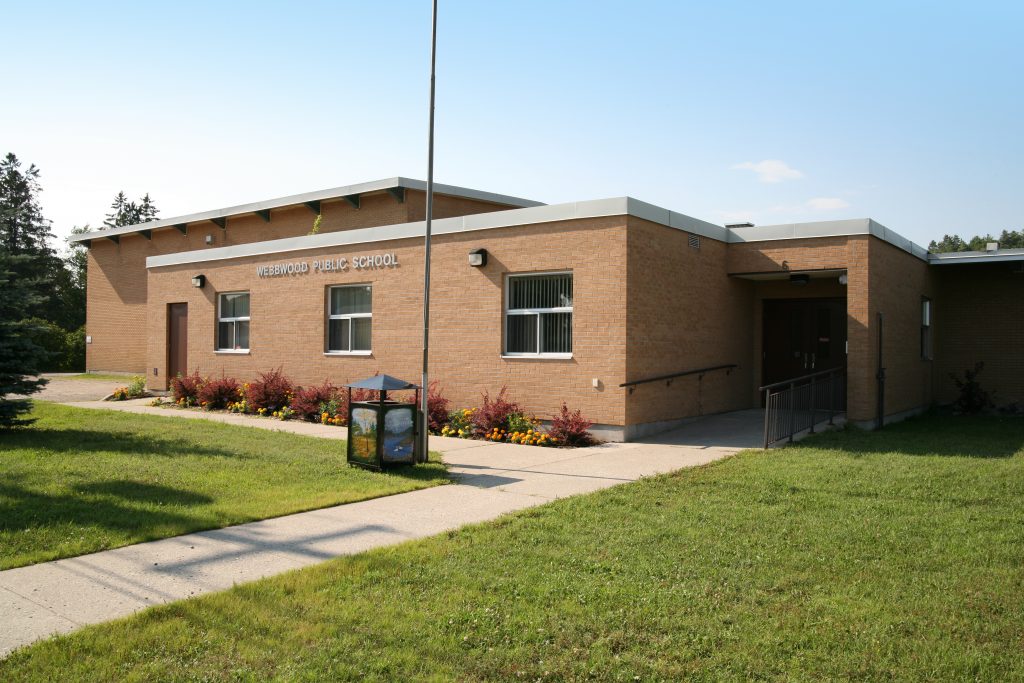 Webbwood Public School

We offer full day Kindergarten.
Webbwood Public School is a wonderful community school located in the town of Webbwood. The school offers a welcoming and accepting environment. Webbwood PS has a spacious and well-equipped gymnasium, a huge playground with climbers for the younger students, a library with a number of new and interesting books, and a computer lab. All classrooms use SMART board technology and students have access to iPads, laptops, and desktop computers. Students benefit from smaller class sizes in all divisions.
Webbwood Public School has a very active intramural sports program. The badminton program at the school is second to none, with many graduates going on to win championships at the secondary level. Volleyball is also a school favourite, with junior and intermediate students devoting most recesses to developing their skills. Primary, junior and intermediate students also have an opportunity to participate on the cross-country running team and in numerous clubs.
The Webbwood School Council is very active and works tirelessly to support the learning environment at the school. Through the efforts of the staff and School Council, students enjoy many interesting events throughout the year including a Fall Harvest Feast, craft days, guest speakers, field trips, and other special events throughout the school year. The school also has a vibrant breakfast program and a milk program. Over the years, the school has been used by a number of community groups, including Scouts, Brownies, Cubs, and adult volleyball and badminton teams in the evening. Community recreation groups built the ball field at the school and use it after hours.
Building an inclusive learning environment and valuing the diversity of the student population is a fundamental aspect of life at Webbwood Public School. A multi-grade "House Colour" program is in place and everyone consistently engages in positive acts of kindness. In addition, a tutoring program is in place to assist students with their reading skills. All of these programs ensure Webbwood PS provides a safe and supportive environment, where everyone feels valued. Students are encouraged to take risks to enhance their learning.