What's happening in Rainbow Schools?
2018-2019 Annual Report for Rainbow Schools Online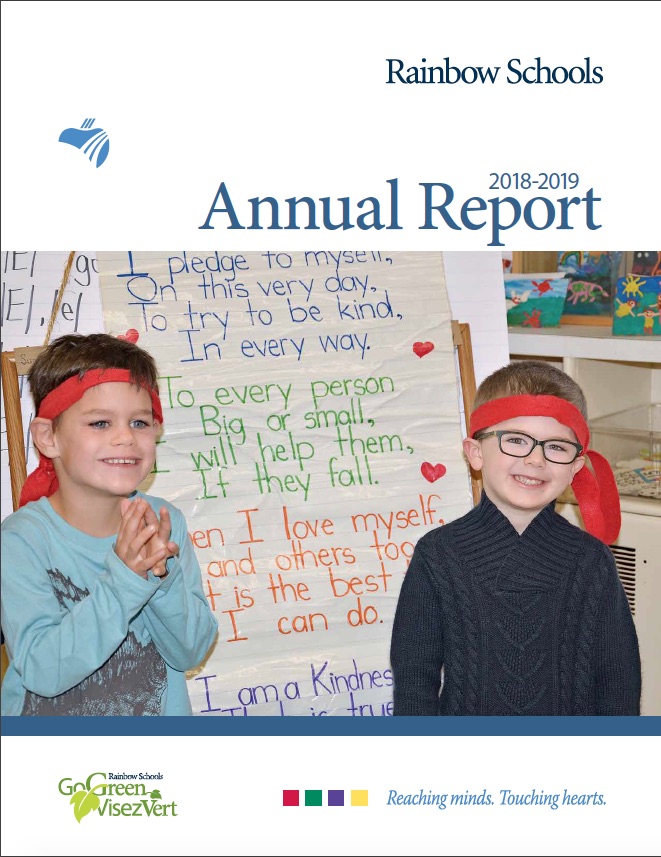 Rainbow District School Board's Annual Report for the 2018-2019 school year is now available online at www.rainbowschools.ca.
To access, click the link below.
School Boards are required to produce an Annual Report in accordance with The Education Act. The Annual Report provides an overview of key activities undertaken by Rainbow District School Board to address its strategic priorities during the 2018-2019 school year. It also offers an overview of the current Board budget.
"Student achievement and well-being remained the primary focus," said Rainbow District School Board Chair Doreen Dewar. "On behalf of the Board of Trustees, I would like to congratulate students on their achievements and thank our educators, administrators and support staff for inspiring success for all students."
She added: "I would also like to thank our many partners in education for being champions for student success."
"Rainbow District School Board made tremendous progress in the 2018-2019 school year as we continued to focus on Reaching minds and Touching hearts, the pillars of our Strategic Directions," said Director of Education Norm Blaseg.
He added: "I would like to commend Trustees for their leadership and thank staff, students, parents/guardians and partners. It was a year filled with pride and promise."
-30-
Media Contact:
Nicole Charette, Senior Advisor,
Corporate Communications and Strategic Planning,
Rainbow District School Board, 705-674-3171, ext. 7217.