What's happening in Rainbow Schools?
Adamsdale Me to We Club donates items to Neonatal Intensive Care Unit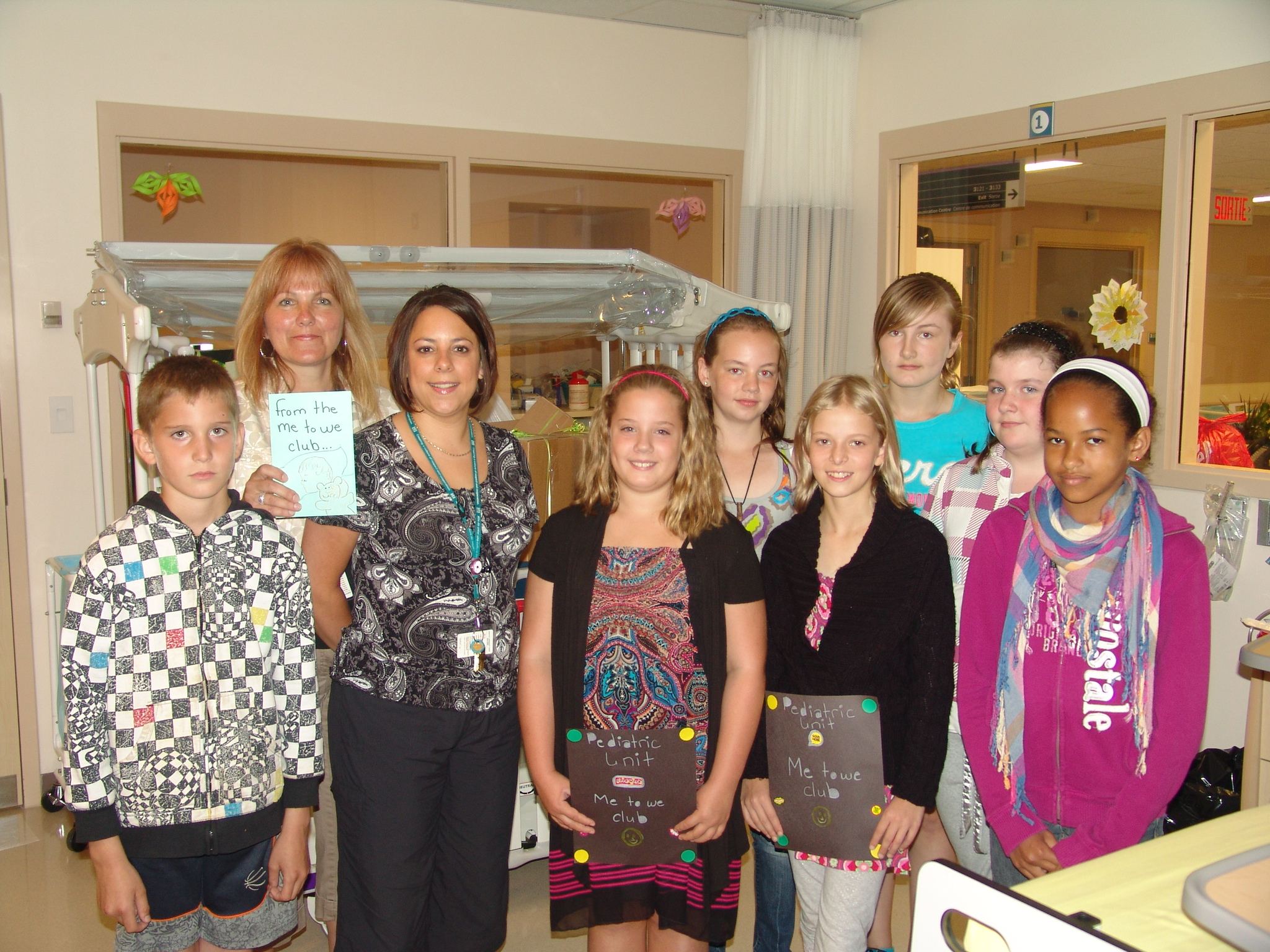 Adamsdale Public School Principal Chris Bourré, teacher Stephanie Brunette, and a team of students fom the Me to We Club visited Sudbury Regional Hospital on Wednesday, June 23, 2010 to donate close to $2,000 in items to the Neonatal Intensive Care Unit to help staff with their work.
The items that garnered the most excitement were the wee sight transluminators, LED lights that can be used to illuminate a baby's hand and help nurses find veins and arteries and a sound ear noise monitor that visually warns visitors and people working in the unit when noise levels are too high for premature babies.
Presenting the donated items to Kim Warren, Clinical Manager Pediatics, Neonatal Intensive Care Unit and Birthing Centre, and Angie Wiwczor, Nurse Practitioner, Pediatrics and Neonatal Intensive Care Unit are Brandyn Pauze, Grade 6; Molly Patrick, Grade 5; Lauren Raymond, Grade 6; Vanessa Vellow, Grade 5; Willow Hilderbrandt, Grade 6; Serena Halman, Grade 6 and Madison McNeil, Grade 6.
"Adamsdale Public School's Me to We Club's goal is to raise responsible global citizens who care about the community and world in which they live and know that they make a difference," said Principal Chris Bourré. "With the guidance of teachers, students select a charity to support at the beginning of the year and set a fundraising goal. Events such as bake sales, Christmas carolling, candy grams, book bingo and Mystery Family Night were planned, all with an emphasis on promoting school spirit, community building and fundraising."
Adamsdale students raised $2,400 this year, with $100 towards Haiti relief efforts, $300 to help a family purchase a wheelchair, and $2,000 to support the Sudbury Regional Hospital's Neonatal Intensive Care Unit.