What's happening in Rainbow Schools?
Bus driver honoured for steering students to safety
Markstay Public School held an assembly on Friday, October 3rd, 2008 to pay tribute to a special hero – bus driver Lory Dupuis who steered students to safety during an accident on Highway 17.
"Lory's efforts on September 12th kept the situation from becoming far more serious," said Principal Stephen Winckel, who commended Lory Dupuis for her exceptional rapport with the students of Markstay Public School. "She was in control and kept the students calm. As a result, everyone arrived at school safe and sound."
During the assembly, Lory Dupuis received a Rainbow Schools pin and flowers from students and a framed First Day of School print from the Sudbury Student Services Consortium. The Ontario Provincial Police commended her for her defensive driving skills.
"School bus drivers are highly skilled," said Jo-Anne Harrison, Executive Director of the Sudbury Student Services Consortium. "They are trained in defensive driving, CPR and First Aid and they are required to deal with emergency situations." The Consortium also ensures that students learn valuable safety lessons through the first time rider program, emergency evacuations and bus patrol training.
"Also at the assembly, we recognized the courage of the passengers who were on the bus with certificates," said Principal Winckel. "Markstay students displayed great character in the way they supported each other during this unfortunate incident. We are very proud of them."
The assembly at Markstay Public School reminded everyone of the importance of bus safety while acknowledging a valued member of the Markstay community and the role of school bus drivers. Lory Dupuis has been driving for Leuschen Bus Lines for the past five years, all on the Markstay route.
"We commend all heroes like Lory Dupuis, who, day after day, ensure that our most precious cargo arrives to and from school safely," said Rainbow District School Board Chair Judy Hunda. "Our bus drivers carry a huge trust."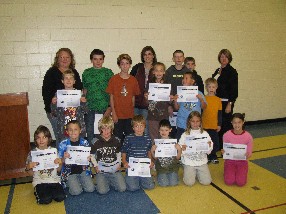 -30-
Media Contact:
Nicole Charette, Senior Advisor,
Corporate Communications and Strategic Planning,
Rainbow District School Board, 674-3171, ext. 7217.