What's happening in Rainbow Schools?
C.C. McLean Public School Students Send Treats to Troops in Afghanistan
"Operation Troop Support"
Students at C.C. McLean Public School in Gore Bay are filling shoeboxes with thoughtful treats for Canadian troops in Afghanistan. The Grade 7 and 8 classes have been collecting everything from playing cards to lip balm, to CDs, socks, small sewing kits and sunscreen. Some wrapped candies are also being included to sweeten the surprise.
"For a small school, the scope of our project is quite large," says Heather Jefkins, the Grade 7 and 8 teacher at C.C. McLean Public School. "This is another example of what we are doing in Gore Bay to create global citizens." The shoeboxes will be shipped to the Canadian Forces Base in Kandahar in conjunction with Remembrance Day.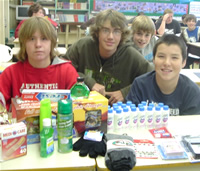 Charles C. McLean Public School students, from left, Andrew Orford, Nic Bond, Jacob Foster and Malcolm Blue, display a sample of the many items collected for troops in Afghanistan.
"For our students, showing moral support for the troops by sending them 'treats' and wishing them a safe return to Canada is an act of good citizenship. We are demonstrating our respect for those who choose to work for Canada in a military capacity," says Jefkins. "As I explain to my students, if small treats like candy or lip balm can 'make someone's day', especially when they are working in such adverse conditions, it is a small 'good deed' that we are doing."
Response to C.C. McLean Public School's "Operation Troop Support" project has been tremendous. More than 60 boxes (and counting) will be shipped to troops thanks to the generosity of students, community members and local businesses. Branch 514 of the Royal Canadian Legion made a financial contribution to purchase additional items for the boxes. Manitoulin Transport offered to deliver the boxes to CFB Trenton for shipping to the troops.
The Grade 7 and 8 students have also been in contact with Lt. Col. Omer Lavoie, the commanding officer of the Royal Canadian Regiment currently stationed in Kandahar. "Lt. Col. Lavoie has sent a number of e-mails to the students," says Jefkins. "He has answered questions about his job, his troops, and the conditions Canadian soldiers face on a daily basis. He has also sent a variety of digital photos to the students, to show them the reality of life for Canadian troops in Afghanistan."
C.C. McLean Public School Principal Anna Armstrong says "Operation Troop Support" has provided a wonderful learning experience for students. "With a focus on global citizenship in our World Class School, this has been an excellent opportunity for students to learn about another part of the world, to learn about the role of the Canadian Forces in global peacekeeping, and to learn how small deeds can make a big difference." She adds: "As the message on the blackboard in History teacher Heather Jefkins' class states: 'Every little bit counts' and the students are proving this every day."
This is not the first time that C.C. McLean students have connected with troops overseas. Last year, the Grade 7 and 8 History classes participated in a Department of Veterans' Affairs program called "Post Cards for Peace". Some of the post cards written were sent to the Canadian Forces base at Kandahar, Afghanistan.
"We received a number of replies from soldiers stationed there, and as a result of those replies the Grade 7 and 8 classes organized an Easter 'care package' that was sent to the troops of the Princess Patricia's Canadian Light Infantry Battle Group last spring," says Jefkins. "Students throughout the school wrote Easter cards, wishing the soldiers a safe tour of duty."
C.C. McLean Public School will continue to receive donations for the shoeboxes until Friday, November 3, 2006. Items can be dropped off at C.C. McLean Public School, 43 Hall Street in Gore Bay. "Anyone interested in knitting socks can contact the school and leave a message," adds Jefkins. "I can get back to them regarding the requirement for socks for both 'active duty' and 'leisure wear'. Heather Jefkins can be reached at 705.282.2383.
-30-
Media Contact:
Heather Jefkins, teacher, C.C. McLean Public School,
Rainbow District School Board, 705.282.2383.