What's happening in Rainbow Schools?
Cambrian College mobile trades training trailers tour Rainbow Schools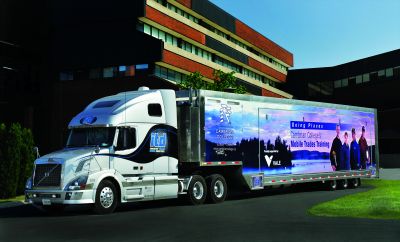 Cambrian College's mobile trades training trailers are touring five Rainbow secondary schools, bringing hands-on learning to students in Grades 7 to 12. The tour will begin at Lively District Secondary School on Tuesday, November 30th and continue to Espanola High School on Thursday, December 2nd, Chelmsford Valley District Composite School on Monday, December 6th, Confederation Secondary School on Wednesday, December 8th and Lasalle Secondary School on Friday, December 10th.
Cambrian College unveiled the mobile trades training trailers – the first of their kind in Ontario – in November 2009. Transported via tractor trailers, the 53-foot long main expandable trailer deploys in minutes, and when connected to the two support trailers creates over 1,800 square feet of classroom and lab space that can accommodate 16 students. Fully plumbed and wired, the lab is equipped for instruction in a variety of skilled trades disciplines, such as welding, heavy equipment, truck and coach, machining, electrical and millwright.
At each participating secondary school, students will tour six interactive workstations inside the trailer, exploring skilled trades in a number of fields. A team from Cambrian College will be on site to provide workshops and answer questions. Industry representatives will also be on hand to speak about trade related careers.
"This is a unique opportunity for our students to explore career options in the skilled trades," said Rainbow District School Board Director of Education, Norm Blaseg. "We thank and commend Cambrian College for bringing this exceptional mobile classroom to our schools. We know it will inspire students to consider the trades for postsecondary studies and apprenticeships."
"Cambrian's first-ever mobile trades trailer roadshow provides an exciting hands-on opportunity for students to explore the many career possibilities in the skilled trades," said Louise Turcotte, Associate Dean of Cambrian's School of Skills Training. "In addition, students will also get a taste of Cambrian's co-op diploma apprenticeship programs and
find out how the College can prepare them for success in whatever field they choose."
Cambrian College's trades trailers are, in essence, a high-tech skilled trades laboratory on wheels that can be deployed anywhere to provide educational opportunities in the trades for those who might not otherwise be able to access specialized skills training.
-30-
Media Contacts:
Nicole Charette, Senior Advisor
Corporate Communications and Strategic Planning
Rainbow District School Board, 674-3171, ext. 7217
Gloria Staskus, Marketing Coordinator
Marketing and Institutional Relations
Cambrian College, 705.566-8101, ext 7760