What's happening in Rainbow Schools?
Charlotte Leonard receives Joan Mantle Music Trust Community Award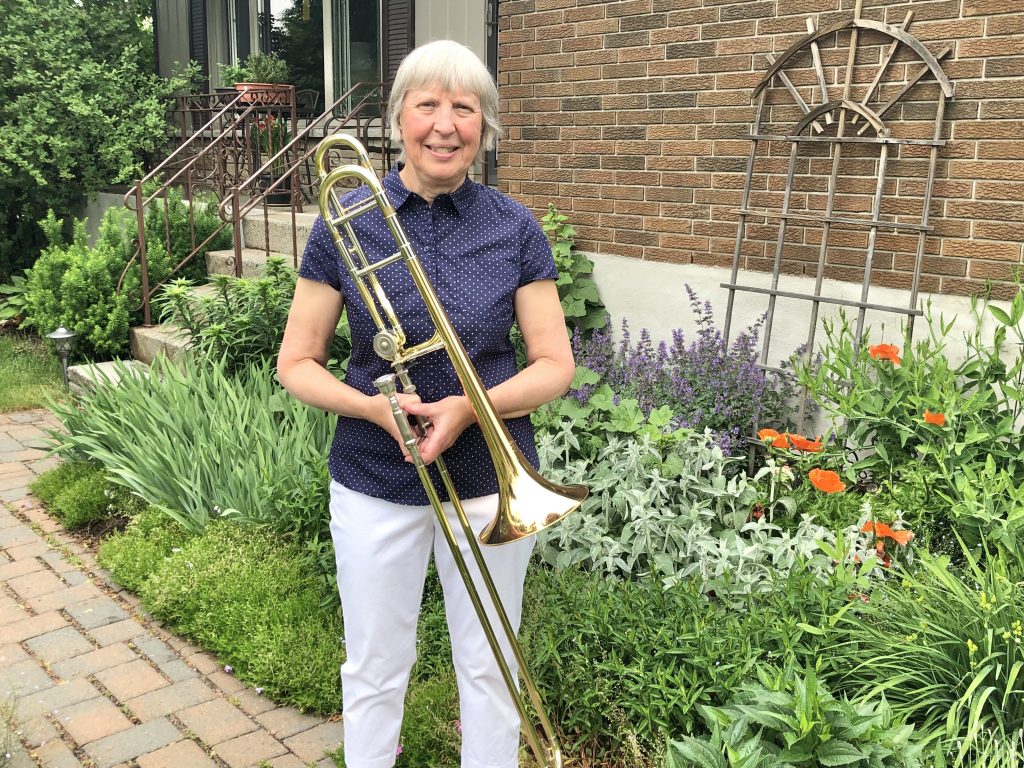 Charlotte Leonard, who recently retired as Professor Emeritus of Music at Laurentian University where she taught music history and low brass, is the latest recipient of the Joan Mantle Music Trust Community Award. Charlotte served as Chair of the Music Department frequently during her 35-year teaching career, first at Huntington University and, as of 2005, at Laurentian University.
"A graduate of Lasalle Secondary School, Charlotte Leonard was a member of numerous musical ensembles under the direction of Joan Mantle," said Ralph McIntosh, Chair of the Joan Mantle Music Trust Steering Committee. "It's so fitting that Charlotte pursued a similar career. She has had a tremendous impact on local music education over the years."
Following graduation, Charlotte attended the University of Western Ontario where she received an Honours Bachelor of Music in Music Education degree. She also earned a Master of Music in Trombone Performance from the University of Michigan, and both a Master of Arts and a Ph.D. in Musicology from Duke University.
As a university instructor, she taught a number of current and former music teachers from Rainbow Schools as well as other local school boards. She has been awarded several Certificates of Appreciation from Laurentian's Centre for Academic Excellence for her work with students.
"Dr. Leonard played a crucial role in my transition from a working musician to that of an educator," said Peter Nelson of Manitoulin Secondary School. "I remember her as knowledgeable, kind, and patient, with an optimistic disposition. As an adult returning to university, she was a human connection in a daunting institution."
An exemplary and versatile performer, Charlotte Leonard plays principal tenor or alto trombone regularly with the Sudbury Symphony Orchestra, the North Bay Symphony Orchestra, the Northern Brass Quartet, the Northern Brass Choir, the Sudbury Jazz Orchestra, and occasionally with the Sault Symphony Orchestra and Timmins Symphony Orchestra. She is also a member of Triple Play with Dr. Charlene Biggs and Brenda Arrowsmith, and recently performed in YES Theatre's orchestra production of Mary Poppins.
Charlotte has been directly involved with the Northern Ontario Music Festival's Honour Concert Band since its establishment. Nominated high school music students from across Northeastern Ontario gather annually for a two-and-a-half-day intensive program under the mentorship of local music educators. Charlotte's contributions include arranging student nominations, screening nominees during the Music Festival, recruiting music educators as sectional rehearsal leaders, and organizing the Band's culminating performance.
Charlotte Leonard has been a volunteer performer with the Sudbury Symphony Orchestra (SSO) since 1980, receiving an Ontario Volunteer Service Award in 2014 for her many years of continued service. She has served at various times on the Symphony Board, Principal Players Committee, and Fundraising Committee, as well as the Search Committee for a new music director. As a Symphony Board member, Charlotte was instrumental in organizing a fundraising campaign to present the closing concert of the 2017-2018 season. She is also a principal organizer of the first SSO "Symphony Crawl" in downtown Sudbury.
About the Joan Mantle Music Trust
The Joan Mantle Music Trust was established in the fall of 2008 to help refresh, modernize and revitalize school music programs in the Rainbow District School Board. The Trust allocates funding for musical instruments and equipment to selected schools on a rotating basis. The Trust also accepts the donation of new and used musical instruments and allocates them to schools in need. This ensures that there is an ongoing improvement in the condition of musical equipment throughout the Board, allowing for students to achieve more in their musical studies together.
For more information about the Joan Mantle Music Trust, visit www.rainbowschools.ca.
Donations to the Joan Mantle Music Trust are always welcome. Cheques should be made payable to Rainbow District School Board. Receipts will be provided for all donations of $25 or more.
-30-
Media Contact:
Nicole Charette, Senior Advisor,
Corporate Communications and Strategic Planning,
Rainbow District School Board, 705-674-3171, ext. 7217.