What's happening in Rainbow Schools?
Chris Dinnes honoured provincially for his contribution to the trades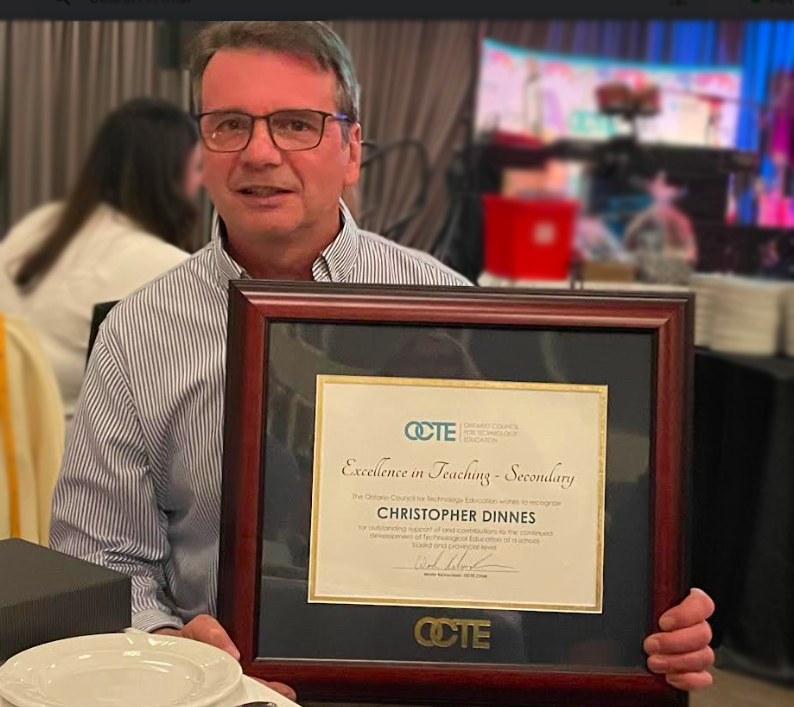 A manufacturing teacher at Lively District Secondary School has earned provincial honours for his contribution to the trades. Chris Dinnes received the Excellence in Teaching Award from the Ontario Council for Technology Education. The award includes a $500 bursary to be presented to a student at Lively District Secondary School's graduation ceremony.
Chris Dinnes was recognized for his outstanding commitment to Technological Education through the delivery of the curriculum and experiential learning opportunities. He supports and promotes the trades by engaging students, parents/guardians, colleagues and the community as participants, mentors and partners.
"On behalf of Rainbow District School Board, I would like to congratulate Chris Dinnes on this well-deserved honour," said Board Chair Bob Clement. "To be recognized among peers at the provincial level is a testament to his dedication to students, ensuring that the next generation of skilled workers are well prepared to move forward in their field of interest. We are so proud of Chris Dinnes for his commitment to the trades locally and beyond."
"With the shortage of skilled labour in Ontario, there is a renewed emphasis on the trades at the secondary level," said Director of Education Bruce Bourget. "Chris Dinnes is a highly valued tech teacher and leader who enables students to experience the trades through hands-on learning opportunities at school and in the community. Mr. Dinnes encourages students to consider the trades as a viable and rewarding career option."
In addition to his passion for student learning and teaching, Chris Dinnes is an incredible leader who is always willing to go the extra mile for students. During the current school year, he helped launch the Rainbow District School Board Think Trades initiative by hosting special events to encourage more females to consider the trades. He led a hands-on workshop for a group of female students and their mothers that was very well received. Together, they created welded art pieces to take home.
Chris Dinnes also planned and implemented a system-wide Experiential Learning for Guidance in the Skilled Trades initiative. Guidance Counsellors from all schools participated in five hands-on activities in the transportation, manufacturing, and carpentry sectors. While hosting the experiential sessions, Chris Dinnes talked trades to ensure Guidance Counsellors in Rainbow Schools gained an understanding of the value of skilled trades as a pathway for students.
"Calm and patient, Mr. Dinnes brings these qualities along with his technical skill set to the classroom," said Lively District Secondary School Principal Leslie Mantle. "Students feel safe and supported in a dynamic learning environment that builds on their individual and collective interests and strengths. He also contributes to the overall life of the school, for example, by supporting students on the Robotics Team."
Chris Dinnes' leadership extends beyond the classroom. As Program Leader of the Innovative Integrated Technology program, Chris Dinnes creates opportunities for students in manufacturing, welding, construction and carpentry, transportation, and design and communication. The lead teacher for the Specialist High Skills Major in Mining, he organizes reach ahead activities, certifications, challenges, Co-operative Education and field trips. He is also the school's health and safety representative.
At the system level, Chris Dinnes is a huge advocate for the trades as a member of the Rainbow District School Board's Skills Committee which organizes the annual Tech Skills Competition. Winners of these events have an opportunity to compete provincially. In recognition of his immense contribution to student success, Chris Dinnes received a 2023 Award for Excellence from Rainbow District School Board.
-30-
Media Contact:
Nicole Charette, Senior Advisor,
Corporate Communications and Strategic Planning,
Rainbow District School Board, 705-674-3171, ext. 7217.