What's happening in Rainbow Schools?
First Nations, Métis and Inuit role model posters inspire student success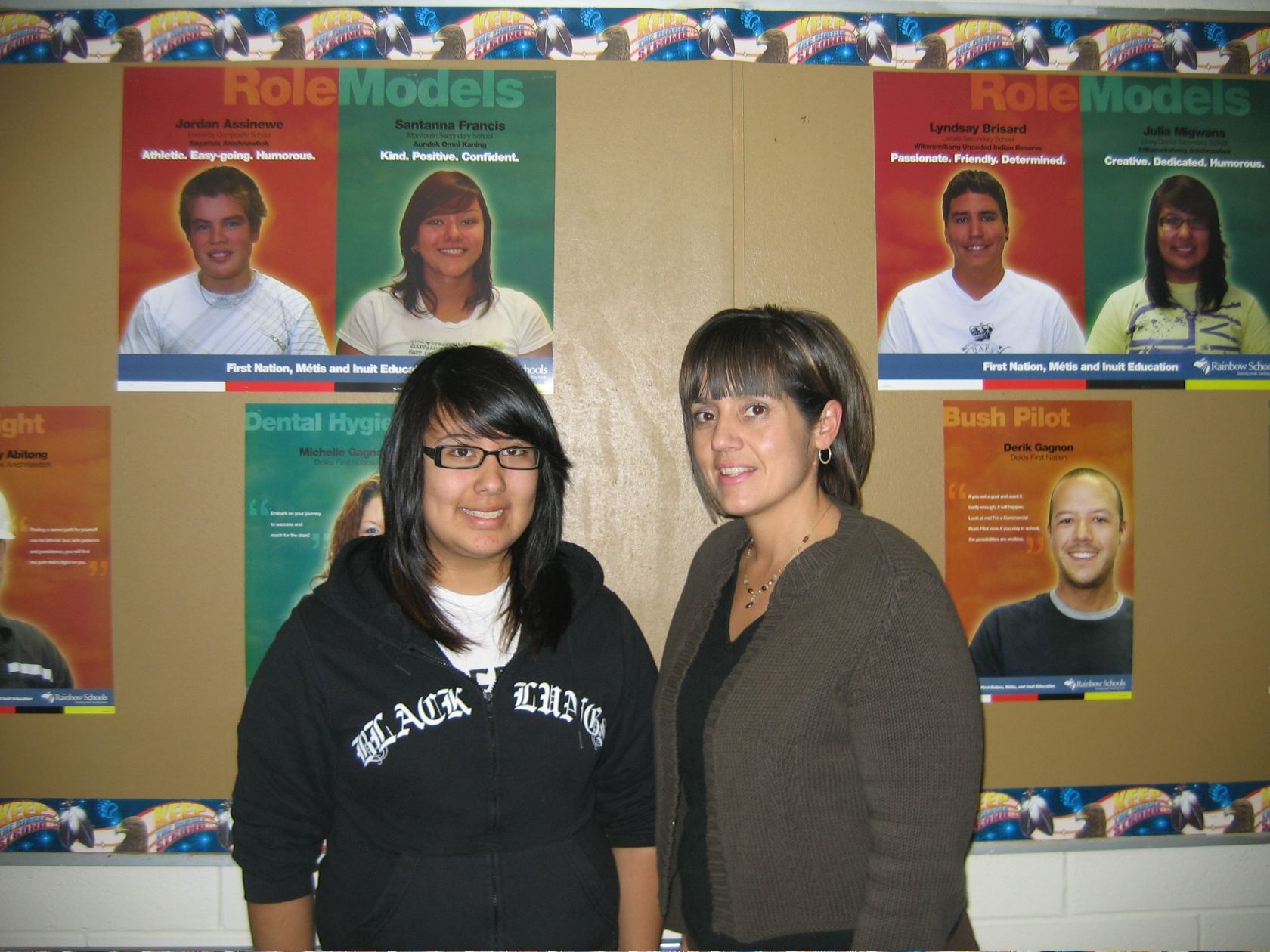 Youth role model Julia Migwans with First Nations, Métis and Inuit Education Principal Kathy Dokis-Ranney during the poster unveiling November 6, 2008.
A series of posters produced by the Rainbow District School Board is providing youth with positive images of Aboriginal people in a variety of careers. Youth role models are also being featured to showcase the contributions of First Nations, Métis and Inuit students in Rainbow Schools.
"It is important for our Aboriginal youth to be able to imagine or picture themselves being successful," said Kathy Dokis-Ranney, Principal of First Nations, Métis and Inuit Education. "This series of posters is another way in which we are inspiring success for all students through our First Nations, Métis and Inuit Education initiatives."
The posters, unveiled at a special celebration on November 6th, will come to life throughout the school year as the individuals whose careers are featured meet with youth who may be interested in a similar career path. "We selected Aboriginal people representing careers that youth may be familiar with and careers that they may not have thought about, such as a millwright or filmmaker," added Principal Dokis-Ranney.
The Aboriginal youth role models on the posters were nominated by other Aboriginal youth or recommended by school staff as being positive influences within their schools. The selection was based on a number of criteria that was part of a nomination process designed with input from Rainbow District School Board's First Nations, Métis and Inuit Education Youth Group. "Having these students represented on posters is a great way to celebrate their accomplishments and allow them to be role models for others," said Principal Dokis-Ranney.
The posters will be shared with all Rainbow Schools, as Rainbow District School Board continues to ensure that students gain the knowledge and appreciation of contemporary and traditional First Nations, Métis and Inuit traditions, cultures and perspectives.
"When we focus on role models and Aboriginal people who have achieved success, we provide First Nations, Métis and Inuit youth with positive connections to their identity," said Principal Dokis-Ranney. "It also allows all people to see the great things that Aboriginal people have accomplished."
The series of posters is one of many initiatives being implemented in Rainbow Schools as part of the vision in the First Nations, Métis and Inuit Education Policy Framework. First Nation, Métis, and Inuit students in Ontario will have the knowledge, skills, and confidence they need to successfully complete their elementary and secondary education in order to pursue postsecondary education or training and/or to enter the workforce.
"Providing students with opportunities to identify with Aboriginal people from various career paths will help them to find the career path that might be right for them," said Principal Dokis-Ranney. "Through conversations, our youth can find out what education path they may need to follow and also learn that the path to a career may not always be easy, but they can achieve their dreams, as reflected in some of the poster quotes."
She added: "It also reinforces the different educational pathways youth may take or different opportunities that may be available to them in the world of work after completing secondary school. The posters illustrate that all pathways are valued."
Rainbow District School Board thanks the youth role models and career role models for sharing their success stories with students in Rainbow Schools in Sudbury, Espanola and Manitoulin as participants in the First Nations, Métis and Inuit Education poster series.
Youth Role Models
A.J. Elliott
Sudbury Secondary School
Atikameksheng Anishnawbek
Artistic, Athletic, Friendly
Alex Flamand
Lockerby Composite School
Wikwemikong Unceded Indian Reserve
Dedicated, Hard-working, Friendly
Jordan Assinewe
Lockerby Composite School
Sagamok Anishnawbek
Athletic, Easy-going, Humorous
Santanna Francis
Manitoulin Secondary School
Aundek Omni Kaning
Kind, Positive, Confident
Lyndsay Brisard
Lasalle Secondary School
Wikwemikong Unceded Indian Reserve
Passionate, Friendly, Determined
Julia Migwans
Lively District Secondary School
Atikameksheng Anishnawbek
Creative, Dedicated, Humorous
Gabriel Abotossaway
Manitoulin Secondary School
Aundek Omni Kaning
Creative, Positive, Funny
Justine Halvorson
Sudbury Secondary School
Sudbury Métis
Athletic, Positive, Friendly
Career Role Models
Derik Gagnon
Bush Pilot
Dokis First Nation
"If you set a goal and want it badly enough, it will happen. Look at me! I'm a Commercial Bush Pilot now. If you stay in school, the possibilities are endless."
Constable Joshua Rickard
Police Services
Serpent River First Nation
"If you work hard and educate yourself about the career path you are interested in, you will have a better idea of what to expect."
Darlene Naponse
Filmmaker
Atikameksheng Anishnawbek
"Be open and trust your instincts. Then work doesn't seem so hard."
Dr. Brenda M. Restoule, C. Psych
Psychologist
Dokis First Nation
"Make use of all the opportunities available to you to realize your dream. The support of family and community makes your journey through the academic world much easier."
Michelle Gagnon
Dental Hygienist
Dokis First Nation
"Embark on your journey to success and reach for the stars!"
Cody Abitong
Millwright
Sagamok Anishnawbek
"Finding a career path for yourself can be difficult. But, with patience and persistence, you will find the path that's right for you."
-30-
Media Contact:
Katherine Dokis-Ranney, Principal, First Nations Métis and Inuit Education,
Rainbow District School Board, 705.671.5940