What's happening in Rainbow Schools?
HEADSTRONG: Local school boards host summit to discuss youth mental health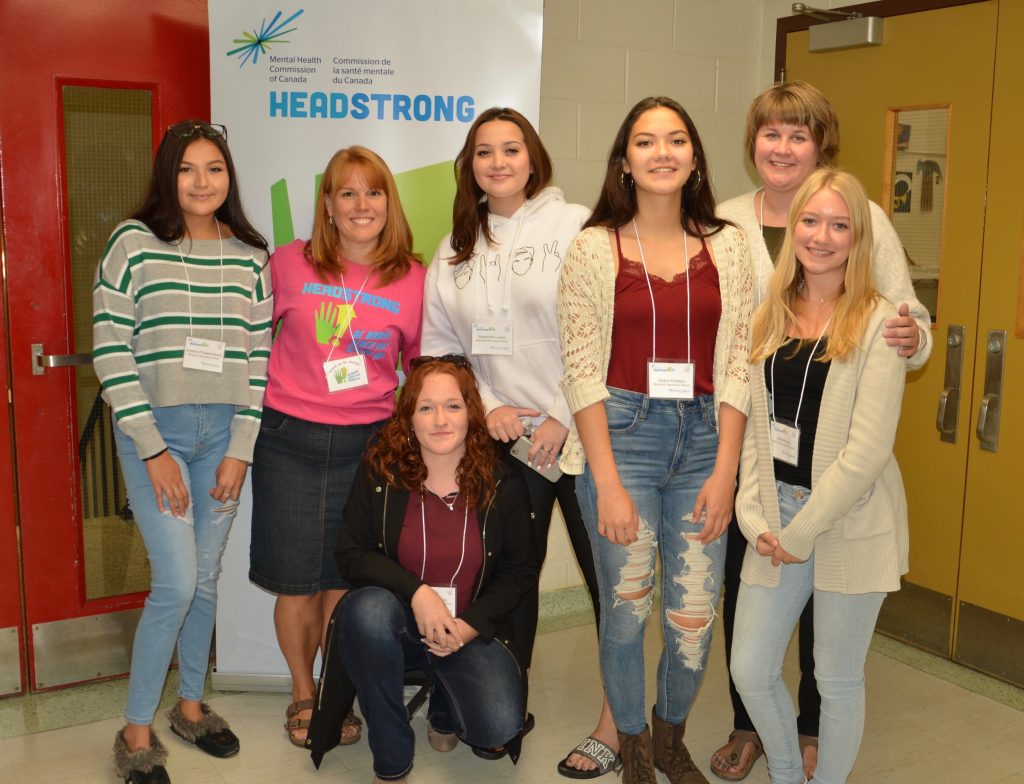 Students from Rainbow Schools will participate in HEADSTRONG, an evidence-based anti-stigma initiative aimed at inspiring students to Be Brave, Reach Out and Speak Up about mental health. The summit will take place on Thursday, October 10, 2019 from 9 am to 3 pm at Collège Boréal.
The conference will bring together some 100 students from Rainbow District School Board, Sudbury Catholic District School Board, Conseil scolaire public du Grand Nord de l'Ontario and Conseil scolaire catholique Nouvelon.
Spearheaded by the Mental Health Commission of Canada, the HEADSTRONG movement educates youth ages 12 to 18 to recognize the signs of mental health problems, and to help reduce the associated stigma by developing mental health initiatives in secondary schools.
"Mental health and wellness are fundamental to student achievement," says Director of Education Norm Blaseg. "The HEADSTRONG summit aligns with the Board's ongoing commitment to support and nurture the physical, mental, social and emotional well-being of all students."
He adds: "Through the HEADSTRONG experience, students will be inspired to become leaders and stand up for change in their schools."
The HEADSTRONG event will feature various stigma-fighting activities that promote hope and resiliency. Students will also hear from three keynote speakers who have lived with and recovered from mental illness.
The first keynote address will be delivered by co-speakers Emily Maville and Eric Cashmore. Emily is a 16-year-old Grade 12 student from Sudbury Secondary School, a proud activist for members of the LGBTQ2S+ community, a poet and an artist. Emily will share her journey with mental health and her road to recovery.
Eric Cashmore is a community activist for those living with and affected by HIV/AIDS, mental health and addiction. His passion for community work stems from his own struggles with addiction and lived experience with HIV infection. Eric has received multiple awards for his impact on community health at the local, provincial and national levels.
Students will hear from Ashley Quackenbush, also known as DJ Scratchely Q, a professional disc jockey from Manitoulin Island. One of Ashley's greatest achievements was opening for the Canadian band A Tribe Called Red. A guest speaker with Jack Talks, Ashley is also the director of music and official DJ for Worth Living, where she uses her personal journey and knowledge of mental health to help end the stigma.
HEADSTRONG Summit Agenda
Thursday, October 10, 2019
Collège Boréal Auditorium
21 Lasalle Boulevard, Sudbury
| | |
| --- | --- |
| 8:30 am to 9 am | Registration |
| 9 am to 9:30 am | Introduction/Welcome |
| 9:30 am to 10:15 am | Keynote Address: Emily Maville and Eric Cashmore |
| 10:15 am to 11 am | Breakout activities and icebreakers |
| 11 am to 11:15 am | Break |
| 11:15 am to 12 pm | Keynote Address: Ashley Quackenbush |
| 12 pm to 12:45 pm | Lunch (Auditorium) |
| | Note: Best time for media interviews |
| 12:45 pm to 1:30 pm | Panel discussion with guest speakers |
| 1:30 pm to 2:30 pm | Conversation café: action planning breakout activity |
| 2:30 pm to 3 pm | Wrap-up |
Rainbow District School Board adopted its first Mental Health Strategic Plan in September 2018. The plan guides the Board's work by embedding student mental health policy within its strategic planning; raising awareness to decrease stigma and increase the capacity to recognize the signs of mental health problems early and how to access the appropriate intervention; and implementing evidence informed promotion, prevention, and intervention mental health services to foster mentally healthy classrooms.
To access the Mental Health Strategic Plan, click the link below.
-30-
Media contact:
Nicole Charette, Senior Advisor
Corporate Communications and Strategic Planning
Rainbow District School Board, 705-674-3171 ext. 7217