What's happening in Rainbow Schools?
Lasalle Secondary School raises $30,000 for fitness at Finlandia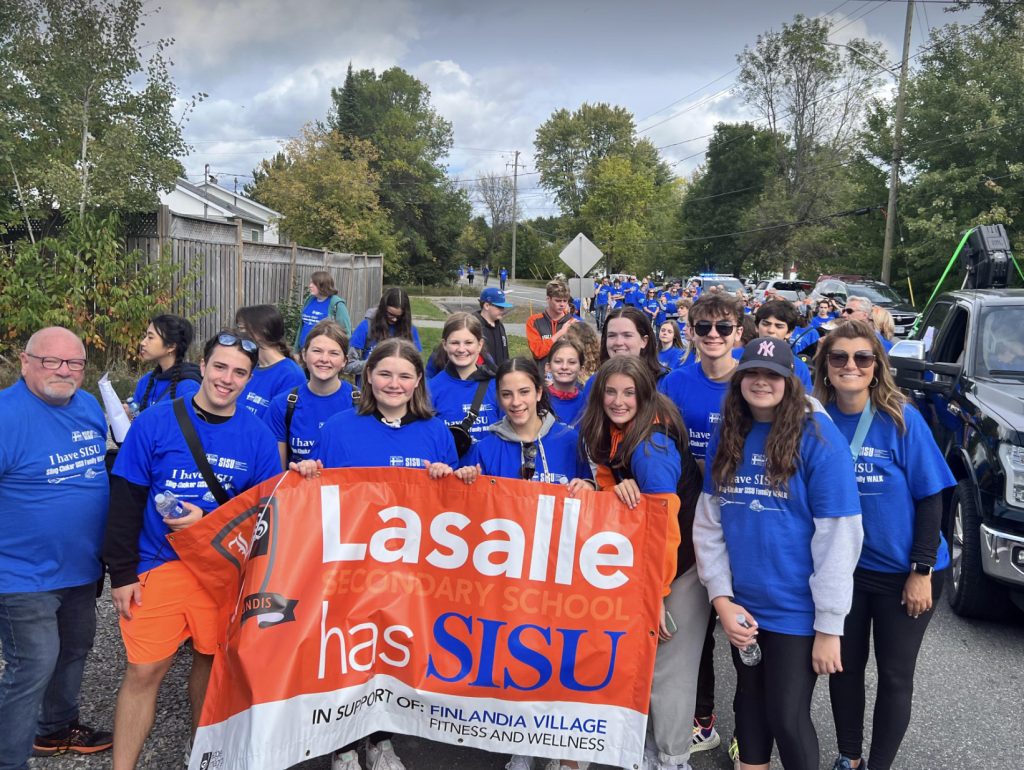 The entire Lasalle Secondary School community has once again rallied together to blaze trails for fitness at Finlandia.
This year's fundraiser – which included a Fall Carnival, the annual SISU Family Walk, a silent auction, and donations from family, friends and Finlandia staff – raised an incredible $30,000 to support fitness and wellness for residents.
Some 150 people gathered on September 24th for the seven-kilometre walk from the school in New Sudbury to Finlandia Village in Minnow Lake. Upon arrival, residents lined the streets to greet participants and cheer them on.
"My eyes filled with tears," says Lasalle Secondary School Principal Kristina Rivard Gobbo. "It was a special moment felt by each and every one of us."
She adds: "Through this collective effort, our students have demonstrated the importance of building community – one of the values modelled and taught in Rainbow Schools."
Staff and students have become a driving force behind this fundraiser. To date, more than $130,000 has been raised for fitness equipment, outdoor trails and signage, as well as a gardening project at the Village.
Donations will continue to support outdoor walking trails and equipment. A fully accessible trail system, which winds its way around the property, is developed and partially built. A portion is also signed. Future work will include self-directed exercise stops and more outdoor equipment to enhance the physical benefits of exercise while walking the trails.
"On behalf of staff and students, I would like to thank members of the community who continue to support this important work," says Principal Rivard Gobbo. "We sincerely appreciate every dollar donated, as our students work to promote active living at all stages of life."
She adds: "We are incredibly honoured to give back to a community that has given so much to us – a community we are proud to call home. Kiitos!"
Finlandia Village has enjoyed a long-standing partnership with Lasalle Secondary School, which began in 2007 with the launch of the Intergenerational Memoirs Writing Program. The program fosters co-operation, collaboration, understanding, positive interactions and fellowship opportunities for students, while bridging the gap between generations.
-30-
Media Contact:
Kristina Rivard Gobbo, Principal, Lasalle Secondary School
Rainbow District School Board, 705-566-2280