What's happening in Rainbow Schools?
Lo-Ellen Park hosts FIRST Robotics Tech Challenge on December 3rd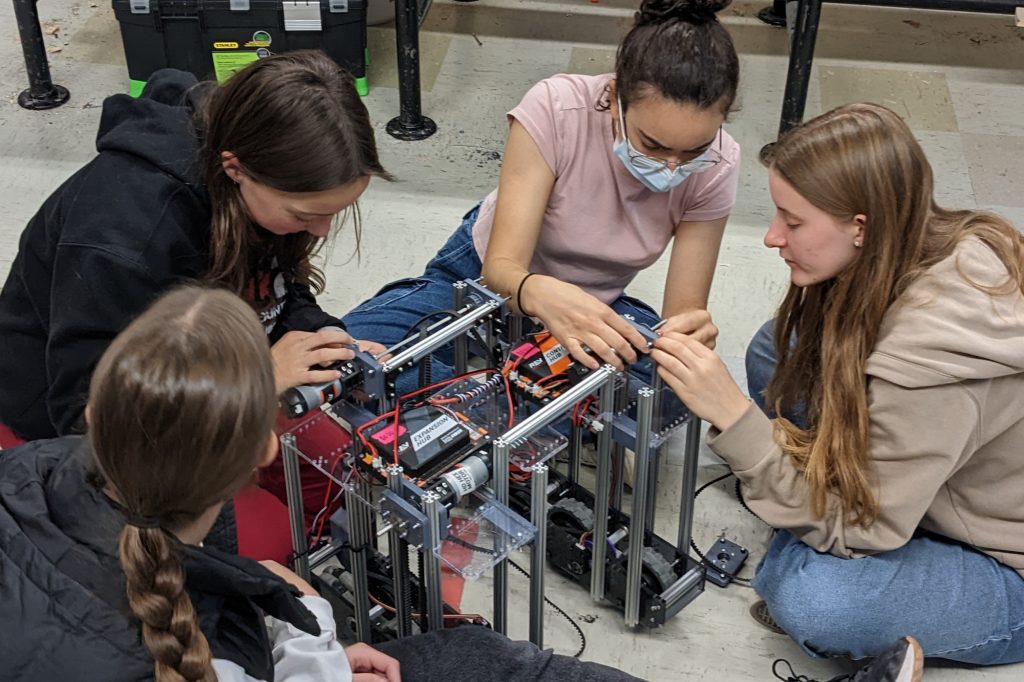 A first for FIRST in Sudbury – "The hardest fun you'll ever have"
Lo-Ellen Park Secondary School will host POWERPLAY, a FIRST Tech Challenge qualifier on Saturday, December 3, 2022.
The full-day tournament-style competition, presented by Raytheon Technologies, will bring together 20 teams from across the province including seven from Lo-Ellen Park Secondary School, two from Lively District Secondary School, as well as teams from North Bay, Manitoulin Island, Bruce County and the Greater Toronto Area.
Students, staff, alumni, community partners, and members of FIRST Robotics Canada, including President Dave Ellis, will be in attendance. Spectators are welcome.
Through FIRST (For Inspiration and Recognition of Science and Technology) competitions, deemed by participants as the "hardest fun you'll ever have," students engage in innovation and idea sharing in the areas of STEM – science, technology, engineering and mathematics. Students also hone important life skills such as co-operation, communication, self-confidence, teamwork and leadership.
For POWERPLAY, teams are tasked to design, build, program and operate robots in head-to-head challenges. Each team consists of two driver operators, a human player, a coach and a robot.
To earn points, robots must place coloured cones on various-sized junctions throughout a 12-foot square playing field. Points are allotted based on the number of cones properly positioned and the size of the junction. Teams can also earn extra points with special tasks.
Judges will interview teams and will present awards in various categories – compass, connect, control, design, innovate, inspire, motivate, and think – each with distinct criteria. Three teams will be selected to advance to the provincial championships in April 2023.
"The FIRST Robotics Challenge is a great opportunity for students to showcase the tremendous skills they are developing," said Rainbow District School Board Director of Education Bruce Bourget. "We are very grateful to the staff organizers, mentors and sponsors, and we extend best wishes to all teams."
Dan Monti, Tournament Director and Program Leader of Technology Studies at Lo-Ellen Park Secondary School, extends special thanks to all those who helped make this event possible. "This is the first time this event will take place in Sudbury, and it's been quite the undertaking," he said. "We really could not have done it without the support of our mentors and sponsors."
Event sponsors include Ionic Mechatronics, Lopes Ltd., Equipment North, CCM Group, GM Canada, Hatch, Duplicators, HARD-LINE Solutions, SRK Consulting, Fastenal Industrial Supplies, the Royal Bank of Canada, FIRST Robotics Canada, Argosy Foundation, Specialist High Skills Major and Think Trades.
Science North has graciously provided free admission throughout the weekend for team members and tournament volunteers.
Agenda
Saturday, December 3, 2022
7 am – Arrival
7:30 am to 10 am – Formal judging and Robot Inspections
8 am – Practice matches
9:45 am – Drivers meeting
10 am – Opening ceremonies
10:15 am – Qualification matches begin
12 pm to 1 pm – Lunch
1 pm to 3:25 pm – Matches resume
3:30 pm – Alliance Selection Begins
4 pm – Semi-Finals
5 pm – Finals
5:15 pm – Closing ceremonies
6 pm – Wrap-up
In keeping with FIRST Robotics Canada's COVID-19 protocols, masks are mandatory for all attendees.
Lo-Ellen Park Secondary School is located at 275 Loach's Road in Sudbury.
– 30 –
Media Contact:
Nicole Charette, Senior Advisor
Corporate Communications and Strategic Planning
Rainbow District School Board, 705-674-3171 ext. 7217