What's happening in Rainbow Schools?
Patrick Barnholden receives Stonewall Award for 2SLGBTQIA+ Action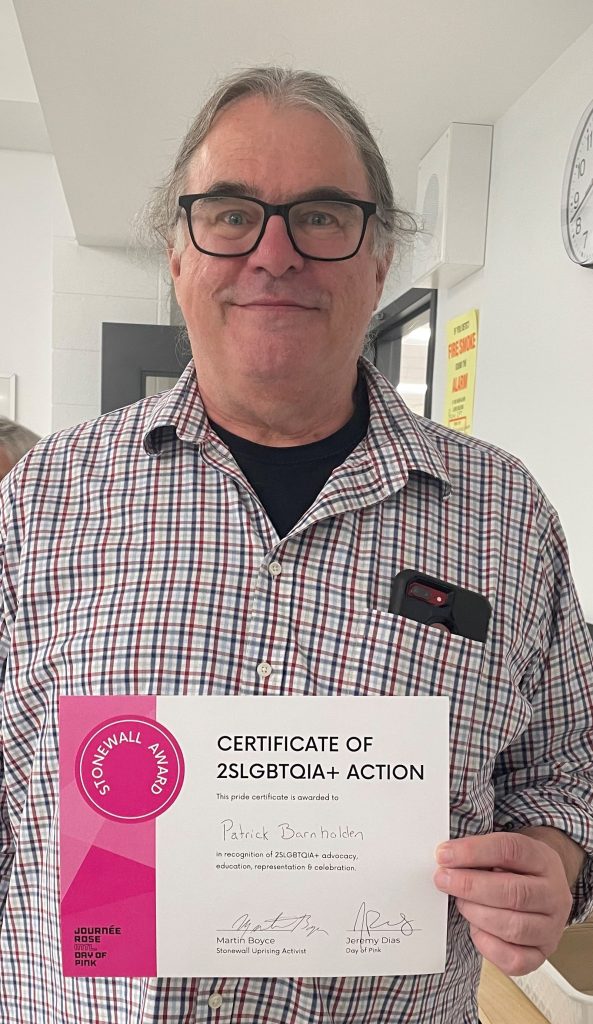 Patrick Barnholden, a long-time teacher at Lo-Ellen Park Secondary School, has received the Stonewall Award for 2SLGBTQIA+ Action from the International Day of Pink. The award, which recognizes advocacy, education, representation and celebration, was presented by Stonewall Uprising Activist Martin Boyce and Day of Pink Founder Jeremy Dias who spoke to the Gender Studies class at Lo-Ellen Park Secondary School on May 19, 2022.
"Patrick Barnholden is a champion for equity, diversity and inclusion inside and outside of Rainbow Schools," says Rainbow District School Board Director of Education Bruce Bourget. "Patrick has helped to pave the way for students to be who they are in safe and welcoming schools and school communities. He has also taught us the importance of being allies. The Stonewall Award is a tribute to his leadership." A member of the Board's Equity and Inclusive Education Committee, Patrick Barnholden has been a role model and advocate in Rainbow Schools. He received an Award for Outstanding Contribution to the Co-Curricular Program in 2016.Patrick Barnholden moved to Sudbury in 1994 and quickly became involved in the first Pride Week, after organizing similar events in two other Canadian cities. When he became a teacher, Patrick turned his attention to supporting students in schools. He organized the first Gay-Straight Alliance in Northern Ontario at Lo-Ellen Park Secondary School in 2006. From this work grew the Dare to Stand Out Conference. The first conference was held at Lo-Ellen Park in 2009. At a subsequent conference, Rainbow District School Board was among the first in Ontario to host a Gay-Straight Alliance dance.
Dare to Stand Out quickly evolved into a highly anticipated system-wide event. Now called Free to Be Me, the two-day conference is open to all Rainbow Schools, bringing together students in Grades 7 and 8 as well as students in Grades 9 to 12. The conference aims to create and enhance school-based supports for students who are lesbian, gay, transgender, bisexual, questioning and two-spirited (LGTBQ2S) as well as students with friends and family members in these communities.
"Over the years, I have learned from my students as much as they have learned from me," says Patrick Barnholden. "It is a privilege for me to be a role model for young people and to inspire them to find their voice and to be their authentic selves." He adds: "Education is not only about sharing knowledge. It is also about being an advocate, creating awareness, building understanding, providing safe spaces, nurturing allies and celebrating success."
-30-
Media Contact:
Nicole Charette, Senior Advisor,
Corporate Communications and Strategic Planning,
Rainbow District School Board, 705-674-3171 ext. 7217.