What's happening in Rainbow Schools?
Rainbow Board hosts first ever Career Fair on Saturday, April 1st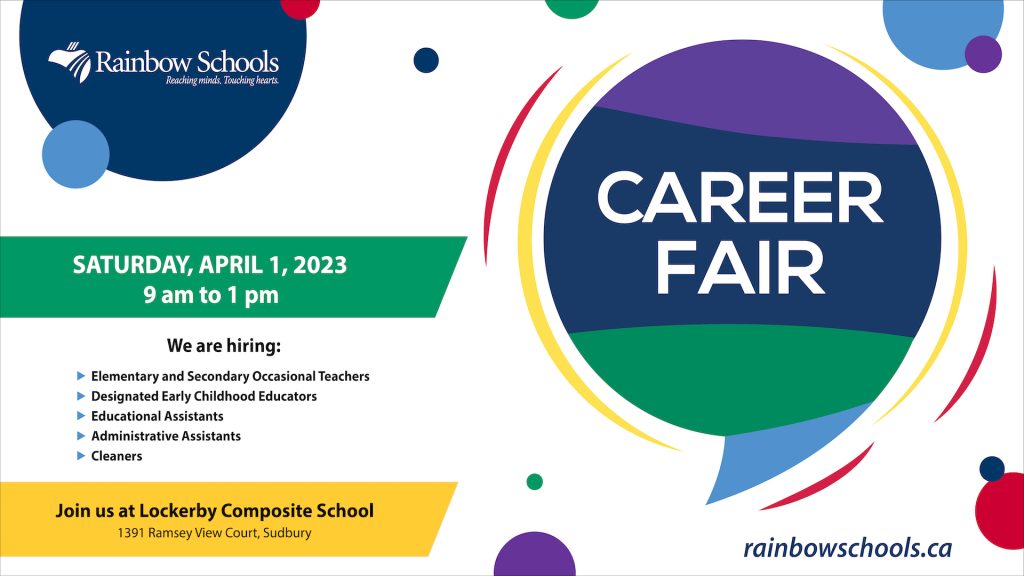 Rainbow District School Board is hosting its first ever Career Fair on Saturday, April 1st, 2023. The event will take place at Lockerby Composite School from 9 am to 1 pm.
"Join us to learn about the many career opportunities in Rainbow Schools," says Director of Education Bruce Bourget. "We are hiring for a variety of positions in Sudbury, Espanola and Manitoulin Island and look forward to meeting prospective candidates."
He adds: "Rainbow Schools offer rewarding careers working directly with students in the classroom or serving in a support role in the main office or overall school."
Human Resources staff and hiring Principals/Managers will be at the Career Fair to conduct interviews as well as share information, answer questions, and accept applications. If candidates meet the required qualifications for positions of interest, they may be offered an interview on the spot.
Candidates can also pre-book an interview by submitting their application to [email protected] by Friday, March 24, 2023. Candidates are asked to submit a cover letter specifying the position they are applying for as well as a copy of their résumé.
Résumés must outline education and experience, including documentation supporting educational qualifications (for example, a copy of the diploma or degree) as well as three professional references, including the current or most recent supervisor. Consent will be requested prior to checking references.
Here are the positions currently available
and the qualifications required for each position:
Administrative Assistants
Ontario Secondary School Diploma (Grade 12) or equivalent
and some post-secondary courses in an administrative field or equivalent experience
Cleaners
Ontario Secondary School Diploma (Grade 12) or equivalent
Designated Early Childhood Educators
Early Childhood Educator Diploma
and Registration with the Ontario College of Early Childhood Educators
Educational Assistants
Post-secondary diploma or degree in a child or youth related program
Occasional Teachers (English, French as a Second Language and Ojibwe)
Ontario College of Teachers Certificate
or Temporary Ontario College of Teachers Certificate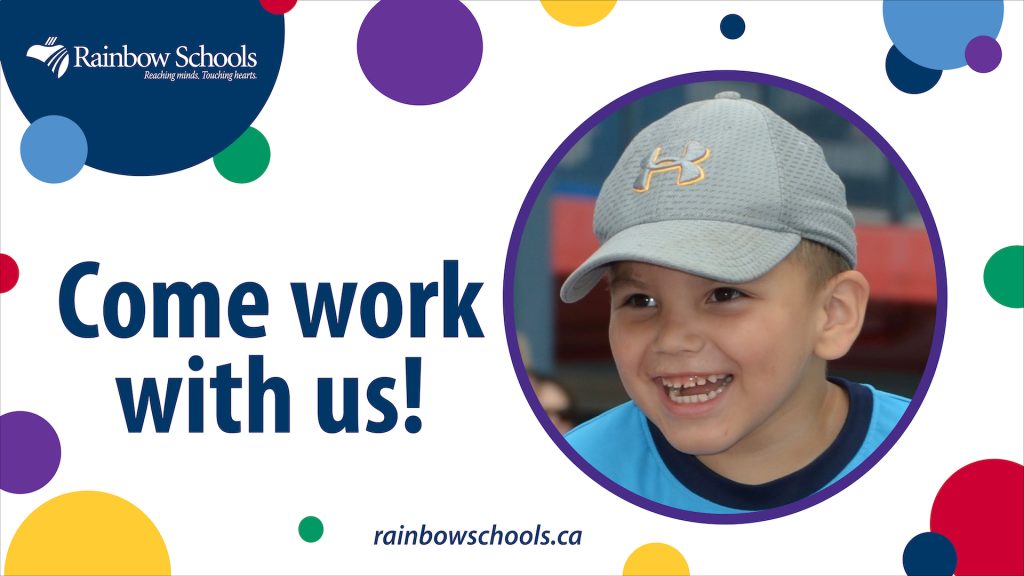 All job postings are available online at rainbowschools.ca.
Please note that some openings are for the Rainbow District School Board's casual pools to fill vacancies at various locations throughout the school year. Employees in casual pools can bid on permanent positions as they become available. Permanent positions come with a full benefits package, including a pension.
Candidates selected for positions will be required to provide a criminal background check in the vulnerable sector. Rainbow District School Board complies with the Accessibility for Ontarians with Disabilities Act (AODA). If you require accommodation for a disability during any stage of the recruitment process, please contact Human Resources.
About Rainbow District School Board
Rainbow District School Board is the largest public school board in Northern Ontario. In Rainbow Schools, programs focus on student success from Kindergarten to Grade 12 in English and French Immersion. Quality programs, caring teachers and a nurturing environment with a focus on character development enable students to fulfill their aspirations. Together, we prepare students to become lifelong learners, achieving their full potential as confident, caring members of society.
Rainbow District School Board operates 30 elementary school buildings and 9 secondary school buildings in Sudbury, Espanola and Manitoulin Island. The Board also offers other programs – Child and Adolescent Mental Health Program, Cecil Facer School, N'Swakamok Native Friendship Centre, Children's Treatment Centre, O'Connor Park, Applied Behaviour Analysis program, Restart, Simulated Healthy Independent Living Opportunities (SHILO) program, Attendance Centre, Mishko-Ode-Wendam, Northern Support Initiative, Frank Flowers School and Barrydowne College operating at Cambrian College.
Rainbow District School Board is an equal opportunity employer.
-30-
Media Contact:
Nicole Charette, Senior Advisor,
Corporate Communications and Strategic Planning,
Rainbow District School Board, 674-3171, ext. 7217.