What's happening in Rainbow Schools?
Rainbow Board presents Next Stop: Grade 9 on November 14th
Parents/guardians and students in Grades 7 and 8 are invited to an interactive information session designed to help students make key decisions in moving from elementary to secondary.  All students are welcome to participate regardless of which elementary school they currently attend.
Rainbow District School Board will present Next Stop: Grade 9 on Tuesday, November 14th from 7 pm to 8:30 pm in the Student Centre at Cambrian College, 1400 Barrydowne Road. Parking will be free on site in Lot # 15 next to the Student Centre.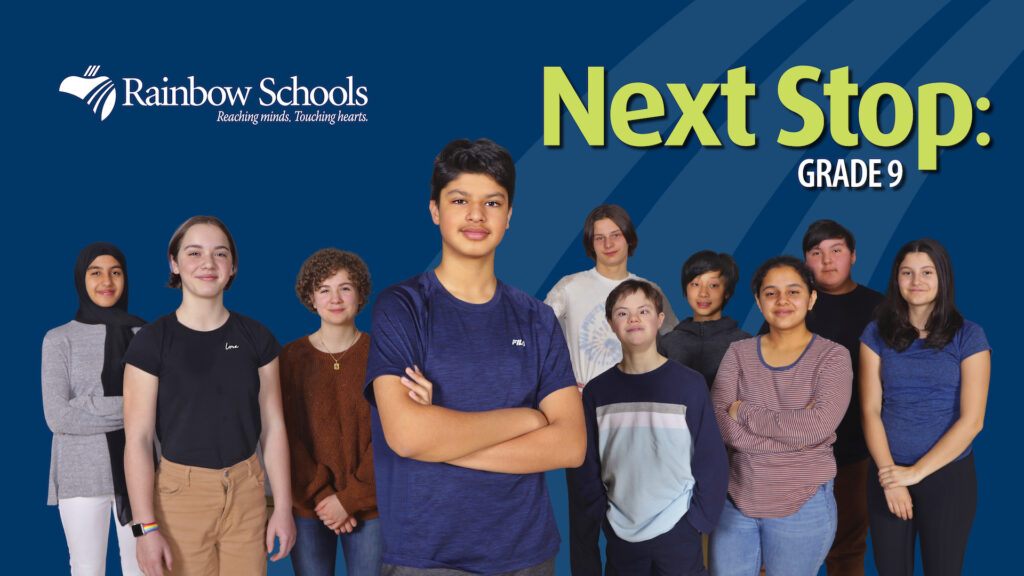 "The journey from Grade 8 to Grade 9 is an important milestone for a young person," says Director of Education Bruce Bourget. "Students and parents/guardians are encouraged to learn about secondary school programs and school life. Caring teachers and school administrators will support students to help them maximize their potential."
The information session will focus on the changes and choices students face while entering high school. A number of topics will be explored, including how to read timetables, course and program selection, easing into a new school environment, skills for academic success, resources and helpful tips.
Information will be provided for all pathways including independent living, work, apprenticeship, college and university. Attendees can also speak with staff about programs such as Co-operative Education.
"It's important that students take the time to learn more about secondary school and their course options," says Director Bourget. "Guidance staff will be on site to answer questions. Join us to explore the many exciting opportunities that await students in Grade 9 in Rainbow Schools."
A Guide on Finding Your Way from Grade 8 to Grade 9 will be distributed to students and parents/guardians at the information session. The Guide is also available online at rainbowschools.ca.
-30-
Media Contact:
Nicole Charette, Senior Advisor,
Corporate Communications and Strategic Planning,
Rainbow District School Board, 705-674-3171. ext. 7217.