What's happening in Rainbow Schools?
Sudbury Secondary School hosts Fight Against Cancer Gala April 21st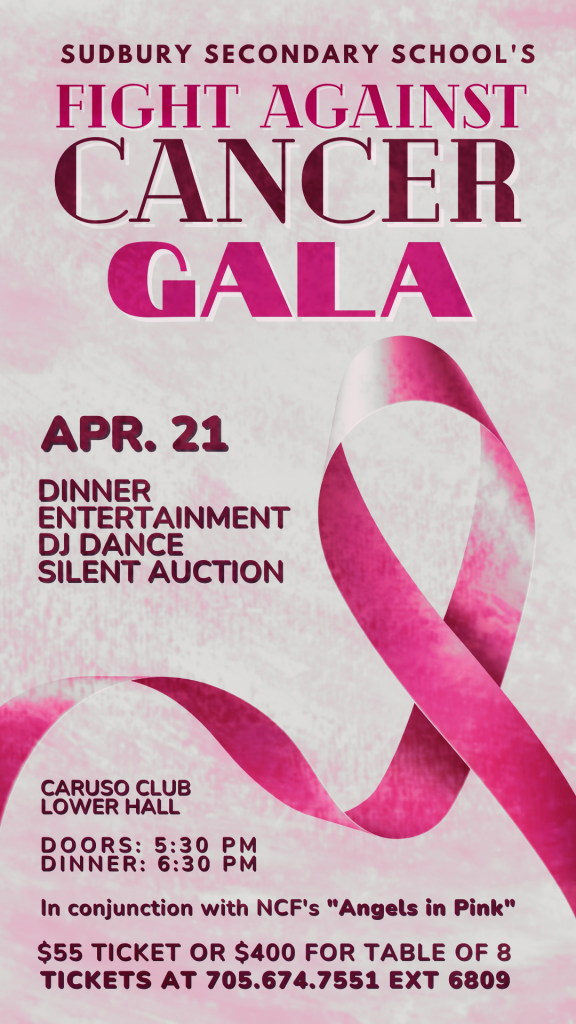 Sudbury Secondary School will host its third Fight Against Cancer Gala on Friday, April 21, 2023 to raise funds for the Northern Cancer Centre through Angels in Pink. The gala, featuring dinner, entertainment and a silent auction, will be held in the lower hall at the Caruso Club, 385 Haig Street in Sudbury.
Doors for the gala will open at 5:30 pm. Dinner will be served at 6:30 pm with entertainment presented by Sudbury Secondary School students, alumni and community members. Dinner will be followed by music to dance the night away, provided by graduate Ben MacKenzie of Shake It Up DJ Service.
Sudbury Secondary School Principal Heather Downey commended the Student Parliament for their leadership in organizing the fundraising event since its inception.
"The organizing committee is composed of members of the student parliament as well as staff representatives and volunteers who are passionate about raising money for cancer research and treatment options," she says. "Many of the members have had past encounters with cancer either with a loved one or themselves."
This includes Sudbury Secondary School's Student Parliament Prime Minister, Katelynn Bell, who was diagnosed with cancer at 13 years of age. "As a 17-year-old cancer survivor, I am really happy to see the amount of support we are receiving for the gala," she says. "All money raised will stay local which makes me so happy."
It also includes student parliament advisor and teacher Vicki Ashick-Faux who was diagnosed with breast cancer seven years ago. The student parliament rallied behind her to launch the first "Fight Against Cancer" Gala in 2017.
"Everyone knows someone touched by cancer either directly or indirectly," says Principal Downey. "This gala is a wonderful opportunity to come together to support a cause that is near and dear to us as a school and a community."
Tickets for the gala are $55 per person or $400 for a table of eight and are available at Sudbury Secondary School. For more information, please contact Sudbury Secondary School at 705-674-7551 ext. 6809 or email [email protected] or a[email protected].
-30-
Media Contact:
Heather Downey, Principal, Sudbury Secondary School
Rainbow District School Board, 705-674-7551